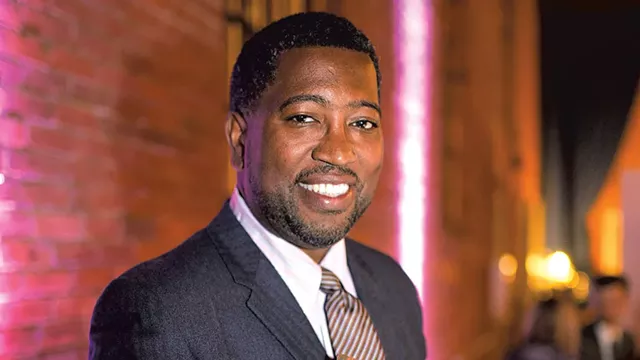 Courtesy Of Vermont College Of Fine Arts
"I am a tributary of something greater," wrote poet Major Jackson in his new book, The Absurd Man. The poem, called "Double View of the Adirondacks as Reflected Over Lake Champlain From Waterfront Park," is about the perspective found in considering the lake and the mountains. But in the age of a pandemic and social distancing, it could just as easily be an ode to community, a reminder of purpose and an answer to the question: What is the point of these sacrifices?
Jackson released The Absurd Man, his fifth collection, on February 25. But within a few weeks, as events and readings around the country were canceled, the standard book promotion cycle became untenable.
The Absurd Man by Major Jackson, W.W. Norton, 112 pages. $26.95.
Instead, the poet and professor of English at the University of Vermont is holed up in his home near rural Rochester. He and other Vermont writers are finding ways to share their work and promote new books virtually — and to reach people in a time when Jackson feels they might need poetry most.
"I think this is a moment in which poets realize that there is a kind of spiritual service in writing poems and sharing them with people who may not have the imagination or language to understand the significance of this moment," Jackson said by phone. "For me it represents a kind of maturation of vision to realize that our words help us to realign ourselves with each other."
Jackson's friend and colleague, UVM professor Emily Bernard, launched a virtual book party for The Absurd Man on Facebook, inviting other writers and friends to record themselves reading Jackson's poems. Bernard had planned to host a book event at her home, but it was canceled due to concerns about gathering in groups.
The impact of the coronavirus on the publishing industry and individual writers could be significant. Most of the events, fairs and festivals where books are sold have been canceled. While some bookshops are offering online ordering and curbside service, such measures may not mitigate the impacts of the pandemic.
"Writers, maybe more than ever, have to create a presence on social media and on the internet. Some of us were hugely ambivalent about that," Jackson said. "Today, writers will definitely have to think a little bit more entrepreneurially about their books. I remember when there was even skepticism about authors having web pages."
In addition to encouraging an online presence, Jackson and fellow poets have teamed up with Green Mountains Review, a literary magazine based at Northern Vermont University, to offer another place for writers to promote their work: a platform for video readings and interviews called the Social Distance Reading Series.
Jackson is the first to admit that a video platform is an imperfect delivery system for a poetry reading. "One has to work really hard to replicate human presence on a computer. There's something mechanistic about it," he said. But he also believes it offers an opportunity for new connections between poets and listeners.
"Somehow, the work has greater resonance and relevance because it is one lone individual speaking to another," he said. "I think the curse of isolation is countered by the intimacy that poetry affords us."
Long before the coronavirus pandemic, Jackson and fellow writers had been meeting in each other's homes to share work and opportunities. The Vermont School is a relatively new name for this community of artists, convened about 17 years ago. Vermonters and members Kerrin McCadden and Penelope Cray both published new volumes of poetry in the last two months. Jackson's wife and fellow UVM lecturer, Didi Jackson, has a book coming out later this month. Poet Elizabeth Powell is also curating the Green Mountains Review series.
"I really am someone who has thrived and grown as a result of community," Major Jackson said. "Poetry is one of those arts where you commit yourself to a lifetime of growth. It's more that one enters into a guild, rather than achieving some maestro level. The art is wide. I'm always trying to make it new."
The Absurd Man offers relevant insights for uncertain times. The book's title is a reference to Albert Camus' The Myth of Sisyphus, which laments humankind's endless pursuit of meaning in the face of death.
But don't let that dissuade you. The poetry collection is, as Jackson puts it, "playful, personal and reflective."
"What I'm calling attention to in the book is the fact that writers and artists make work to attempt to answer that question, or at least address [it] ... Why are we here? And what does it mean that we're here on this Earth?" he said.
Aesthetically, the book is also a delight. The best part of reading one of Jackson's poems is that the next word is often a surprise. His tangents reflect enthusiastic observation of the world. The poet nods respectfully to his own style in this excerpt from "I've Said Too Much":
I find it difficult to control my idioms; only ask
which direction the wind blows,
and I will give you a history of my elms and
cottonwoods or my theft of fire. My brain plunders
its orchard of speech.
A virtual poetry reading can't match the presence and atmosphere of an in-person one. But if you're anything like this reporter, you might find yourself enjoying them more often, now that attendance doesn't require leaving your couch. Open a book of poetry after a long day of phone scrolling, and a set of rusty gears may begin to turn in your head.
"A poem is 'a momentary stay against confusion,'" Jackson said, quoting Robert Frost.
"And yet, they are momentary," he added. "Like Sisyphus, we have to climb that mountain over and over again."