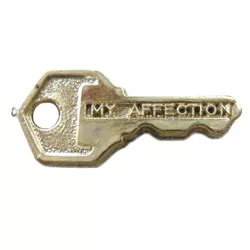 David Fairbanks Ford wants your keys, and he wants to take them to Russia. If that sounds strange, you don't know Ford and his appetite for curiosities. The founder and director of the Main Street Museum in White River Junction is constantly acquiring collections of the quirky and offbeat variety — evil-eye relics, taxidermy, tiny shoes, "modern art created by accident" and "apparently once-living objects," to name but a few categories. Right now, Ford is looking for keys: "Keys in our pockets, keys in a drawer in our rooms, keys in an old coat that we haven't worn in years," he suggests. In other words, keys for which we have forgotten the purpose. "The trigger to our memories can be a key," Ford adds.
Like any collector, he likes knowing the story behind the object, too. If you have no clue what that one key on your ring once unlocked, there's a tale to tell about that loss of functionality itself. "Keys of mystery are sometimes best of all," Ford assures. You can surmise where they might go.
He's been gathering key-ring relics from the Upper Valley and beyond, including a key to the old WRJ post office; a set that once opened doors in the Hartford water garage; and a plastic, midcentury gumball-machine charm inscribed in bold, uppercase letters, "MY AFFECTION." Soon, he will be collecting keys in St. Petersburg — say, one that turned over the ignition in someone's first Lada. In Russia, all Ford's finds will be displayed at the Anna Akhmatova Museum in the Sheremetev Palace. ("Make sure you tell people I'll be in a palace," he requests.)
Ford's efforts to cheer up U.S.-Russia relations are the result of winning a coveted monthlong fellowship — only eight are granted per year — from the Likhachev Foundation to study museums. While in St. Petersburg, he'll give a lecture, blog about his experiences and install his key collection in the Akhmatova for three days. Then it will go to a local contemporary art center for a couple of weeks, Ford says; finally, the whole lot will come to live in the Main Street Museum. "One of the points of the grant is to bring something back from Russia," Ford notes, to foster appreciation for Slavic culture around the world. Why not keys?
The namesake of the Anna Akhmatova Museum (1889-1966) is a beloved Russian poet who lived in the palace for 30 years, beginning in the mid-1920s. The building was turned into a museum to honor the 100th anniversary of her birth, and one of its missions is to illustrate how the intelligentsia survived the Soviet years. To ensure contemporary relevance, the museum hosts literary events, exhibitions and conferences, according to a Russian museum website. Next month, Ford's presentation will be part of that legacy.
On a day yet to be determined this summer, visitors will take in the key exhibit and Ford's stories during the MSM's annual Russian art show and symposium. "Sing songs to them," Ford encourages, referring to the keys. "Recite Pushkin to them."
Donations to the key exhibit that fail to reach Ford before he leaves for St. Petersburg next week (as he puts it in an email, "Off to visit the mass graves!") will be welcomed into the MSM's permanent collection. Now, does anyone have a key to the city?