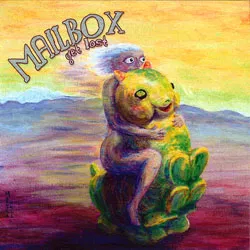 (Self-released, CD)
Through the evolution of rock music, no instrument has had a tougher time than the piano. That pilot of classicism, architect of blues and luminary of jazz has, within the context of rock, often been carefully reduced to either delicate accentuation or atmospheric auxiliary. And sometimes Bruce Springsteen stands on one.
Outside of balladry, the piano as a songwriting instrument can dominate vocalists and drown their accompaniment. It has a percussive and overbearing presence both physically and acoustically — not pliant and portable like a guitar, but voluminous and obstructive. And it's flat-out tough to lead a band with the piano. Bearing this in mind, the latest piano-rock stylings by Vermont's Mailbox, Get Lost, cannot escape some cumbersome hitches.
The majority of these tracks follow a standard conception: A flurry of statement piano chords frame the spindly articulations of the group's founder and leader, Adam Rabin. His taut gang of players falls in tow. Mailbox have historically been more a collaboration of Rabin's rotating casts than a traditional band; the assemblage of players this time around is impressive.
Tracks such as the Joe Jackson-inspired "Disappear" and "Too Late," though not extraordinary, stand out for the accomplished musicianship of Rabin, bassist Jeff Margolis and guitarist Jay Ekis. Their synergy, anchored by Chris Johnston's percussion work, could dominate a room. If Rabin fancies himself Billy Joel, then Johnson's exacting chops make him a more-than-capable Liberty DeVitto.
Rabin's voice is wobbly and boyish, but he does not embrace that simplicity. From a production standpoint, his attempts to augment his voice with reverb are heavy handed, such as on "Stories." Still, it's difficult to accuse Rabin of overproduction or aimless tinkering; he recorded and engineered the project at home with impressive results. In fact, home-recording connoisseurs should pick up the disc as an exemplar of the craft.
The closing portions of the record's lithe 10 tracks provide a welcome deviation from the front end's conventional piano-rock aesthetic. "Dolphin Forest," though lyrically psychedelic and theatrically awkward, is framed by a winsomely melodic vocal duet with Adam and Sara Rabin.
Despite occasional postal inefficiency, Mailbox certainly avoid the dead-letter office. Get Lost is a worthy delivery from one of the region's boldly idiosyncratic songwriters.