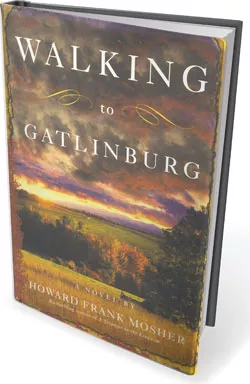 Howard Frank Mosher's new novel Walking to Gatlinburg could be described in one phrase: a good yarn. Its story is simple. In the spring of 1864, 17-year-old Morgan Kinneson begins walking from Vermont to Tennessee in search of his older brother, Pilgrim, who has been missing since the Battle of Gettysburg. At the same time, a gang of ruthless killers is pursuing him down the Appalachians. Along the way, Morgan encounters a panoply of colorful characters. Some need his help, others assist him, and all turn out to be linked to his search for his brother.
It's a wonderful structure on which to hang an adventure story, and the Irasburg author of nine previous novels doesn't disappoint. Morgan is long legged, blond and serious — a hero, in other words — whose life up to this point, on Kingdom Mountain in Vermont, has been shaped by a love for the woods and books and a healthy skepticism about religion. Since Pilgrim left home to offer his medical skills on the battlefield, Morgan has taken over the role of shepherding runaway slaves to freedom from his family's Underground Railroad station, the last before Canada.
When he momentarily (and somewhat inexplicably) deserts a frightened slave in his charge named Jesse Moses to hunt down a moose, Morgan — who has already decided to search for Pilgrim — precipitates his own departure. Jesse ends up murdered by two of a gang of five psychopathic escapees from prison, and now they're on Morgan's trail. Soon Morgan realizes the killers are also after a mysteriously inscribed stone that Jesse slipped into Morgan's pocket before dying. Armed only with this inscrutable rune stone, his woods sense and a serviceable gun, Morgan must find his brother before the escaped convicts can eradicate him.
Walking to Gatlinburg is suffused with the kind of storybook magic that Mosher's fans will recognize from his other novels, including the previous one, On Kingdom Mountain. (Walking is actually a kind of prequel to that book, which features Morgan's daughter, Miss Jane Hubbell Kinneson.) The eccentrics Morgan encounters include a gypsy near Lake Champlain whose companion is an intelligent elephant named Caliph of Bagdad, a woman in Pennsylvania who lives in a boat built high in a chestnut tree, and an opium grower in the Smokies who gives away his goods to blue-belly and secesh soldiers alike in an effort to end the war. To list more of these meetings would give away the book's chief pleasure.
Mosher's narrative language contributes to the tall-tale feel, along with his penchant for quaint vocabulary and anachronistic Shakespeareanisms. A coat is not just in tatters but "tatterdemalion"; the woods are not merely woods but "a bored fastness"; the stunted branches of a dead pine tree are — what else? — "stobs." Each character seems to have yet another outlandish way of speaking, and not just the Amish with their "thee" and "thou." One illiterate girl refers to sex as "making the beast with two backs" (from Shakespeare's Othello); another character expostulates, "Jesus to Jesus and seven hands around, man."
The villains are also drawn on a Brothers Grimm scale — and then some. Giant-sized Ludi Too, the escaped convicts' ringleader, wears his long, double-barreled pistol around his neck on a "lanyard of human gut." He gets as much glee out of killing as do his cohorts, among them an unfrocked minister called Prophet Floyd and a disbarred army doctor who lives to practice vivisection on his still-breathing victims.
There are shades of Cormac McCarthy here, and not just in Mosher's arcane vocabulary and lyrical landscape descriptions. One is reminded of the monstrous doctor in that writer's Blood Meridian; and the psychopathic murderer in No Country for Old Men, whose specter is raised when Morgan wonders if Ludi Too is "perhaps toying with him."
Mosher is also keen to depict a kind of pox on the land that Morgan discovers as he traverses the not-yet-united states: A Northerner forces a runaway slave girl into copulation with a bull for entertainment; a poorhouse in Utica, N.Y., auctions off its indigents every spring. Mosher's message is that war triggers egregious behavior, then and now.
But his characters remain more cartoonish than McCarthy's — more representations than individuals. It's not just the overall storybook feel of the novel; the characters are given little to no inner lives. We don't get a window into the apparently cunning workings of Ludi's mind until the end, at which point the revelation seems rather thin. Even Morgan remains a bit of a straw man whose ruminations on religion, the ethics of John Brown's actions, and the relative weight of good and evil in the world seem almost incidental to his character.
But if readers can suspend their disbelief, Walking is a richly imagined story of a good Vermonter negotiating a crazy world.
One last note: Civil War buffs will be wondering if Walking is historically accurate. Mosher's answer to that is posted on his website: "First and foremost, I'm a novelist, not a historian." He wrote three drafts of the book before conducting any research, which enabled him to "fit the research into the story rather than tailoring the story and characters to fit historical fact."
More detailed questions about period accuracy, or anything else, can be put to Mosher at his book-tour talks, which include a slide show entitled "Transforming History Into Fiction: The Story of a Born Liar." But such questions might just elicit more stories.