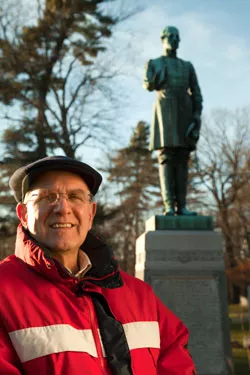 Matthew Thorsen
Gary De Carolis in front of General George Stannard's grave at Lakeview Cemetery
When a nice man invites you to get in his van, it's usually not a good idea. But there's nothing sinister about Gary De Carolis' specially converted Ford. As attested by the designs from vintage postcards on the vehicle's sides, he just wants to tell you about the history of Burlington.
It's his evident immersion in that history which makes his Burlington History Tours so fascinating. "I've taken my lifelong avocation and made it a vocation," says De Carolis, who served three terms as a Burlington city councilor from Ward 3. More recently, he worked as child welfare district director for Burlington's office of the Vermont Department for Children and Families. Now 62, De Carolis was considering retirement last summer when he took a history tour with Backroad Discovery Tours in Manchester. Suddenly, he had found his next step. "I absolutely loved it," De Carolis remembers. "I thought, Gosh, I could do this in Burlington!"
A history minor in college, De Carolis left the DCF in October and launched Burlington History Tours on November 15. Though he still works as a freelance speaker and consultant to child-services groups as president of the Center for Community Leadership, De Carolis now offers tours seven days a week.
Of course, his is not the only tour to bring Burlington history alive. Preservation Burlington hosts architecturally focused walking tours all year long, while Queen City Ghostwalk counts down to Halloween beginning each summer. University of Vermont professor emeritus William Averyt takes guests on a walk through the campus' past. While these tours all cover small, walkable areas, however, De Carolis employs his van to get an overview of the city in just two hours.
So far he's been hired to lead just four groups, but the amateur historian hopes that word of mouth and his website and Facebook pages will begin attracting locals and tourists alike.
The bright van's presence on the road is likely to grab attention, especially as it often drives at just 10 or 15 miles per hour to give participants plenty of time to look around. The van also fills a hole in Battery Park, parking where Beansie's Bus spends its summers, so De Carolis can start the tour in one of Burlington's most storied areas.
In a New Jersey accent, he speaks slowly and evenly, almost never needing to check his notes for dates or specifics. If he sometimes appears distracted on the road, with a few pedestrian near misses, it's because he seems to be seeing the city of another time.
De Carolis begins by gathering participants in the park overlooking Lake Champlain. He points out Rock Dunder, the 30-foot crag that projects out of the water about three miles from shore. The rock was known to the Abenaki and Algonquin as Wo-ja-ho-sen, Oodzee-hozo, or "he who created himself." The legendary figure began as a legless spirit. As he dragged himself across Vermont, he created the mountains and even Lake Champlain. Wo-ja-ho-sen judged that particular achievement so great that he decided to fuse himself with a rock and stay in the lake forever.
To natives of the area in the pre-Samuel de Champlain era, the rock was a spiritual force, worthy of worship. During the French and Indian War, De Carolis says, Rock Dunder served as a meeting place for drawing up peace treaties. In the Revolutionary War, the island was shot full of cannonballs, which are still occasionally found by visitors there.
"Burlington was chartered in 1763, but no one lived here," De Carolis says. Before 1812, scuffles between the French and the British, then between the American colonists and the Brits, left the shore too dangerous for heavy settlement. The victorious waterfront battles of 1812 finally made the Champlain Valley safe enough to inhabit.
As a small group gets in the van for a recent tour, De Carolis mentions that a glass factory opened across from Battery Park just after the encampments of the War of 1812 dispersed. It marked a new era. The factory became necessary when Burlington's postwar lumber industry boomed, filling the city with people who moved into the homes being built along what is now North Street — homes that needed lots of windows.
As we wend our way down Blodgett Street, De Carolis points out one curious house. What he calls a "significant prefabricated home" first came to Burlington as a place for the town's lighthouse keeper to live right on the breakwater. But the keeper preferred to canoe out to his post each day, so, in 1884, the house was moved to dry land. Just around the corner, on Pitkin Street, a small, early-20th-century house that has been renovated and expanded over the years once served as a waterfront office building. The original, almost trailer-like box is visible beneath layers of white additions.
De Carolis mentions that several residents of Pitkin and Blodgett Streets had unpleasant surprises when they attempted to make home improvements between 1955 and 2004: They uncovered the remains of fallen 1812 soldiers. Those homes stand on what was once a woods backing the Battery Park barracks of the soldiers, who are now buried beneath a memorial on Lakeview Cemetery.
Battery Street, originally known as Water Street, was Burlington's first. "The Admiral of the Lake," Gideon King Jr., who controlled merchant trade on the waterway for 30 years, chose to make his home just off it, on the street still named for him, De Carolis tells us. Other early-19th-century Burlington luminaries lived right on the main drag.
Like King's red brick house, the home of Dr. John Pomeroy currently offers office space for lease. Potential renters may be able to conduct business in one of the rooms where the good doctor lectured to medical students beginning in 1804. Pomeroy would help establish the University of Vermont College of Medicine, the first medical program in America that was part of a state school.
Pomeroy lived in a good place to keep bodies cold for dissections — just across the street from three icehouses. One occupied an 1808 building that burned down in 1868, was rebuilt and is now home to the Ice House Restaurant & Bar. De Carolis hands out cards granting the tour participants 20 percent off at the restaurant.
The next-oldest section of town runs along Pearl Street — today, an easy jaunt from Main. When King or Pomeroy wanted to make that walk, however, they had to take a more roundabout route. "The ravine literally cut the city in half," De Carolis explains. Traces of the deep, northeast by southwest chasm are still visible along Pearl Street and across parts of College, Main and Church Streets.
When Burlington's residents undertook to fill the ravine, they initially used little more than wood chips and sawdust, leaving some buildings on less-than-sturdy footing. In 1973, all the books at the Fletcher Free Library had to be moved to city hall's Contois Auditorium when the building's foundation began buckling due to a shift in the shoddy material. The new library opened in 1981, the year De Carolis became a city councilor.
The tour winds down with a jaunt past the UVM campus. De Carolis says what he tells guests there is only an abridged version of what he'd like to share about the area. To cover the details, he'll need to add a pedestrian version of Burlington History Tours — something he plans to do when warm weather returns in 2013.
Those spring tours, De Carolis says, will work their way up Pearl Street and past the university, perhaps stopping at South Willard Street and its homes of the Victorian elite. He also imagines an "off-the-beaten-path" tour that would take visitors to areas including the sea caves off North Avenue and the quarry off Shelburne Road.
De Carolis closes his tour with a visit to the graves of Ethan and Ira Allen at Greenmount Cemetery and then to those of Gideon King Jr. and other Water Street-area luminaries at Elmwood Cemetery.
Our group disembarks back at Battery Park. The opportunity to slow down and take a closer look at Burlington, its buildings and its history has been eye opening. Along for the ride with De Carolis, the past lives on — side by side with the present.
Burlington History Tours, 863-9132, burlhistorytours@aol.com, burlingtonhistorytours.com. Tours may be scheduled on weekdays from 9:45 to 11:45 a.m. and on weekends from 9:45 to 11:45 a.m. or 1:30 to 3:30 p.m. $35 per person.