Like lepers, artists have a penchant for forming colonies.This may be a poor analogy as, historically, lepers have been forcibly herded into separate communities while artists congregate voluntarily. Still, it pertains: like lepers, artists have often been stigmatized as unfit for normal society.
One fine day a couple years ago, wandering the neighborhoods on the outskirts of Burlington's downtown, my eye was drawn to colored hanging lights which appeared at the end of a driveway between two buildings. In one of the ways (of many, unfortunately) I retain the mentality of an infant, I found myself drawn towards these lights. (If you jiggle keys in front of me, this will have a similar effect.)
The driveway leveled out in a communal parking lot serving a number of residential houses, among which were a couple of elaborately decorated - not to say, festooned - courtyards. The houses themselves were ornamented with all manner of large photographs, dolls, sculptures, one-of-a-kind, wacky outdoor furniture - Willy Wonka and Peewee's Playhouse goes to Gingerbread Land.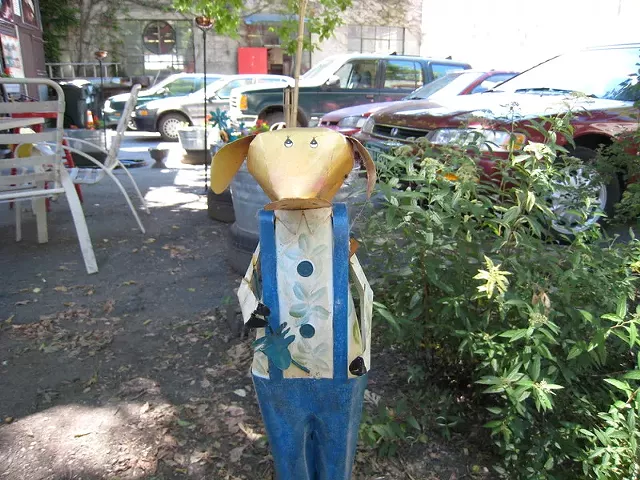 A few large cats roamed the landscape; they seemed to have strange little cat-homes set here and there amid the splendid clutter.
As I slowly rotated around 360-degrees, a la Julie Andrews in the opening credits of A Sound of Music, I was dazzled by this fantasy mini-world cloistered mere yards from the busy streets.
Though I didn't know it at the time, during later visits I discovered that a number of local artists lived in this organic development, which included a glass blowing and metal work studio.
The various creative types who lived here had collaborated in fashioning this magical communal space.
I often stop by now on my walks, if only to see what's been added, subtracted, transformed. I wish I could live here; alas, my creativity doesn't run nearly so wild and free - I doubt I could make it past the screening and selection committee . . .