The story of textile and clothing manufacturing in Vermont is, by many accounts, a downbeat affair: In a state where riverside mills once churned busily, and where an abundance of work drew immigrants from neighboring Québec, much has changed. Factories have shut down. "Stitching" operations closed shop. Instead of workers coming to Vermont, the state's work headed overseas.
"You get lean and mean, and you just work doubly hard," says Stacy Manosh, the fourth-generation owner of Johnson Woolen Mills.
Joel Howard, the owner of St. J's Stitching in St. Johnsbury, puts it this way: "It's a pretty sad state of affairs."
Enter Matt Renna, a Burlington designer and craftsman who, if he has his way, intends to inject some new life into the Vermont manufacturing scene.
Yes, Renna says, clothing manufacturing in Vermont took a significant hit after its heyday. Then again, he was surprised to discover just how many small factories were still tucked away in the Green Mountain State, and he's optimistic about their outlook.
"I think for anybody who's managed to survive until now, it's going to be better moving forward," Renna says. "It's just a matter of figuring out how to operate. It's not like it was before, but if they're willing to adapt … you can definitely do it."
And Renna means to assist: He's looking to St. J's Stitching to help him roll out the utilitarian-chic apparel and accessories line he's now peddling at Queen City Dry Goods, his Burlington workshop and retail location.
Renna is 39 years old, with a mop of dark, curly hair. On an afternoon in his workshop, perched in a second-story space above Church Street, he's wearing a prototype denim work vest he hopes to develop for his new company. The pockets are filled with pens and pencils and a handy pair of heavy shears. His dogs, Otis and Rosie — "my retail assistants," Renna calls them — collapse languidly on the ground beneath one of his six sewing machines.
The designer has occupied this space for more than a decade, long before Queen City Dry Goods debuted in August. In fact, Renna goes back about 15 years in Burlington, where he landed shortly after attending college in Madison, Wis. First he crafted custom shoes, a trade he taught himself (with a little help and advice from experts along the way) in the Champlain Leather workshop on Cherry Street.
Then, six years later, he struck up a partnership with New Hampshire-based Appalachian Stitching Company, a manufacturer of leather goods that was looking for an in-house designer. The company primarily makes products on contract for other brands or companies, but with Renna it launched an eponymous line of footwear that he sold from his Church Street workshop. Renna specialized in product development — taking a two-dimensional design on paper and translating the concept into a 3-D prototype the factory could then replicate. He hopes to continue that kind of work as a consultant for people who have an idea for a product but may not know how to execute and manufacture it.
Last May, Renna struck out on his own, having decided to pour his energy and designs into his own company. The name — Queen City Dry Goods — is a nod both to its place of origin and to an old-fashioned kind of commerce.
"It just fits with the vibe that I'm going for," Renna says. "It's very contemporary, but it looks to the way things used to be made, and the quality and the utility and just the feel of classic American materials."
He hung out his shingle quietly last August, and expects to host his official launch in the coming weeks.
Renna produces many of his products on a limited scale in house — 15 new aprons for American Flatbread, for instance, or a small run of waxed-canvas bags — and eventually he'd like to scale up his production facility in Burlington. But he knew he'd need to enlist outside help if he wanted to grow the business quickly. He didn't want to ship his work overseas, where language barriers and distance make overseeing production all but impossible. Even domestic production as far away as Los Angeles would have brought its own set of complications.
That's why Renna landed at St. J's Stitching, where, on a recent day, stitchers Fatima Mosher and Diane Desilets are piecing together the signature item in Renna's new line: a waxed-canvas men's motorcycle-style jacket, utilitarian but with an urban edge.
The custom cut-and-sew factory — which produces everything from dog collars and leashes to fire-retardant garments for firefighters — has seen better days. It's now housed in an old, run-down building on the outskirts of St. Johnsbury that used to be a mechanic's garage.
When the company arrived, "the inside was in even worse shape than the outside," owner Howard says, "and you've seen the outside."
Sure enough, the building looks all but uninhabitable from the muddy parking lot, but Howard has made improvements within. Now bright lights illuminate the main production room, where about a half-dozen employees are busy at work on sewing machines.
The move occurred when the company downsized from a 14,000-square-foot facility where, as recently as 2008, Howard employed 80 people. Rent went up, contracts dried up, and the economy took a tumble. When a big contract did come along, Howard had trouble scaling up quickly to get the work done. "Home stitching" experience, as Howard calls it, helps a little when it comes to training new employees, but industrial sewing is still a different ball game, and it can take about three months for a new employee to get up to speed.
But St. J's is holding on. The company now employs about a dozen workers. Supervisor Cindy Smith bounces between the sewing room, where she assists a stitcher who has a question, and the makeshift "warehouse," which is really just a few towering industrial shelves stacked high with boxes.
"We all wear different hats now," Howard says. "There was a time when we didn't, but when we're small like this, you've got to do everything."
Howard has worked in the garment industry in Vermont for more than four decades. Initially a machinist, he got his start repairing sewing machines. Soon he was managing 600 of them. Of the seven sewing factories where he worked in Bennington, he says, "one by one, out of business they went." But Howard wasn't giving up on the industry; he started St. J's about five years ago.
"I enjoy making products that … we can be proud of," Howard says. "You take the raw material, like a roll of fabric, and within a couple of hours you've got something that people need."
Still, he says there's no point in competing with overseas markets, which have gobbled up most of the manufacturing that used to take place in the United States. Manosh, of Johnson Woolen Mills, agrees. She points out that Vermont's minimum wage is $8.46 an hour — while competitors can pay a worker $2 a day in China.
"My woolen jacket, made here … has to compete with another item made for pennies," Manosh says. She says that, whenever possible, she buys raw materials that are made in America — or, better yet, in New England. It's a priority for the company, even if it costs more in the long run.
"I just need a whole bunch of customers that feel that way, too," Manosh says.
There is a good-news story here, even if it's a small-scale one: Howard has some customers who have brought their business back from overseas, having grown frustrated with the quality or process of manufacturing so far away. For other small producers, the logistics of manufacturing overseas don't make sense in the first place. Fuel is expensive, language barriers complicate communication, and, when an order arrives in the U.S., what you see is often what you get.
Renna, for one, likes knowing that he can jump in his car and, an hour and a half later, see for himself what St. J's is stitching up.
He's got big plans for Queen City Dry Goods. Eventually he'd like to roll out a footwear line. In the near future, he'll add more clothing to his shop, such as button-down shirts and some women's apparel.
So far, though Renna's done no advertising and keeps only a sparse blog, he's been pleased by the reception his new work has found. He thinks the business is emerging at the right time, when the consumer zeitgeist is primed for handmade or locally made products that are durable, authentic and crafted with care.
"In general, people are really out of touch with how their things are made, because it's made overseas," Renna says. "I think there's some curiosity, and some appreciation for the process."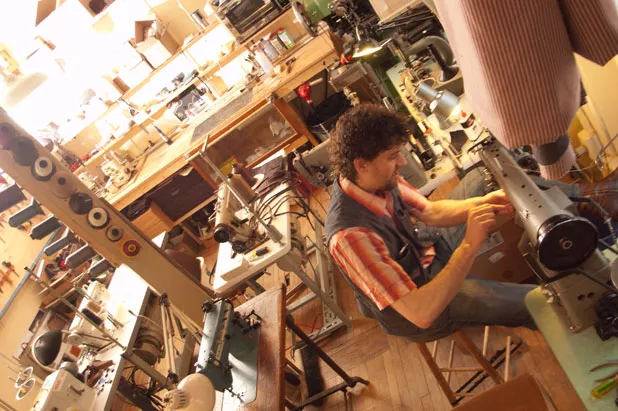 Matthew Thorsen
Matt Renna