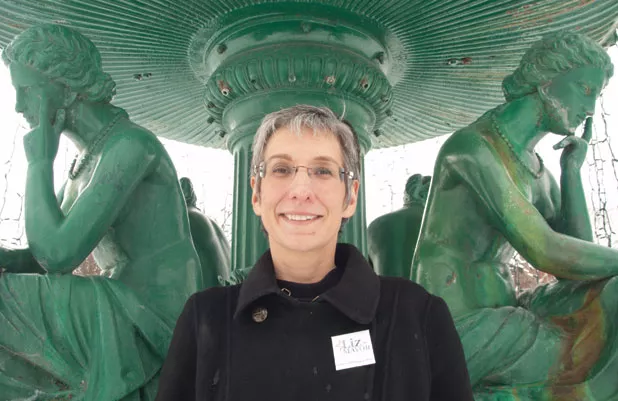 Matthew Thorsen
Liz Gamache
You could say Liz Gamache will be the first female mayor of St. Albans City after she wins an uncontested race this week. But to be accurate, Gamache had a predecessor.
In 1980, Janet Smith, a Republican alderwoman, became the first female chief executive in the Rail City's 153-year history. Smith was also the first female mayor in Vermont, which did not let women vote until 1917.
Six days after the swearing in, however, Smith was shot and killed by her family's 61-year-old gardener, Tauno Jurva, at her Congress Street estate. She had just fired him.
Some speculated that Jurva was a jilted lover. Others blamed the killing on his unmedicated diabetes. Whatever the case, Jurva was ultimately tried, convicted and sent to prison.
Gamache, 48, a Democrat, is confident her term in office will be quite different. Why?
"We're not getting a gardener," she says while enjoying a mug of lemon tea at the Bishop Street home she shares with her husband, Ted, an IBM employee, and children: Gabrielle, 13, and Robert, 10.
Of the eight Vermont cities that elect mayors — Barre, Burlington, Montpelier, Newport, Rutland, St. Albans, Vergennes, and Winooski — only one currently has a female leader. Montpelier Mayor Mary Hooper did not seek reelection after serving the city since 2004. Burlington mayoral hopeful Wanda Hines was expected to finish third in the Queen City.
"It will be an honor to be one of Vermont's mayors," says Gamache, who has worked for four years as corporate services manager for the Vermont Electric Cooperative. "I hope more women will be encouraged to get involved in local leadership and politics."
On one hand, Gamache shrugs off the historic significance of her place among women at St. Albans City Hall, where only two women — Gamache and Mary Garceau — have occupied the city manager's office.
"I like to think people have me involved because of my approach, experience and abilities," Gamache says, "not because I'm a woman."
On the other hand, Gamache says she hopes to "break down barriers and stereotypes that prevent people from getting more involved in the community." In other words, she knows she's a symbol.
She says, "In St. Albans, I hope to show that anyone can get involved. Creating more diversity that more accurately reflects the makeup of St. Albans is important. Nothing makes me happier than to see someone move beyond the boundaries of their comfort zone and try something new."
With short, salt-and-pepper hair, wire-rimmed specs and an engaging smile, Gamache wields authority with a friendly, believable, trust-me voice. Her supporters call her smart, articulate and primarily concerned with mobilizing St. Albans around forward-thinking ideas. If she has detractors, they're hard to find.
"I am an optimist," Gamache says. "I see the possibilities, and if I have the choice to see the glass as half empty or half full, I see no reason to see it other than anything but half full. But I'm a realist at the same time. I understand that all sorts of realities play into my optimism."
Gamache announced last summer — early for a Vermont mayoral campaign — that she hoped to succeed St. Albans Mayor Marty Manahan, a Democrat who publicly endorsed Republican Brian Dubie in the 2010 governor's race. She had already conferred with Manahan, who did not seek reelection after six years in office.
"I was ecstatic," says Mike McCarthy, 28, co-owner of the Cosmic Bakery & Café on St. Albans City's Main Street. "Liz seemed to be the right fit."
Gamache mounted a serious campaign. She spent nearly $3400 of her own money on lawn signs, a website, and a glossy, tri-fold brochure complete with photos and quotations. She also held an official kickoff party in January that featured speeches, food and a bipartisan crowd of 80 citizens, businesspeople and past St. Albans mayors.
No one else came forward to challenge Gamache for the job, which paid $10 a month until the recession hit; now it's volunteer. In the end, she ran unopposed.
"When Liz announced, she sucked up all the oxygen," McCarthy recalls. "She got so much support from all corners of the city, no one wanted to come out a bloody mess against her."
Born in Binghamton, N.Y., Gamache spent part of her childhood in California before her family settled in Burlington, where she graduated from Burlington High School in 1980.
At the University of Vermont, she considered a career as a journalist — and spent a year studying in Germany — before graduating in 1984 with a degree in business administration. From the mid-'80s to mid-'90s, Gamache owned and operated the Church Street Cow Cart, a popular cow-themed souvenir kiosk. And, yes, she dressed the part.
"That's right," she says. "I was 'The Cow Lady.'"
Tired of retail, Gamache went to IBM, where her father, Bob Neudecker, worked in public relations. She stayed there until she landed a position with the Franklin-Grand Isle United Way, in 2003. She quickly became a key figure in St. Albans, where she had moved in 2001.
"I'm not starting on Day One with this community," Gamache says during an interview last week, as her golden retriever, Cleo, snores near her feet under the dining table. "I've been involved in community projects for years. This is a continuation for me."
As she assumed a leadership role in St. Albans City's creative economic efforts in the mid-2000s, Gamache also became the inaugural director of the city's community justice center, a grant-funded program that aims to tackle youth and offender reentry issues.
Gamache's first city job led to others. She served as assistant city manager under Garceau, then became interim city manager in 2007. Gamache is willing to share credit with Garceau and city staff for stabilizing city finances and making municipal fiscal processes more transparent.
"We were at a point where we had to face certain issues and address them, and we had to do that openly to the community," Gamache says.
Current St. Albans City Manager Dominic Cloud first encountered Gamache in 2006, when he directed the Vermont League of Cities and Towns' Municipal Assistance Center. "Our working relationship was cordial, collaborative and trusting," he says, noting that he is looking forward to working with Gamache again. "Liz is very well positioned for the challenges this city faces."
Among them is an ongoing and arguably progressive battle against drug activity — Gamache campaigned on making city neighborhoods safer — and evaluating the work of a 20-person panel charged with studying whether St. Albans City should merge with neighboring St. Albans Town, a contentious, decades-old issue.
Also, Gamache says, Walmart is now a reality for the city — construction on the controversial St. Albans Town store starts this year — and she sees it as an opportunity to bring more people to the region, particularly to downtown St. Albans.
Late last year, St. Albans City nabbed a $2 million federal transportation grant to improve sidewalks, lighting and landscaping as part of a years-long downtown revitalization effort.
McCarthy thinks it's appropriate that the chair of the St. Albans City Downtown Board, of which he is an active member, is also the new mayor. He says Gamache ushered a diverse group of downtown stakeholders through a multiphase downtown revitalization plan that should produce tangible results this year.
"A lot of people talk about finding middle ground and consensus, because they think it will help them politically," he says. "I watched Liz do it. That's refreshing."
McCarthy, who chairs the Franklin County Democratic Committee, invited Gamache to speak at a fundraiser he hosted last fall. He says she made a strong impression among Democrats who had not yet met her. She received encouragement — but no official endorsements — from Democratic heavy hitters such as Gov. Peter Shumlin, Secretary of Administration Jeb Spaulding and former governor and U.S. ambassador Madeleine Kunin.
"When someone has the popularity that Liz has, people in political circles start to look at her statewide as someone with a good future — the proverbial rising star," McCarthy says. "But with all the talk, I've never heard Liz discuss higher office. She's someone that has never seen herself as a politician, but she seems to have taken to the role."
Gamache isn't getting ahead of herself.
"I've had people comment and suggest that this could be the start of something bigger," she says. "But, for me, the focus is local. It's about St. Albans City right now."