Brennan Severance enjoys an after-work paddle along the Upper Mad River.
A few paddlers prepare to take out during high water.
With spring washing away the last of winter's generous snows, paddlers of all kinds are taking to Vermont's rivers again. The state has its fair share of lively, lovely rivers to travel, but few provide the variety, reliable white water and postcard beauty of central Vermont's Mad River.
"There is something for everyone on the Mad," says Rob Scharges of Waitsfield, referring to the abundant options for white-water kayakers, open-boat canoeists and tubers alike. He co-owns and operates Vermont Canoe & Kayak with his wife, Amy, and has shaped most of his adult life around the Mad River. "It's got a great seasonal, natural flow," enthuses Scharges. "It's usually very clean … and, aside from a few busy swimming holes, it's totally uncrowded."
Rob and Amy Scharges make high-quality, light weight canoes in their small Waitsfield factory and offer repair services to countless canoe owners. They are carrying on the tradition of boat building in the Mad River Valley that began 40 years ago with the launch of Mad River Canoe, which sold to an out-of-stater a decade back. Before working for Mad River Canoe through the late 1990s, Rob Scharges managed Waitsfield's Clearwater Sports, which provides boat rentals, guidance and gear for trips along the Mad. Umiak Outdoor Outfitters, in Stowe, is another great resource for paddlers headed there.
"You can almost always find fun water to paddle on this river," says Scharges, "especially this time of year."
With a watershed fed by recent rains and snow melt from the high mountains — including Scrag, Adams, Abraham, Lincoln, Ellen, General Stark and Burnt Rock — the Mad is running relatively high right now. Popular sections in the springtime include the Upper Mad River, a Class 2 to 3 stretch running from lower Warren village to the Lareau Farm swimming hole in Waitsfield; the Middle Mad, a Class 2 stretch from the swimming hole through Waitsfield and toward Moretown; and the Lower Mad, a Class 2 to 3-plus stretch from the small Moretown power dam down to the Winooski River.
"It is no doubt the first trip of the season for many paddlers," says Dave Packie of Northfield, who refers to the Mad as his paddling "staple." And, because of the cooperation of landowners, respectful paddlers and organizations such as Friends of the Mad River and the Vermont River Conservancy, boaters have easy access to many sections of t he river.
Recently, Packie gathered more than a dozen boaters who keep in touch through the Vermont Paddlers Club for a group run of the Lower Mad. "We hadn't seen each other in months," he says. "It's the perfect place to sharpen your skills and brush up on your boat handling early in the season."
Packie, a dedicated husband, father and white-water kayaker who paddles Vermont's creeks and rivers year round, organizes the New Haven River Festival in early April. He loves the Mad for its consistent, playful white water.
"When the levels are reasonable," he says, "the Mad is where everyone learns to paddle white water. And, for so many Vermont paddlers, the Lower Mad is their first Class 3 white water."
I saw evidence of that last week when I spotted a crew of 10 excited kayakers enjoying a trip on the Lower Mad, led by the University of Vermont Kayak Club.
"Its geology, all the sculpted rock, the old mill sites along the way — it's really just an incredibly fun and beautiful river," says Packie. "I almost drove off the road the other day just looking at it."
Brian Mohr and Emily Johnson live in Moretown and often paddle the Mad in their tandem canoe. Photo by EmberPhoto/Brian Mohr and Emily Johnson.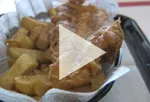 A paddler runs Class 3 white water in the Lower Mad River in Moretown. Photo by EmberPhoto/Brian Mohr and Emily Johnson.