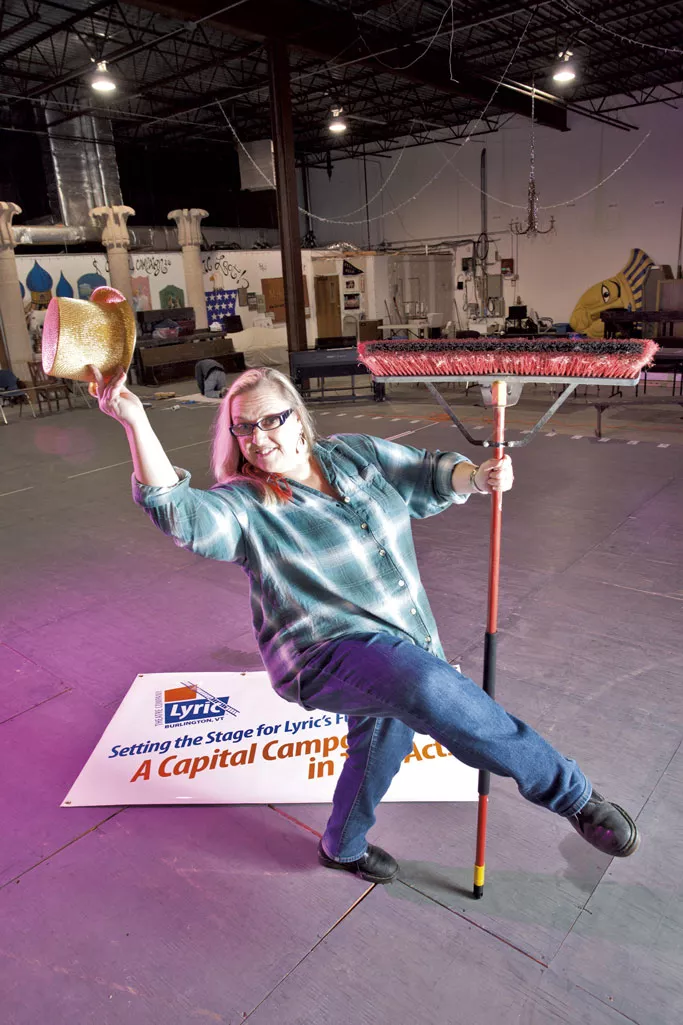 Matthew Thorsen
Syndi Zook, Lyric Theatre Company
Lyric Theatre Company, a pioneer in Burlington's theater scene, has produced biannual musicals on the Flynn MainStage for more than 40 years — since before the Flynn existed as a nonprofit entity and performing-arts center. Now entering its fifth decade, the community-theater group has staged 85 musicals and has hundreds of volunteers on its roster.
Though Lyric is "tied at the hip" to the Flynn, as former Flynn Center executive director Andrea Rogers described it to Seven Days in March 2014, the company has never had a permanent space to call home. Over the years, members have rehearsed scenes and dances, created hundreds of thousands of props, and stored myriad costumes and set pieces in rented spaces throughout Chittenden County. When we profiled Lyric last spring, the company was in the throes of rehearsing Les Misérables and slightly more than halfway through a capital campaign. The goal: $1.4 million to purchase its current administrative building and rehearsal space on Leroy Road in Williston.
Now, having raised just shy of $1 million as of press time for this issue, Lyric's board of directors is prepared to make the leap in the first week of the New Year.
"We're a go!" exclaimed Lyric executive director Syndi Zook in a phone call last week. "It's happening."
Lyric's board has made the call to purchase the building now and take advantage of low interest rates, Zook added. The building's price tag is $1.3 million. The remaining $100,000 of the capital-campaign total, she explained, will be poured into renovations of the space, including updating the electrical and plumbing systems.
When all is said and done, Lyric "will have a dedicated area for each function of musical theater, all under one roof," Zook said. "We'll have a dedicated area for cast rehearsal, a dance floor with mirrors. We'll have a dedicated area for costumes and for storage of the thousands of costumes that we've created. And we'll have a dedicated area for props and sets, to build and store them so we won't have to tear them apart [after shows.] We'll be able to keep them and use them again and lend them out to community groups and schools."
Renovations will also create administrative offices and an archive of photos, posters, dramaturgical research, and videos from Lyric's long production history. The Flynn Center's current board of directors raised the money for creating the archive and donated it to Lyric as a gift.
Lyric's first show was How to Succeed in Business Without Really Trying, performed in 1974 in what's now the Flynn Center for the Performing Arts. At the time, the art-deco building on Burlington's Main Street was an under-utilized movie house with a crumbling basement floor and no plumbing. Lyric's founding members brought in Porta-Potties, laid planks across the mud in the rehearsal room and put on a show.
From those humble beginnings, two Burlington theater powerhouses emerged. In 1980, Lyric launched a fundraising campaign to buy the Flynn, initially sharing its board of directors with a new nonprofit formed to manage the venue. Over time, the Flynn developed its own board and purchased the building.
Lyric has continued to stage two big Broadway musicals on the Flynn MainStage each year — and that won't change after it purchases its own building, Zook emphasized.
"We'll continue to perform shows at the Flynn, but we need a place to make it!" she said. "I keep calling [the building] a creation space. When I call it a production space, people get confused."
Lyric wrapped its fall production, The Producers, in November. Next spring it will stage the musical version of Legally Blonde. Once the building is purchased in January, Zook hopes to conclude the capital campaign by summer. "Then renovations can begin over the summer, and we can begin occupying the building by next fall," she said.
The original print version of this article was headlined "Lyric Theatre Company Prepares to Buy a $1.3 Million Home"