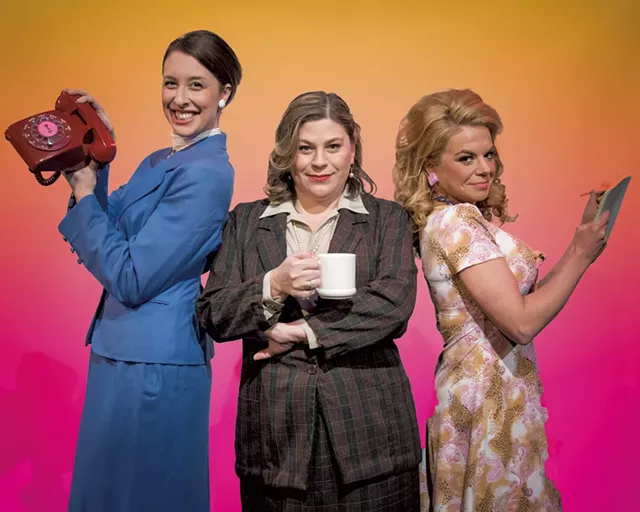 Courtesy Of Tim Barden Photo
9 to 5 cast members
Almost 20 years before the business-casual protagonists of Office Space destroyed a printer with baseball bats, there were the bad, bad ladies of 9 to 5. Their weapons of choice against their evil boss and bleak workplace oppression? Marijuana, rat poison and a handgun — not to mention kooky ideas such as equal pay for women, flexible hours and on-site company daycare.
The 1980 film starring Jane Fonda, Dolly Parton and Lily Tomlin is now a feminist classic, and the story was adapted in 2009 as a Broadway musical with original songs and lyrics by the Queen of Country herself. This week, April 6 to 9, Vermont's own Lyric Theatre brings the righteous — and hilarious — production to the Flynn MainStage in Burlington. And it's gonna be good.
Seven Days stopped by a recent rehearsal at Lyric's South Burlington headquarters. Choreographers Corey Camerlengo and Christopher Brown watched from the wings as the cast gracefully maneuvered heavy desks and rolling chairs for the opening scene — "deskography," as artistic director Kristen Bures called it.
"This might be a small state," she said, "but we have an incredible performing community."
The production stars four Lyric veterans, starting with Kim Anderson as Judy, Andrea Cronan as Violet and Serena Magnan O'Connell as Doralee. O'Connell's real-life husband, Don Patrick O'Connell, plays the show's sole male principal, Franklin Hart Jr. — aka CEO of Consolidated Industries and "sexist, egotistical, lying, hypocritical bigot."
Bures noted that the company selected 9 to 5: The Musical in part because it offered "a really nice foil to The Who's Tommy," Lyric's fall production. "This is a super-light, female-centric show. And it's funny," she added — in contrast to Tommy's darker, male-driven storyline.
But "light" and "funny" don't have to mean socially insignificant. "I am a woman of a certain age," said Bures — and she's well aware of the dearth of stage roles for women older than 35. 9 to 5 is a "good fit for the Lyric population that doesn't always have a chance to show their talents."
Among such roles is that of Roz, the boss' tragically devoted right-hand woman — and Pam Toof kills it.
"[Women] are not secretaries anymore," said Lyric promotions manager Pat Boera. "We're up to being leaders in the workplace." Still, the show's themes of professional equality remain relevant, particularly given the current presidential administration. "It's so timely now," Boera said.
Lyric often partners with another local nonprofit for its productions. Fittingly, its partner for 9 to 5 is Dress for Success Burlington, whose mission is "to empower women to achieve economic independence by providing a network of support, professional attire and ... development tools," according to the organization's website.
Courtesy Of Tim Barden Photo
9 to 5 cast member
Plenty of closets were raided to achieve the show's 1970s look, according to costume constructor Laurie Dana. "There may even be a pantsuit," she said coyly. Instead of the traditional all-black garb, stagehands will don office attire, too. Props include handmade typewriters by Connie Kite, and a cast member scored a free cache of authentic '70s office chairs, said acquisitions manager Mary Kenny.
Not entirely retro, the show's script sometimes winks at present-day viewers. For instance, there's a giddy conversation between typewriter geeks that seems deliberately designed to be incomprehensible to millennials; and Violet's internal monologue: "Just do it ... that would make a great slogan for something."
Some plot points deviate from the film, most notably the introduction of Violet's love interest, Joe, played by Lyric newcomer Michael McCann. He knocks his sentimental second-act solo, "Let Love Grow," out of the park.
One of the best things about working on the show, Magnan O'Connell said, has been sharing the stage with old pals. Fellow principal Cronan was her "first Lyric friend," she noted.
Of course, working with her husband has been entertaining, too. "I get to hog-tie him at one point," Magnan O'Connell said, smiling. The couple met during Lyric's 2003 production of Jesus Christ Superstar and were married two years later. When they're not rehearsing or in the spotlight, they operate Burlington's O'M (O'Connell Magnan) hair salon.
Whether onstage or behind the scenes, the Lyric community clearly loves what it does. 9 to 5 may be about work, but this group makes it play.