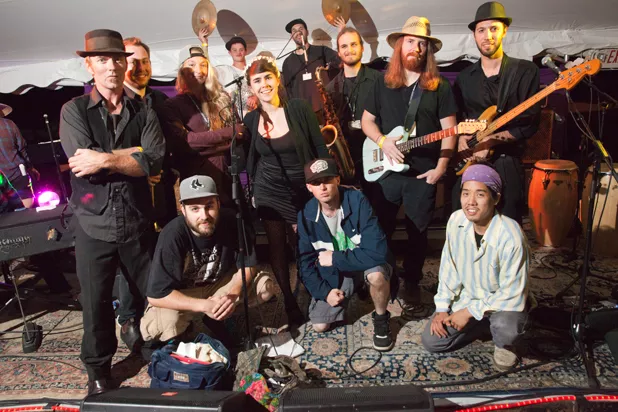 Matthew Thorsen
The Lynguistic Civilians and Kat Wright and the Indomitable Soul Band
Hip-hop outfit Lynguistic Civilians and R&B dynamos Kat Wright & the Indomitable Soul Band are currently two of Burlington's most popular and successful bands. Just for example, the former has won the Seven Daysies award for best unsigned band for the past two years. Wright and Co. snagged that title this year. Wright also won best up-and-coming musical performer honors in 2013, while the LCs will take home the award for best Vermont hip-hop artist/group for the second time.
Both groups were featured performers at the Precipice, a three-day local music festival that took place in Burlington last weekend. Following their sets last Friday, we turned our voice recorder over to Lynguistic Civilians MCs Monty Burns and Walshie STEEZE as well as to Kat Wright and her soul men — sax players Jake Whitesell and Luke Laplant, bassist Josh Weinstein, and drummer Dan Ryan. Then we asked them to interview each other. Here's what happened.
KAT WRIGHT: Lynguistic Civilians, who picks out your hats?
WALSHIE STEEZE: We all have our own styles and personalities, so the hat that the person is wearing is … well, the hat that person could afford at the time.
MONTY BURNS: It's pretty cut and dried, though. Walshie Steeze will have one of four New England sports teams' hats on.
WS: I have 15 hats. Fourteen of them say "Celtics."
MB: I will most likely have a Red Sox hat on.
WS: [Lynguistic Civilians MC] LC usually steals them from her boyfriend. Or, if there's an extra one lying around in the car, she'll be like, "Should I wear this? I'm not gonna wear this. Should I wear this?" Then she'll wear it for, like, a couple of songs.
MB: That answer solidifies that she's gonna be livid she missed this interview.
JOSH WEINSTEIN: Does LC have anything to do with the name Lynguistic Civilians?
MONTY BURNS: Her actual name is Lauren Craig. So, growing up, she was always LC. That's what everyone called her. But Walshie actually came up with the name Lynguistic Civilians.
WALSHIE STEEZE: I was doin' the dishes! I'm a huge fan of the CunninLynguists, spelled with a "Y." We did, like, two shows with the name and it just stuck. But people call us the LCs for different things.
MB: We got "TLC" on tour … like, why would you ever say that?
WS: So I start dropping [sings], "Don't go chasin' waterfalls…"
But I didn't actually put it together that LC and Lynguistic Civilians were the same initials until LC was like, "I love this idea!" But we figured, who cares? People are gonna think she's the most important part of the group anyway. Even Matt Thorsen, when he was taking our picture earlier, was like, "Wait, where's the good-looking one?" And I'm like, "I'm right here!"
MB: [Stroking his chin] You know, I work really hard on this beard.
WALSHIE STEEZE: Our turn, and it's a two-parter. When you're on tour, what do you drive and who's driving?
KAT WRIGHT & THE INDOMITABLE SOUL BAND (in unison): Josh Weinstein.
JOSH WEINSTEIN: We've had a number of vehicles. If the gig is close enough, we'll all take our own cars. If it's further, we try and get a van of some sort. Sometimes we use the Big Heavy World van.
MB: Solid.
JW: Sometimes, even sweeter, we've been fortunate to use Urban Moonshine's sprinter van…
LUKE LAPLANT: It's a Mercedes.
KAT WRIGHT: Tell them about the loft.
JW: There's a loft…
MB: I saw the pictures on Instagram!
JW: We call it the Moonbeam.
KW: When we play gigs and travel in that van, we change our name. What is it, Kat Wright and…
JW: The Indomitable Moon Clouds?
KW: Moon Clowns! Because one time the side door got stuck, and we all had to get out through the passenger-side door of the van. It looked like a fucking clown car. We're playing at the Syracuse Jazz Festival, and everyone there is a professional. And we have to climb out of the fucking passenger-side door. Our dressing-room trailer — we had a dressing-room trailer — was next to the Doobie Brothers. And we're getting out the passenger-side door of our van.
WALSHIE STEEZE: Surprise question! Who gets the loft?
JOSH WEINSTEIN: That would be Kat Wright.
KAT WRIGHT: I mostly snuggle up there.
JW: But to answer your first question, I drive and Dave [Purcell, trumpeter] drives.
KW: But when Dave drives, there is absolutely no stopping. You have to pee? Fuck you. And if you want to go swimming? Fuck you even more. Even if everyone in the whole van votes that they want to go swimming, Dave will just blow by your favorite swimming spot.
DAN RYAN: Daddy don't stop.
KW: Daddy don't stop, not even for the Adirondacks.
DR: I've gotta add this: Josh and Dave do the driving on the road. But I'm driving the bus on stage.
KW: Oh, damn!
JOSH WEINSTEIN: Lynguistic Civilians, same question.
WALSHIE STEEZE: I'll answer that one. At no point is anyone other than Mr. Monty Burns driving the van.
MONTY BURNS: That's true.
WS: We've taken the Big Heavy van. We'll rent a car, take the Megabus. I'll run there if I have to. But when we do have a van, Monty Burns is driving. I'm in shotty, or in the back snoozing.
MB: It's something that I've taken on from my father, where I just do not trust anyone else driving. I don't care if it's seven hours to Maine, I'm driving the whole way.
MONTY BURNS: Kat Wright, what are you listening to?
KAT WRIGHT: I have been listening to this band called Lucius. It's two women, I think from Brooklyn. They recorded an EP before they got their band together. So the EP is kinda cool. But their live show is unbelievable. But it's really weird. They wear the same outfits. And then they'll wear two different sets of earrings but switch one of them so they each have one. And they do the same thing with their shoes. They're fucking adorable. Oh, and a lot of Allen Stone.
JOSH WEINSTEIN: And Hiatus Kaiyote.
KW: And Hiatus Kaiyote. So this guy in New Jersey started this blog called TheNext2Shine. He's, like, 20 years old. And he features all this amazing talent from all over the world. He featured us twice, actually. So I check his blog out, and I found this band Hiatus Kaiyote from Australia. They call themselves "future soul."
JOSH WEINSTEIN: Same question, reversed.
MONTY BURNS: We were fortunate enough to do a show down in Boston a few months ago with Masta Ace.
WALSHIE STEEZE: Ace!
MB: So every place we've gone for the last few months, the first CD in is Masta Ace's new album, [MA_Doom] Son of Yvonne. It's an MF Doom production. And it's all old production he's used before. But Ace was listening to the instrumentals and started writing. He hadn't written anything in a while. So he called up Doom and was like, "Let's do it."
WS: And he dedicated it to his mother, who passed away. It's unbelievable. It doesn't matter that the beats have been used before. The things he has to say are so cool. And before that came out, we were bumping Ace anyway. He's one of our favorites.
I've been listening to a lot of People Under the Stairs. Here's another question: Have you heard of Sister Sparrow & the Dirty Birds? I stumbled into them some place, and they're really cool.
MB: There's a shock. Walshie stumbling.
WS: [Laughs] Also, there's that old '80s or '90s song. It's, like [singing], "Everyone falls in love some time." You know that song?
MB: Is that a song, or did you just use that as an excuse to sing?
WS: Uh…
MB: There's an R&B artist, Omar, he's got this one single out called "The Man." I haven't heard any of his other stuff, but that song is awesome.
JOSH WEINSTEIN: If you guys could share the stage with any [living] artist, who would it be?
MONTY BURNS: I'm gonna say Pharoahe Monch. He's my biggest influence, lyrically, I would say. And Organized Konfusion is one of the greatest groups of all time. So that would be my show. Lynguistic Civilians and Pharoahe Monch.
WALSHIE STEEZE: I know you said alive, but it's Elvis all the way. Me and Elvis onstage, are you kidding? But alive, I'd have to say —
MB: Method Man and Redman.
WS: Since day one, I've always said it. I just think the three of us going absolutely nuts onstage —
MB: You, onstage with them?
WS: Oh, yeah. Ain't no one is opening up for no one. We're putting out our third album, and I'm late for the show because I took a Megabus…
MB: To a show with Method Man and Redman? So Walshie Steeze is blacked out —
WS: But I'll still make the show! And it's at Red Rocks.
WALSHIE STEEZE: If you were gonna have your own festival, what planet would it be on?
JOSH WEINSTEIN: Jupiter.
KAT WRIGHT: Mars.
LUKE LAPLANT: Uranus.
DAN RYAN: Neptune.
JAKE WHITESELL: Earth.
WALSHIE STEEZE: And the second part, aside obviously from Lynguistic Civilians and yourselves, who would be on the bill? Dead or alive, who would be the headliner?
KAT WRIGHT: Lester Phillips.
LUKE LAPLANT: Snoop Dogg.
DAN RYAN: Well, if we're doing it on Neptune, it's gotta be the Pharcyde.
JOSH WEINSTEIN: Jimi Hendrix.
JAKE WHITESELL: [Mumbles something unintelligible]
KW: Jake, did you just say Seal?
JAKE WHITESELL: Uh … no? I'd want to hear the Michael Brecker Quartet. Or Michael Jackson. Or Prince.
KW: Ooh, can I change my answer to Prince? Or Michael Jackson?
MONTY BURNS: What's your favorite track on your new EP?
KAT WRIGHT: Oh, wow…
JOSH WEINSTEIN: "Hustle."
KW: I thought you hated that song.
JW: I love it now.
JAKE WHITESELL: They're all pretty good. Do I really have to choose one? … "Dear God."
LUKE LAPLANT: "We Didn't Start the Fire."
KW: I don't think that's on the EP.
DAN RYAN: Mine is also "Hustle."
KW: Mine, too, because our friend Konflik wrote some poetry for that one. Two verses, and they're so beautiful.
LUKE LAPLANT: Last question: Who is your favorite Indomitable Soul Band member?
MONTY BURNS: I'm gonna say Luke, because that beard was something.
KAT WRIGHT: But he doesn't have the beard anymore!
MB: So then it's Kat!
KW: Good answer.
WALSHIE STEEZE: How about D, all of the above?
KW: Awww…
The original print version of this article was headlined "Face Time."