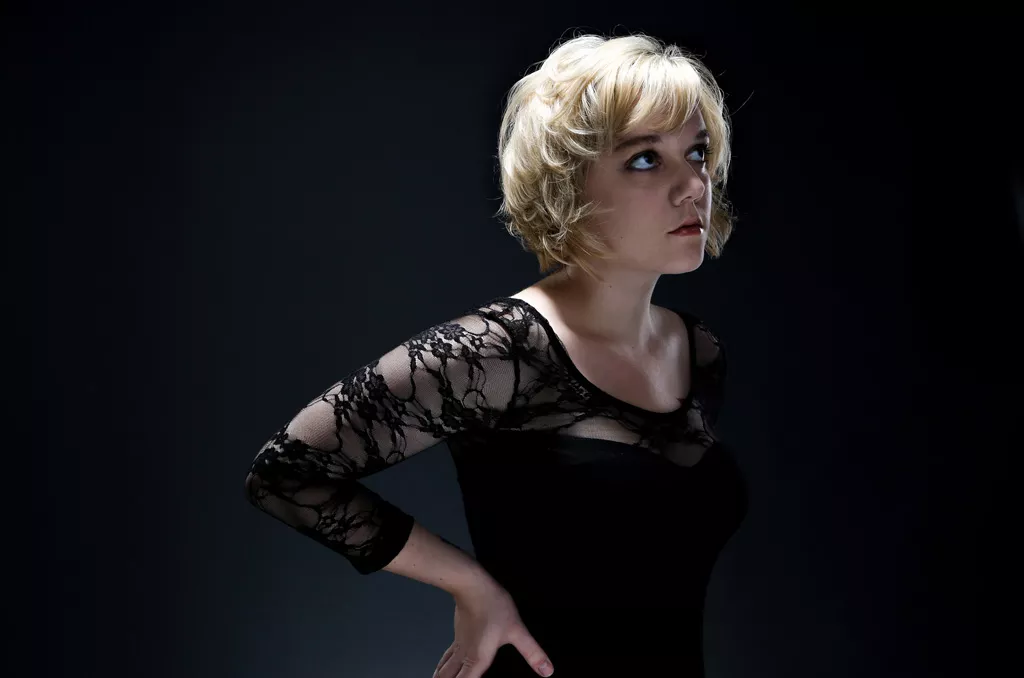 Courtesy of Patrick Crawford/Blackletter
Following her 2011 semi-breakout album, Indestructible Machine, Lydia Loveless was hailed as (yet another) country-music messiah, destined to save traditional twang from the nefarious auto-tuned clutches of pop-country acts like Florida Georgia Line and Luke Bryan. That's some serious pressure to put on a then-21-year-old preacher's daughter from Ohio. And while it was well-intentioned praise, it was always a bit off the mark.
Courtesy of Patrick Crawford/Blackletter
Loveless, now 24, is as much a contrarian punk as she is a country acolyte. As the Chicago Tribune's Greg Kot wrote in his review of that record, Loveless' "defiant tone is matched by songs that put country and punk on equal ground, unvarnished and direct."
Her latest, 2014's Somewhere Else, finds the songwriter moving ever farther from the trappings of traditional country. Though there's still a healthy dose of twang in her full-throated delivery, the DNA of these songs traces more directly to rock and roll. But most importantly, the album centers on Loveless's greatest asset: her unflinching, at times brutal, honesty and sharp lyrical eye.
For example, how many songwriters can take the subject of oral sex and turn it into something deeply affecting, melancholy and thought-provoking, as Loveless does on "Head"? Or can paint a gut-wrenching portrait of heartbreak as seen through the prism of a 1990s pop star, as she does on "Chris Isaak"? Or can pair barroom snarl with literary fluency in a meditation on the fine line between love and rage, as she does on "Verlaine Shot Rimbaud"? Just one: Lydia Loveless.
Loveless will appear as a headlining act at the Tweed River Music Festival in Waitsfield on Saturday, August 1. Seven Days recently caught up with her via FaceTime from her home in Columbus, Ohio.
SEVEN DAYS: Your father was a pastor but also a country-western bar owner, which is an interesting contrast. What was that like growing up?
LYDIA LOVELESS: They were two separate periods of time. But I would definitely say that bar-owner Dad was way more fun. [Laughs] But maybe that's just me...
SD: My dad was a minister, so I can understand that.
LL: He was a super-extreme minister type, too, where it was like, "Is that nail polish?! Argh!" But then that all changed, which was a good time.
SD: During the bar period, bands often crashed at your house. Did that in any way influence your interest in music?
LL: Not really. I had my mind set on it anyway. My family was really musical, so that was kind of the only option for us.
SD: At the very least it didn't turn you off, finding smelly musicians crashing on your couch.
LL: Nope. Surprisingly not. Now I'm the smelly musician on the couch.
SD: Your dad was originally the drummer in your band. Given how blunt and honest your writing is, especially about love and sex, was that ever awkward?
LL: No. I've never really given a shit about that sort of thing. My parents are open-minded people, too. So that helps.
SD: "Jesus Was a Wino" is one of my favorite songs of yours. Did that grow out of some sort of connection between the church and bar upbringings?
LL: Definitely more the religious thing. It's poking fun at the teetotaling Presbyterian churchgoers from that time period in my life. They are so judgmental. Like, if something went wrong in your life, they would tell you it was because you had a secret sin. So I just wanted to write a "fuck you" song to those people.
SD: Well done! You recently covered "Blind" by Kesha, which a lot of people thought was ironic. But it really wasn't, was it? You're a fan.
LL: Yeah, I really love that song. I think she's a great pop songwriter, and I love pop music. I also like people who are unafraid to be themselves and have a good time, even at the risk of being cheesy or embarrassing. I feel like we're probably a lot alike as people.
SD: You've talked a lot about consciously moving away from country music on Somewhere Else. What made you want to move toward rock and roll?
LL: I'm not sure it was conscious. But my songwriting started to change and develop, and I didn't want to be constrained by genre anymore. So moving away from it had to happen, or I would be stuck making the same record over and over again.
SD: So you were just kind of bored with country music?
LL: [Laughs] Yeah, pretty much. That's just kind of the nature of country music. Everyone wants to save it and preserve it. There's all these words people throw around, and I don't think "development" is a big part of that. It's all about keeping it classic, so there's not a lot of room for progress. I'm sure I'll be lambasted for that, but, well...
SD: Country is interesting because there is the traditionalist camp, but on the other extreme is current mainstream pop country, which sure ain't how Hank done it. For example, I was listening to a pop-country station the other day, and the hook to one of the songs, hand to God, was, "Chew tobacco, chew tobacco, chew tobacco, spit."
LL: [Laughs] I kind of have a love-hate relationship with some of those songs. On tour we'll listen to those stations a bit and just laugh. But then it gets depressing after a while, and I feel like I need to take a shower.
SD: You're a fan of [Stephen King's son] Joe Hill, who is becoming one of my favorite authors. How did you discover him?
LL: I was in a bookstore at home in Columbus, and I was looking for a Stephen King book. And the person behind the counter was like, "Actually, you should read this instead." [Laughs] She handed me Heart-Shaped Box.
SD: It's tough to tease Stephen King away from him, which I'm sure is a blessing and a curse for Joe Hill. But his stuff does remind me of my favorite era of King, which — and this is kind of terrible — was back in his heavy drinking and drugging days.
LL: [Laughs] Yeah. It's less wordy.
SD: You write fiction, too. Any plans to publish?
LL: I've thought about it for years. But I'm kind of a chickenshit when it comes to writing. I've been doing some nonfiction, so I'll probably start doing some writing with this local paper in Columbus called 614.
SD: There is a documentary about you in the works, Who Is Lydia Loveless? Aren't you, like, 24? Might that be a little early for a bio doc?
LL: Definitely! But that's sort of the point. Gorman [Bechard, director] usually does retrospectives of artists who are past their working careers. So he wanted to work with a current musician who hasn't really ... peaked, I guess.
SD: Is it surreal to have a camera following you around all the time?
LL: I think it will be weird on the road, because everyone gets so tired and space is hard to come by. So I'm really hoping to not have a nervous breakdown. Other than that, it's been fine. I'm just afraid that if I'm off doing yoga and someone comes up with a camera that I might actually hurt someone. [Laughs]