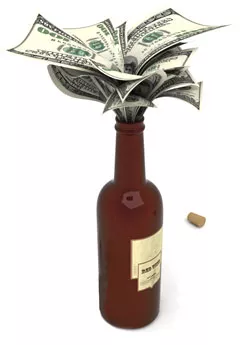 Certain occasions call for raiding the very top shelf of the liquor cabinet — the arrival of a new baby, for instance, or a promotion. Whether you're heading for the corner office, trying to impress a date or just celebrating the first warm spring evening, here are a few indulgent libations that won't gobble up your monthly mortgage payment (and a few that will).
Under $25: BrewDog Atlantic IPA (12 oz., $24.99) for sale at Beverage Warehouse, Winooski
Why shell out $25 for a single bottle of beer? Because this limited-edition brew is aged on a mackerel trawler during a two-month journey in the North Atlantic. Its makers say safeguarding the eight barrels involved "a tense barrel-rescue-mission, beatings from force-10 storms, 60-foot waves and encounters with killer whales." At Beverage Warehouse in Winooski, this story-in-a-bottle sits alongside other unique beers in a glass case. Co-owner George Bergin says caramel flavors nestle amid the intense hops.
Under $50: Vermont Spirits Vermont Gold Vodka (750 mL, $39, for sale at Vermont Liquor Stores)
Vodka often ranks as one of the cheapest ways to get drunk — a liter of 48-proof Maroff Light is $5.70 — but its highest expression can be as sharp and clean as a brilliant winter day. This triple-distilled vodka from St. Johnsbury's Vermont Spirits uses the sugar from maple syrup to render a crystal-clear, toasty yet smooth elixir.
Under $75: 2008 Régis Bouvier Gevrey-Chambertin (750 mL, $52.50, for sale at Dedalus Wine Shop, Burlington)
Dedalus co-owner Jason Zuliani takes issue with the maxim that you need to spend half your paycheck on a sublime bottle of red wine. "Especially if you're paying over $100, if it doesn't take you to another place, you're disappointed," he says. Zuliani often directs customers to France's Burgundy region, home to the most exalted pinot noirs in the world. "If you really want to be wowed by something, you don't have to spend much more than $50, and Burgundy will way overdeliver," he says. Illustrating the principle is this delectable wine from Burgundy's Côte de Nuits, a profusion of stewed cherries and herbs that changes every few moments after opening, like a living being.
2007 Ridge Vineyards Santa Cruz Mountains Estate Chardonnay (750 mL, $54, for sale at Cheese Traders and Wine Sellers, South Burlington)
Chardonnay is the buttery drug of the masses, but the best ones can be kinetic in the mouth, with both high and low chords. This California version is near the top of its American class.
Under $100: Lagavulin Single Malt (750 mL bottle, $66.09, for sale at Vermont Liquor Stores)
Single-malt Scotch is an acquired taste for some; others it enchants from the moment it hits their tongue. I began my Scotch crush with Oban, moved on to Talisker and now firmly reside in the Lagavulin camp. This whiskey hails from the moody Isle of Islay and is at least 16 years old when you drink it. Like a combative teenager, it offers fire and smoke, moderated by vanilla and a touch of exquisite sweetness.
Under $200: 1998 Gosset Celebris Vintage Extra Brut ($162.50, for sale at Dedalus Wine Shop)
While you can get amazing wines for under $100, the rules change when it comes to Champagne. Founded in 1854, Gosset is the oldest wine house in France's Champagne region, and this blend is about two-thirds Chardonnay and one-third pinot noir. Dedalus wine seller Chris Parker calls it "full of luscious bubbles and crisp acidity."
Under $500: Gran Patrón Platinum Tequila (750 mL, $207, for sale at Vermont Liquor Stores).
If there's a tequila that truly does make her clothes come off, perhaps this is it. It comes in an individually numbered bottle, which is then encased in a wooden box. By the time you break the booze free, it's supposedly as smooth as tequila can get — certainly not for mixing, but for sipping straight and unadorned.
Under $1000: The Macallan 25 Years (750 mL, $600, for sale at some Vermont Liquor Stores or by special order)
Single-malt Scotch can occupy many spots on a luxe list. While I show the love to Lagavulin, I recognize that the Macallan, from Scotland's lowlands, is one of the finest Scotches made on Earth. Aged in seasoned oak barrels that once held sherry, it has notes of cinnamon, toast and smoke, and it can be hard to find.
Under $5000: Rémy Martin Louis XIII Cognac (750 mL, $2001.40, by special order through Vermont Liquor Stores)
I once attended a hip-hop industry party where trays of this circulated like candy. I tasted it again at an inn in the Bahamas, sipping it from a sifter bigger than my head. It was smooth, I recall, but worth the price? Dropping two Gs on a Cognac may seem like all kinds of ridiculous, but if you get your mitts on a glass, you can decide for yourself.
Under $20,000: 2006 Château Cheval Blanc St. Emilion (6 L, $19,000, via special order from Farrell Distributing Corporation, South Burlington)
Considering that a coveted 1947 Château Cheval Blanc — "the greatest wine ever made" — can fetch $25,000 for a magnum, this is a bargain. Among the luxiest Bordeaux you can find; Château St. Emilion is one of the only two Bordeaux châteaux that received "premier grand cru classé" ratings in 1955, when they were first bestowed in this region by the government. The owner once famously let his dog feed on wine critic Robert Parker's leg after an iffy review. Sixty years later, Cheval Blanc is still fetching the big bucks.