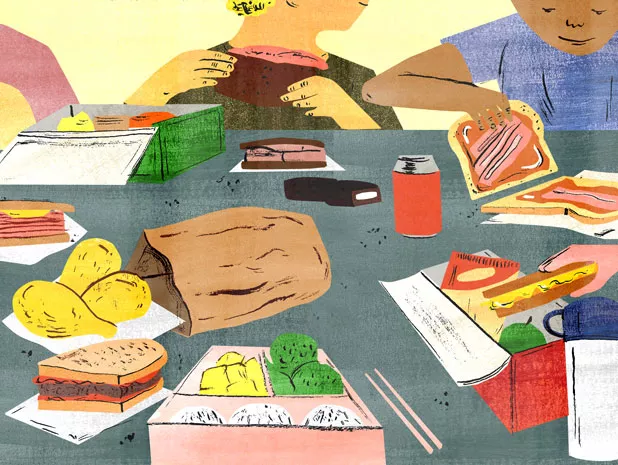 If school lunches can sculpt our culinary likes and dislikes for the rest of our lives, then contemporary Vermont kids are likely to grow up a discerning bunch. Many children here are treated to lunchtime luxuries unheard of in the cafeterias of yore. At Rumney Memorial School in Middlesex, for instance, students snack on edamame and kale; in Burlington, pizza days can mean American Flatbread. These days, Vermont youngsters often tend their own school gardens and know how to compost by the time they're in kindergarten.
Earlier generations can recall a less virtuous time. Inside my daily lunch box were usually two bright-pink slices of processed faux meat — aka bologna, or "baloney" — peeking from between Wonder bread slathered with French's mustard. As unappealing as it sounds now, I happily scarfed these down each and every day, loving them even more when my mom seared the meat first so it swelled with little bubbles of char.
Besides getting us through the day, the squished sandwiches and waxy apples inside our childhood lunch boxes were indicators of our times, of our parents' idiosyncrasies and, sometimes, of our own desire to fit in. We asked some Vermonters — food writers, chefs, the governor and a couple of Seven Days staffers among them — about their lunch box, or lunchtime, memories. From Tab to Cheez Whiz, beef tongue to rice balls, the answers are wildly varied, weird and wonderful.
Molly Stevens
food writer, cooking teacher and author of the forthcoming All About Roasting: A New Approach to a Classic Art, among other books
I wasn't much of a lunch-box kid. Up until the fifth grade, I walked home from public school for lunch. There was only a brief period in junior high where I sometimes packed a lunch (definitely brown bag), but mostly ate the (really bad) cafeteria food. I do remember coveting the baloney sandwiches my best friend brought in her lunch bag in seventh and eighth grades. They were plain on white bread with only mustard. My mom would never have made me anything so plain or simple — or "unhealthy." Her word, not mine. She was a whole-grain person from way before it became popular, and I longed for that sweet, tender white bread. The fatty baloney was pretty appealing, too. High school lunches were all family-style meals, although my best friend and I would often sneak off campus in her Camaro to eat beef on weck [kummelweck roll] from Anderson's or hot dogs from Ted's, two original Buffalo fast-food joints.
Armando Vilaseca
Vermont education commissioner
I came from Cuba in 1964 and moved to West New York, N.J., an immigrant area that from the 1960s until the 1980s had a huge Cuban immigrant population. My high school, Memorial High School, was probably 70 percent Cuban American, but served predominantly home-style Italian food — which today I would love, but at the time I hated it because it was new and very different from anything I was used to eating.
We had an open campus, and our high school was surrounded by all kinds of restaurants. We mostly went to Cuban restaurants where you could get an excellent and huge meal for about $1.25 — typically rice and beans, something like ropa vieja, a pulled-meat dish, and plantains along with a basket of fresh Cuban bread. There were many other meat dishes, but this is one of my favorites.
Sean Buchanan
chef, writer, food advocate and vice president of FarmPlate
My father packed my lunch my entire childhood. He was the type of guy who went through phases with my lunch. For about a year, every sandwich had peanut butter and something ... bacon, cheese, banana, honey, but never jelly. It was as if Elvis Presley made your lunch every day. He also packed me soda, but not a cool soda. I got Tab, because my mom drank Tab and it's what we had. Can you imagine if you sent your kid to school nowadays with a Tab to wash down a peanut butter and bacon sandwich? You would be called into a conference. That being said, the fact that he woke up early every day to pack my lunch let me know he loved me, and going to school knowing that your parent loves you is better than any lunch.
Linda Furiya
owner of Yum Dragon Frozen Dumplings and author of Bento Box in the Heartland: My Japanese Girlhood in Whitebread America
Until I was 6, I had only eaten my mother's native Japanese food and a few Western dishes she felt comfortable making. During my first weeks of first grade, though, I found the chipped-beef noodles, toasted-cheese sandwiches and chicken à la King dished out by the lunch ladies both exotic and delicious. Even the lunchroom setting was an exciting social epicenter where fickle grade school friendships were created and broken by who you sat with. I thought of classmates who brought lunch from home as the "Lunch Box Brigade." I coveted their tinned chocolate puddings, crustless sandwiches and soda.
In the 1970s, for a Japanese American girl in a mostly white, midwestern farm community, the lunchroom was an opportunity to assimilate. Making yet another meal was the last thing my busy mother wanted to do, but she understood my desire to fit in. With my new lunch box in hand, I happily took my seat with the Brigade. When I looked inside my lunch box, though, I didn't find the white-bread sandwich, chips and cookies I expected, but three rice balls nestled between waxed paper. I snapped the box shut before anyone got a peek. I couldn't explain an untouched lunch to my mother. I had to get rid of the rice balls quickly, so I snuck away to the bathroom, where I huddled in a stall and devoured every salty, delicious rice grain. For the rest of the week, I secretly ate my mother's delicious Japanese lunches in that cool, gray-painted bathroom stall.
Pamela Polston
coeditor and cofounder of Seven Days
The school I attended from first through fifth grades did not have a cafeteria. The kids who lived nearby would walk home for lunch (there were more moms at home in those days). My mother worked, so I was one of the kids who filed into the gymnasium to eat at long tables set up for us, and then taken down, every single day. The school did provide little cartons of milk — white and chocolate.
I had a lunch box I was very fond of — surprisingly, not a girly thing but a metal construction-worker type, with a thermos tucked into the domed lid. It was navy blue and had those toolbox-style clasps.
I'd like to say my childhood food tastes were more sophisticated than simply "white food," but that would be a lie. I was picky and, like many kids, rigid about my likes and dislikes. I don't remember exactly how or when I transcended this, but I do remember what I had in my lunch box for several years running: Cheez Whiz on multigrain bread (amazingly, my mom never went for squishy white), a small bag of Fritos and an apple. On rare occasions I might deviate with a PB&J, or have a different fruit. In the winter, the thermos would be filled with some kind of Campbell's soup — usually chicken noodle or cream of tomato.
Oh, and despite my love of chocolate, at lunchtime I almost always went for the unadulterated white milk. I recall feeling pretty virtuous about that.
Lee Duberman
chef, Ariel's Restaurant
My mother grew up poor in the Bronx, with a single, first-generation American mother who was susceptible to all kinds of gurus and trends. One of these trends was a very strict regimen of "healthy" foods, specifically a kind of macrobiotic diet that she imposed on my mother during her elementary school years. My poor mother traipsed off to school with a lunch box full of boiled wheat, buckwheat groats, raw root vegetables and parsley juice. In response, she vowed never to put her kids through that, so we always took the hot lunch at school. Even the thought of sending her kid to school with a packed lunch made her shudder, since it reminded her of how desperately she longed for the school lunches of overcooked spaghetti and meat sauce, Salisbury steak and tuna mac. Aside from the tuna mac, which I loved, I would rather have had the buckwheat groats!
Jack Lazor
founder and co-owner of Butterworks Farm
My father used to make rye bread, and I can remember I had liverwurst sandwiches on his homemade rye bread, with onions on it, too. These were kind of weird, but I had plenty of other normal food. My father was Slavic and loved food. He used to buy herrings in these big barrels. My folks did a lot of their own processing and cooking for themselves. And we had a garden and fruit trees. In a way, I think that's where I got my love for what I do.
Alice Levitt
food writer, Seven Days
My school didn't allow us to bring food in — we were seated family style in the lunchroom with a teacher at the head of each table, and we ate what was put in front of us or nothing at all. In summer, however, I had the best meals at day camp. Weekly trips to Meiji-ya, my favorite Japanese supermarket in Yonkers, N.Y., ensured that I was well stocked with Botan Rice Candy, Every Burger and Yan Yan. My all-pink fork, knife and chopstick set also came from the superstore. Entrées were generally more Western, though no less diverse. My mom would throw the previous night's beef Stroganoff and egg noodles into a thermos to keep warm. Another favorite was a creamy, sherried chicken dish, diced fine to fit into the thermos and accompanied by rice pilaf.
Tracey Medeiros
food writer, recipe developer and author of Dishing Up Vermont
My lunch box offerings varied each day. The selections were often based on the leftovers from dinner the night before. One of my favorites was baked chicken drumsticks. My mother would coat them in a crunchy, seasoned bread-crumb mixture. However, the cold meatloaf sandwich was never the highlight of my school meal. To this day, I will not order a meatloaf sandwich when I go out to eat! A yummy dessert was always tucked away in the corner of my lunch box. It might have been a tasty cupcake with rainbow sprinkles or a slice of moist chocolate cake.
Gov. Peter Shumlin
My mom packed lunch boxes for all three of us. There was no school lunch in Vermont in the 1960s. My favorite was tongue sandwich. No kidding. The Grand Union butcher, on High Street in downtown Brattleboro, sold smoked cow tongue cheap. We would boil it for dinner, and my mom would slice it, put horseradish and hot mustard on rye, and what a sandwich! She would also stuff in a couple of Ring Dings, which tasted like old chemicals and chocolate frosting to me. I would trade them for almost anything else.