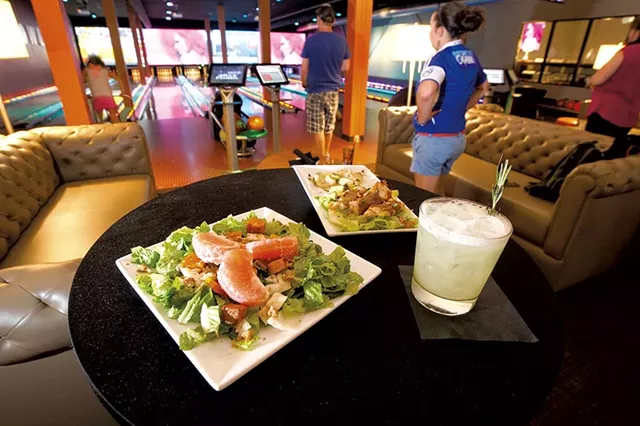 Jeb Wallace-brodeur
Salad with grapefruit and fennel and chicken satay skewers
In my memory, the bowling alleys of my childhood were dim and dingy places, with chairs upholstered in fabric that would forever exude cigarette smoke. Power ballads blared from the speakers, and powerful women in acid-washed denim knocked back drinks and knocked down pins with equal aplomb.
To a sheltered girl in suburban Vermont, bowling alleys and roller rinks represented the forbidden — booze, drugs and making out in a dark corner while Salt-N-Pepa encouraged us to "Push it, push it good." In other words, they were sublime.
But when I walked into Stowe Bowl recently, it felt more like a lawyer's office or a hotel than a den of iniquity. Instrumental music played in the cool, carpeted lobby, and I caught a whiff of chlorine from a nearby pool. This all made sense because the alley — which opened in February — is part of the Sun & Ski Inn and Suites. The Mountain Road facility also offers a mini golf course, and the accommodations are pet-friendly.
The alley itself consists of a bright dining room with half-moon banquettes covered in orange fabric. These overlook eight lanes equipped with state-of-the-art bowling technology (for instance, the pins are on wires). There, the décor leans to dark purple walls and cool lighting; pop videos play on big screens on the far wall.
Overall, the place is clean, friendly and welcoming. As my friend and I slid into a booth, ravenous and eager to sample the kitchen's wares, a smiling blond server with a swinging ponytail and a Nordic-sounding accent delivered a pair of laminated menus, filled our water glasses and made bubbly small talk.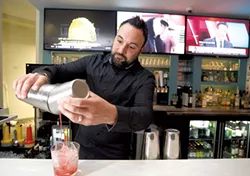 Jeb Wallace-brodeur
Bar manager Jayson Willett
The bottled beer list ran the gamut, from Bud Light to Heady Topper and Citizen Cider's ginger-laced Dirty Mayor, bolstered by a fine selection of local and micro-brews on draft. Cocktails were similarly diverse, from a mix that that included DeKuyper Sour Apple Pucker to a light and lovely concoction made from gin, simple syrup and grapefruit, served in an absinthe-washed glass.
Curiously, some of the flavor notes from that cocktail were repeated in one of the dinner salads we ordered: Pink grapefruit sections and fennel provided a bracing garnish for romaine lettuce and butternut squash tossed in a buttermilk-honey dressing. Crab fritters — which the server recommended unequivocally over the bitterballen (beef fritters) — also came with fennel. This time, the vegetable was shaved and tossed with apple to make a light slaw. Tangy lemon-dill caper sauce, into which I dipped the sweet morsels of seafood, was one of the highlights of the meal.
One item could have used a bit more zing. The Red Thai Pho Noodle Bowl, which purports to draw from two culinary traditions renowned for weaving complex tapestries of flavor, was surprisingly bland. It needed a great deal of salt — fish sauce would have been even better — and a lashing of lime juice. The dish was reminiscent of Thai curry, but any lineage from pho — Vietnamese noodle soup made with richly spiced broth — was difficult to detect.
Most of our dishes were entirely acceptable, though, and much more interesting than the run-of-the-mill burgers and dogs I'd come to associate with bowling alleys. Grill-marked skewers of Indonesian chicken satay were coated in glistening peanut sauce, with sweet and tangy pickles providing a counterpoint. A mac and cheese with spinach, smoked bacon and truffle oil was exactly the comfort food one would expect: gooey and smoky, with just a hint of musky fungus lingering after each bite.
As we finished our crispy, golden-brown French fries, which arrived with a quartet of dipping sauces — peanut sauce and thick curry ketchup alongside the quotidian ketchup and mayo — our server asked us for our shoe sizes. She informed us that we could move our tab down to the alley and pay for both the food and the bowling when we were done.
Jeb Wallace-brodeur
Chicken satay skewers
Once laced up, with our names entered into the electronic score-keeping system, we two infrequent hurlers ran our hands over the sparkling, marbled surface of pink, black and blue bowling balls, trying to figure out if our fingers were small or medium and how much weight we could handle.
Then we took turns lobbing our eight-pounders down the lane, while J-Lo and her backup dancers gyrated their hips on the screen in front of us.
There's nothing quite like winding up and letting loose a projectile, watching it with nail-biting hopefulness and exulting as it smashes into its target. Whether we dropped our balls into the gutter or picked up spares (neither one of us ever threw a strike), little animated dancers appeared on the electronic scoreboard above our heads to cheer us on. We jumped up and down giggling, high fived and had an absurdly pleasurable time.
Experiencing a bowling alley as an adult could never replicate the sensual immersion that I felt at gritty local lanes as a wide-eyed teen. But our evening at Stowe Bowl — which is billed as "swanky, comfortable, loungy" — was a success. It's clean enough for families, cool enough for tourists and fun enough for locals.
If you go and the day is pleasant (and you're not driving a tractor-trailer), approach Stowe through Smugglers' Notch. Warm up by playing a round of mini golf in the sun, then meander into the cool alley to grab a brew and a snack. When you're ready to strut your stuff in the lanes, the pop divas on the big screens and dancing animations on the small screen will root for you. Even if your ball spends most of its time in the gutter.