Matthew Thorsen
Luis Calderin
If Sen. Bernie Sanders (I-Vt.) wants to become the 45th president of the United States — or even win the Democratic primary next July — he'll need to score big in several key voter demographics. He'll need support from women. He'll need to rally minority voters. And, perhaps most critically, he'll need to win the youth vote — which means mobilizing young people to the polls. That last one might be an especially tall order.
Since 1964, 18-to-24-year-olds have voted at lower rates than all other age groups, according to a 2014 U.S. Census Bureau report by Thom File called "Young-Adult Voting: An Analysis of Presidential Elections, 1964-2012." What's worse, the report suggests that young adults' tendency to vote is steadily declining. According to the study, 51 percent of eligible young people turned out to vote in 1964. That number dropped to 38 percent in 2012. Kids today, right?
Despite the trend, File notes spikes in the youth vote in certain presidential election years. In 1992, young voters turned out in droves, relatively speaking, to cast ballots for Bill Clinton. Following the lowest turnout since 1964 in 2000, the percentage of young voters hitting the polls peaked at 44 percent when Barack Obama was elected in 2008. Clearly, when they deign to rock the vote, young voters can have a significant impact on elections. The question is, will America's young voters #feelthebern?
That's where Luis Calderin comes in.
The Burlington resident is the arts, culture and youth vote manager for the Sanders campaign team. His uniquely challenging task will put his years as a brand manager, marketing whiz and general culture maven to a supreme test. The position also finds him coming full circle.
Calderin, 41, is the oldest son of Cuban immigrants and the first person in his family born in the United States. His parents fled the Castro regime in the 1970s, only to land in a no less tumultuous setting — Miami during the reign of the so-called Cocaine Cowboys. In the '80s, the city was among the most violent and crime ridden in the country. So Calderin's mother moved her children as far from Miami's mean streets as she could — literally and figuratively.
Working their way up the East Coast, Calderin and his family reached the frigid, lily-white hamlet of Burlington in 1986. It was not a smooth transition for a kid who had only ever known concrete jungles and palm trees.
"Culturally, ethnically, Burlington was a very different place in 1986," says Calderin over coffee at a Burlington café. "And for a street kid from Miami, it was night and day."
Despite his culture shock, Calderin found a safe haven: the teen center at 242 Main.
That fabled space in the bowels of Burlington's Memorial Auditorium is now known mostly as a hardcore punk club. But in the mid to late '80s, 242 Main was a vibrant hub for the city's youth, offering a wide array of after-school programs largely planned and organized by kids themselves. Here's the nifty part: The teen center was under the aegis of the Mayor's Youth Office, a kid-oriented extension of Burlington city government created by then-mayor Bernie Sanders.
"I came from trouble," says Calderin. "But 242 Main kept me off the street. It kept me out of trouble."
You can bet that story came up when Calderin interviewed for his current position in the Sanders presidential campaign. He had another in, too, having grown up down the street from Sanders and his now-wife, Jane O'Meara Sanders. Then Jane Driscoll, she headed the youth office and was, along with Kathy Lawrence, one of the primary adult supervisors in the early days of 242 Main.
Calderin became fast friends with the neighboring Driscoll kids, in particular Dave Driscoll. The two also have a work history in common: Calderin has done two separate stints as a brand manager for Burton, where Driscoll currently works. Driscoll recommended Calderin for the position in his stepfather's campaign.
Courtesy of Luis Calderin
Calderin with Sarah Silverman
"Bernie has always been passionate about the arts and creativity, and I think Luis epitomizes that, as well," Driscoll says. "He's outgoing and well spoken. He's a great people person, so putting him in a position where he goes out and meets people all over the country, he's a great representative. He's a perfect fit for the campaign."
Despite Calderin's personal connections to Sanders, his appointment is hardly a case of nepotism. All of his intertwining personal and professional interests helped prepare him for the job.
In high school, Calderin became interested in radio. He learned the ropes at University of Vermont student-run station WRUV 90.1 FM, where he became the youngest DJ in the station's now 60-year history. That hobby led Calderin to Emerson College in Boston, where he studied communications.
Likewise, Calderin's sharp sartorial sense inspired a stint working in New York City fashion after college. Dude is always dapper. These days, you're apt to spy him in a slim-fitting dark suit that sits neatly on his wiry frame. He typically tops his look with a jaunty hat, tilted back to frame his angular face and alert eyes.
Calderin backs up his aesthetic instincts with a strong background in marketing, including work at the now-defunct Burlington design firm JDK and the Fox action-sports brand in California. His own company, Okay!! Okay!!, is a boutique firm specializing in music management and promotions, which has rostered clients such as Burlington's Heloise & the Savoir Faire and Rough Francis.
Calderin is still passionate about music, and in his free time — increasingly rare — he's a widely respected club DJ in Burlington. He's also a founding member of Friends for A-Dog, the local nonprofit that does charitable arts-related work with Burlington youth in the name of late DJ Andy Williams, who was one of Calderin's best friends.
Given his professional credentials and varied personal interests, Calderin, a father of two, is well suited to be Sanders' point man on the youth vote. He doesn't seem intimidated by the scope of his new gig. But he's the first to admit that the task before him is unlike anything he's tackled before.
"Everything is so much bigger right now," Calderin says.
Since we're essentially talking about the fate of the free world for the next four or eight years, that's probably an understatement. And it's hard to overstate how important young voters, and hence Calderin's efforts, will be to Sanders' chances of winning.
Anthony Gierzynski is a political science professor at UVM who specializes in mass media, elections, campaign finance and political parties. He's published four books, among them Harry Potter and the Millennials: Research Methods and the Politics of the Muggle Generation (2013) and Saving American Elections: A Diagnosis and Prescription for a Healthier Democracy (2011). Gierzynski says that the youth demographic is paramount in elections, particularly for candidates such as Sanders, who swim outside the mainstream.
"Given that younger voters are the segment of the population that seems to get most excited about insurgent candidates, this group is more important for him," he writes.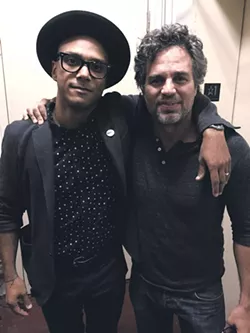 Courtesy of Luis Calderin
Luis Calderin with Mark Ruffalo
In the early going, Sanders hasn't had much trouble ginning up excitement, as attested by his popularity on social media, his raft of high-profile celebrity endorsements, and the thousands who have flocked to his rallies and speeches. But Gierzynski cautions that buzz is not enough to swing an election. Howard Dean, for example, had plenty of buzz before he went down screaming in 2004.
"Social media and excitement can only take you so far," he writes.
Nor is buzz an antidote to the most poisonous enemy Sanders faces in winning the youth vote: cynicism.
"We live in an incredibly cynical time, and all it takes is a little nudge from more cynical voices in our culture to make people think it isn't worth it," writes Gierzynski.
So how does a candidate sustain excitement and translate buzz into votes? According to the UVM prof — and history — it's all about superior organization.
"Part of the story with Obama was that they had an extremely sophisticated organization that was able to reach out to personally contact a large number of young voters," Gierzynski explains. Exit polling in 2008 battleground states bore out the importance of those tactics.
As Calderin's job title implies, arts and culture are the foundation of Sanders' organizational strategy for engaging youth voters. On the arts beat, one of the programs Calderin is organizing is a call to artists to produce unique Bernie iconography: "The Art of a Political Revolution: Artists for Bernie Sanders 2016."
"This campaign is not about Bernie," says Calderin. "It's about the people and the issues. So what we did not want to do is make a bunch of pictures with his glasses and his hair."
No need: The fans who are busy producing unofficial, bootleg Bernie-phernalia have ensured there's no shortage of such images. So, taking a different tack, Calderin reached out to artist friends and asked them to produce pieces inspired by Sanders' policies. Among the 30 or so artists he recruited are Burlington painter dug Nap; Portland, Ore., graphic designer Aaron Draplin; and Dallas-based contemporary artist Ron English. The resulting art exhibit will tour the country, and some of the pieces will show up as limited-edition prints and other swag sold on Sanders' website.
Another of Calderin's duties is corralling and coaching celebs to preach the gospel of Bernie. Sanders has received a startling number of high-profile celebrity endorsements given this early stage in the campaign, including ones from musicians Killer Mike and the Red Hot Chili Peppers, and actors Susan Sarandon and Mark Ruffalo.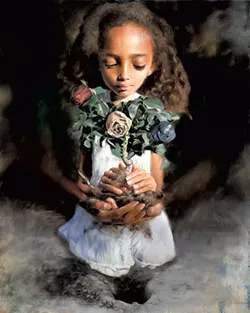 Courtesy of Luis Calderin
Artwork from Richard J Oliver
That means Calderin has been keeping impressive company in recent months. "I've met some pretty incredible people lately," he says. "I think of my role [in the campaign] as camp counselor at Camp Political Revolution. I meet them, and we discuss what issues are important to them and how they can speak to those issues on our behalf."
Commissioning art while keeping the likes of Will Ferrell on message could be a full-time job. But those efforts are just part of Calderin's larger mission of managing the youth vote. His task is not just to mobilize young voters and help organize groups on college campuses, but to take the pulse of American youths and find out what's most important to them.
That mission was clear when Sanders held a digital town hall at George Mason University in Virginia. The student-focused meeting was broadcast online to colleges in every state in the U.S.
The meeting wasn't meant simply as a platform for Sanders to make his case for becoming president, Calderin says, but as a forum for students to weigh in on what they want in a leader. He stresses that involving young people directly in the election process, rather than just paying them lip service, is far more important to winning the youth vote than hip paintings and clever YouTube videos.
"Young people need to know that we can't do this without them, and we can't do this without them the whole way through," says Calderin. "If you want change, then we need a million kids in Washington."
Calderin is keenly aware of just how high the stakes are in Sanders' presidential run, and of how much pressure falls on him. For him, though, some of the stakes might be smaller and more personal.
"I don't think there's ever been a DJ on staff in the White House," Calderin observes. Then he grins and adds, "I want to be First DJ."