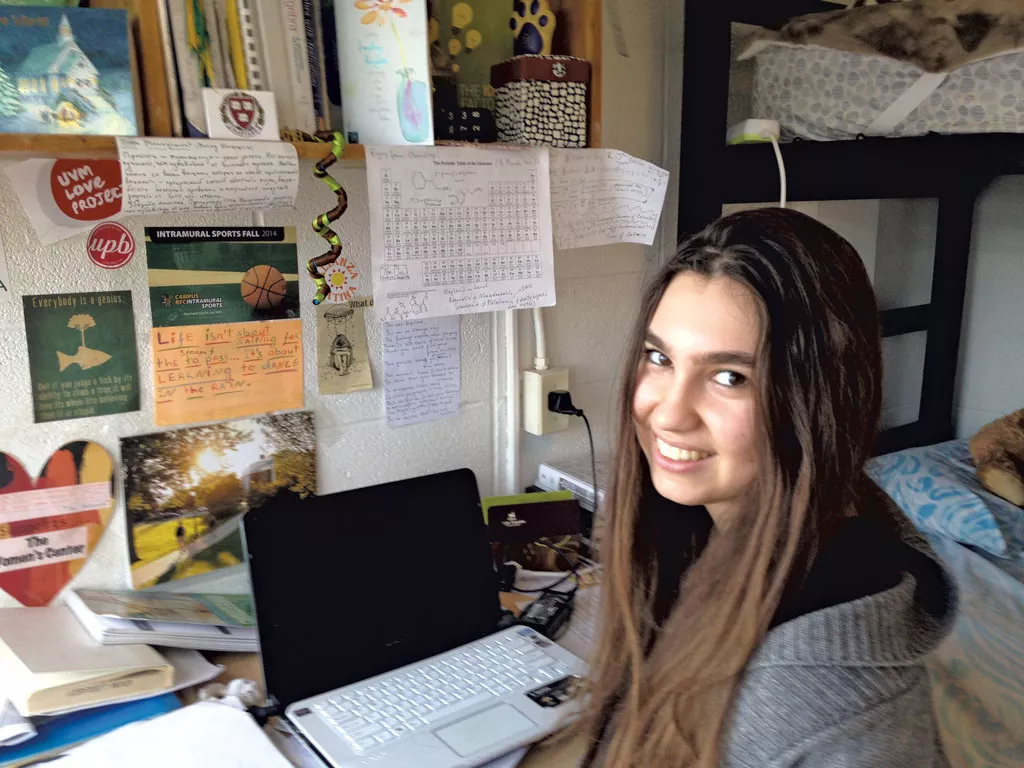 Molly Walsh
Natavan Dudkina
Natavan Dudkina learned about the University of Vermont at a college fair she attended more than 5,500 miles away from Burlington — in Baku, Azerbaijan. The 18-year-old pre-med student with thick, dark hair and a gentle smile was hooked after hearing about UVM's "public Ivy League" reputation, strong life-sciences courses and clean air.
Lake Champlain reminds Dudkina a bit of the Caspian Sea in her hometown Baku — without so much air pollution hanging over the shoreline. "When you go outside, it's so fresh," she said.
Colleges across the country are eager to attract students like Dudkina, who pay top dollar to get an education abroad. Last year, international student enrollment at U.S. colleges and universities jumped 8.1 percent to nearly 900,000 students.
Vermont is late to the party. Last year, its colleges hosted 1,241 international students who brought in $48.2 million. That makes it 48th among the states for hosting non-American learners, according to the nonprofit Institute of International Education.
Katryna Snow, senior assistant director of international admissions at UVM, said that when she first started working at UVM two years ago, the school was "an unknown brand" in the lucrative race for global admissions.
UVM president Tom Sullivan had arrived the year before, emphasizing cultural diversity in education and worldwide recruitment. In 2014, international students accounted for 3 percent of UVM's undergrad enrollment — up from 1 percent in 2012. The goal is 7 percent by 2018.
To that end, Snow and other administrators now frequently fly to China, Europe, the Middle East and Africa in search of new recruits. The university teams up with other American institutions to host minifairs at schools abroad, like the one in Baku that attracted Dudkina. Promotional material is available in multiple languages: Chinese, Arabic, Spanish and Portuguese.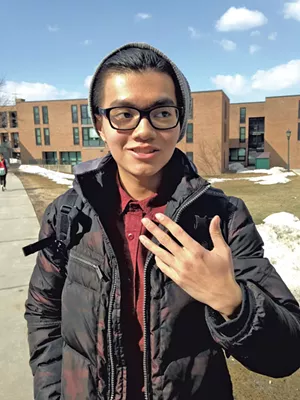 Molly Walsh
Thang Nguyen
The firm Kaplan International feeds sophomores to UVM from programs in China and Nigeria.
With Sullivan at the helm, in 2013 the college also started a partnership with the private firm Study Group to help with international networking and recruitment. Together they created the Global Gateway Program, to help international students improve their English skills — the greatest impediment to their academic success — right on the Burlington campus. Students enroll for up to a year and, if they meet the requirements, enter the university as sophomores.
That's Dudkina's plan. She's a biochemistry major taking calculus — and earning As. Russian is her first language, and she's succeeding in her Global Gateway humanities courses, even though she struggles to read and write English. One of her toughest moments this year was earning a B on a research paper — a surprise for a student accustomed to being at the top of her class.
"I was so disappointed and upset," Dudkina said.
She sought extra help and improved her writing skills, and pushes herself socially to improve her English and make friends. "I would say it's about searching for opportunities to talk to a person," she said. "Just sitting in your room, you learn nothing."
Like all U.S. institutions of higher learning, UVM is preparing for a demographic decline of college-age students. The college accepts around 70 percent of Vermont students who apply, and that pool is small. Vermonters filed only 2,200 applications to UVM this year, compared to about 23,000 out-of-state applicants.
There's increasing competition for those out-of-state students, especially in the New England area, who pay $35,832 — more than double the in-state rate — to attend UVM. Targeting internationals protects against potential losses in admissions and revenue. "The reality is that the numbers in our primary market are diminishing," said Beth Wiser, director of admissions at UVM.
Molly Walsh
Natavan Dudkina's dorm room door
Most internationals pay full freight and are not eligible for need-based aid.
Vermont high schools, too, are getting in on the international action. This semester, Montpelier High School is hosting six Chinese students — who pay approximately $7,000 each in tuition. The school is weighing a proposal to host 20 Chinese students next year under an expanded partnership with Spiral International, a Burlington company that organizes cultural exchanges.
It's considering a larger program with students living in dorms at Vermont College of Fine Arts that would launch in the fall of 2016. MHS principal Adam Bunting said the program could enrich the school culturally and financially. Business owners are also intrigued, he added: "Why aren't we thinking about bringing in students who would see our state and later in their lives contribute to our local economy? It just makes sense."
Private high schools and boarding programs have long tapped the global market for students. At St. Johnsbury Academy, 270 of its 970 students are from abroad. Most internationals pay full tuition and boarding costs at the school, which total about $49,000 per year. St. Johnsbury recruiter and associate headmaster Jack Cummings sees that as a win-win. "We all have to pay our bills," he said. "I see diversity as the best way to continue to be successful."
Why do foreign students come to Vermont? At the college level, the state can't compete with mega-universities that offer world-renowned science, technology, engineering and math programs. But according to Snow, the classic American college campus has strong appeal. Many international students are from countries where higher education might not have a residential component, sports or clubs, and these things are sought after. Students want "the grassy quad, the students playing Frisbee," Snow said.
The beauty and human scale of Vermont have their own appeal, Cummings said. Especially in rapidly developing economies such as China, where pollution is rampant, Vermont's environment is a draw.
"It's safe, it's clean, it's beautiful," Cummings said.
Thang Nguyen, 20, is a UVM freshman from Ho Chi Minh City in Vietnam. His parents, who are silk vendors, supported their son's decision after an academic adviser at a Boston-based study program suggested Nguyen consider UVM. "My adviser told me there's a place called Vermont, and there's a good school there," Nguyen said.
With his oversize glasses and skinny jeans, Nguyen looks like any hipster on campus. He ranked second in his class at home and scored higher than the average American on the SATs. He's a computer science major who writes code with ease and has an A average. But like Dudkina, Nguyen finds his humanities classes difficult. An introduction to classical music class is by far his hardest, he said.
Nguyen also had trouble adjusting to social life at UVM. "At the beginning, it was really, really scary," Nguyen said. Since then he's made friends, learned to skateboard and joined a fraternity.
Though many international students head to states with big university systems, Nguyen was not tempted, even with their larger Vietnamese populations.
He likes the cold after the heat of Ho Chi Minh City, and he wants to learn how to ski. "I want a change," Nguyen said. "I want a new place."