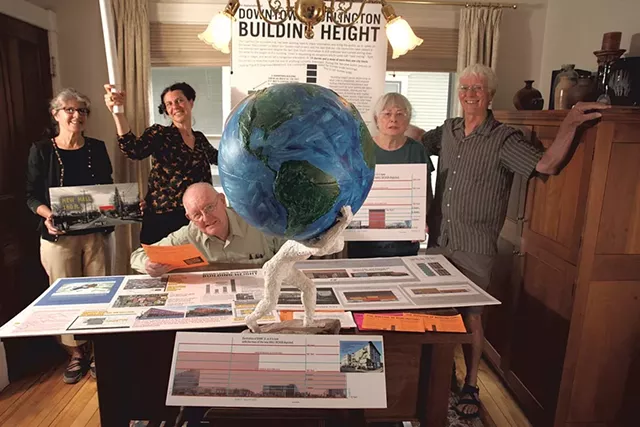 Matthew Thorsen
Barbara McGrew, Genese Grill,Tony Redington, Caryn Long and Michael Long
Genese Grill wears her long brown hair Princess Leia-style. She doesn't drive a car or own a cellphone. She lives in Burlington with other creative types in a rented house on Strong Street that they call Aesthesia, a Greek word meaning capacity for sensation.
She has a PhD, periodically teaches college and high school students, and writes and creates art — including a gigantic, handwritten panel text on the history of magical books that she's been laboriously penning and illustrating since 2012.
Grill is working on another oversize project as well: marshaling opposition to the proposed increase in building height limits downtown for the redevelopment of the Burlington Town Center mall. A plan calls for a housing-retail-office complex with two or three 14-story towers. They would be the tallest buildings in Vermont.
It's not Grill's first Burlington development battle. She fought the housing planned for the former Burlington College land on North Avenue — unsuccessfully, as it turned out. But she was effective in opposing a zoning proposal last year that would have allowed more housing in the Pine Street Enterprise Zone corridor, which some feared would price artists out of their studios.
"You actually can fight city hall," she said. "You can change things."
Artists and nonartists have joined forces to fight the height change through a new organization called the Coalition for a Livable City, of which Grill is an active member. They started meeting informally about a year ago and came up with a name last fall.
Members include alumni from Save Open Space Burlington — which fought the Burlington College development — and the South End Alliance, which fought the Pine Street zoning change.
The coalition has distributed more than 4,000 fliers and launched a Facebook page called Stop the 14-Story Mall. Last month, the group rallied more than 100 people to attend a planning commission meeting on the height question. The coalition's mission statement: "We advocate for a city that is people-oriented, ecological and human scale. A city with sunlight, views, character and real grassroots democracy, that is livable for all people, not just those who can afford high-end lifestyles."
Current height limits on the downtown blocks in question allow for buildings up to 105 feet — about 10 stories — when a "bonus" for affordable housing and other desired amenities is included. The base height limit is 65 feet, about six stories, on most of the land occupied by the mall.
The zoning amendment would increase the height limit to about 160 feet, or 14 stories, for the mall and several adjacent properties.
The clock is ticking. Councilors approved a predevelopment agreement in May that specified the zoning changes must be adopted by September 12. If the council misses that deadline, mall redeveloper Don Sinex can drop his obligations — and the project.
The planning commission should make a recommendation to the council in early July. The final zoning decision is the council's.
Opponents say it's special "spot zoning" treatment for one developer and could profoundly alter the scale of Burlington.
"We have to decide what kind of city we want Burlington to be," said Barbara McGrew, a retired consultant who has hosted many of the coalition's meetings at her eighth-floor condo atop the Corporate Plaza building on Bank Street. "Once we get this height limit, 14 stories, there will be a lot of 14-story buildings downtown. It will change the character and aesthetic of Burlington forever."
Coalition members include Charles Simpson, who was at the forefront of the effort to preserve former Burlington College land; Lea Terhune, a New North End citizen activist; Tony Redington, a retired transportation planner who champions roundabouts; and Michael and Caryn Long, Henry Street residents who have long fought to improve neighborhood quality of life on streets near the University of Vermont.
The organization of the coalition is somewhat "anarchic," McGrew said, and members are talking about creating a steering committee to refine priorities. Some meetings have drawn a half dozen people, others more than 20.
They don't agree on everything, but many of them feel the pace of development under Burlington Mayor Miro Weinberger is "too much and too fast," McGrew said.
She won a court battle a few years ago that prevented an office tower from going up on College Street. The proposed zoning change could allow buildings that would obstruct her view, but McGrew said broader concerns spurred her involvement with the coalition.
"I personally am not antidevelopment and I'm not anti-urban environment and I don't think most of us are," she said. "But we find so much happening with the densification and height and this 'Burlington must grow, grow, grow.'"
The mayor continues to support the project and so do city councilors, including Democrat Joan Shannon.
"I do not love going up to 160 feet, but given the option of going up to 160 feet or doing nothing with the behemoth in our downtown ... I'd rather go up to 160 feet," Shannon said.
Weinberger supports the height change but says he is listening to opponents. "My position has not changed — redevelopment of the Burlington Town Center is critical to the city's achievement of our economic development, affordable housing, financial and environmental goals, and I am committed to the predevelopment agreement and the process it lays out," Weinberger said via email. "Given the city council's 10-1 vote, I am confident the council is committed to the agreement as well."
Last weekend, coalition members distributed a flier at the Burlington Farmers' Market warning that higher buildings could create shadowy canyons downtown, increase pressure to demolish low-rise historic buildings, and dramatically change the character of a city beloved for its human scale, spectacular lake views and historic streetscapes.
"I can't go anywhere without people stopping and saying, 'I want to help,'" said Grill.
Like others in the group, Grill makes art to illustrate her point. She fashioned the cardboard "coffin" that protestors carried into Burlington City Hall last year to symbolize their view that developing the former Burlington College land with hundreds of housing units would effectively "kill" one of the city's largest open parcels overlooking Lake Champlain. She also made giant "propaganda paintings" that were among the works South End artists created last year to protest Weinberger's support for housing in the Pine Street corridor. The mayor, who was satirized in a cardboard shanty village called Miroville, eventually dropped the proposal.
The visuals helped, said Grill, who visits the Bread and Puppet Theater Museum in Glover regularly and appreciates the long tradition of fusing art with politics. "If you are an artist, you expand the vision of what's possible," said Grill. "I think that's kind of the role of the artist."
She and other coalition members say they view the proposed zoning amendment as subverting limits that were carefully drafted and approved by the public. "They are trying to change these rules on the fly in response to a specific project," said Michael Long, a retired English teacher and former Burlington Development Review Board member.
The mall project is "completely out of proportion" with the existing downtown, said Redington, a coalition member who is also active in the effort to redesign the Champlain Parkway project in the South End. McGrew wants to see some sort of mall redevelopment but said she doesn't think city residents want a much taller downtown.
"I don't think the people who live here really want it to be another kind of city," McGrew said.
Coalition members talked during an interview at Long's home last week. Fliers sat on a table as well as posters with building height charts.
Some have charged that the literature is misleading, with building depictions that are out of scale and statements that fail to recognize the plan's benefits. Grill defends the fliers and fires back that pro-mall city officials are misleading the public. City officials have championed the reclaiming of St. Paul and Pine streets, for example. But even supporters of reconnecting Pine acknowledge that it will be an engineering challenge that requires going beneath the office building at 100 Bank Street and navigating steep grades.
And while city planners often refer to the downtown height limit as 105 feet, Grill and other coalition members say emphasizing the "bonus" limit masks the true impact of the proposed change, which would more than double the base limit — from 65 to 160 feet.
After the interview on Henry Street, Grill headed over to her shared studio space on Howard Street. Inside, the eight-foot panels of her book rested against a wall, and she pulled out the many paintings and signs she has made for past political efforts.
Grill said she is looking forward to the June 15 launch of a new magazine she is editing, 05401 Plus. It's a sort of sequel to Burlington architect Mannie Lionni's zine 05401 and aims to examine art, development, politics and more. Contributors will include Diane Gayer, an architect with a studio next to the Howard Space Center who has been active in preserving studio space and fighting for a redesigned Champlain Parkway.
At public meetings, Grill's bohemian appearance — she is equally comfortable wearing mod vintage dresses and fishnet stockings or Victorian shirtwaists and longish skirts — has been a sharp contrast to the jackets and button-down shirts favored by the construction execs and mall redeveloper Sinex. She feels city officials might take her less seriously because of her quirky outfits.
But if unconventional, Grill has shown she can be formidable. She said she's thinking about creating something big for the height protest movement: gigantic puppets.
Higher Purpose?
Which parts of Burlington would grow higher if developer Don Sinex gets his way? The proposed zoning amendment would increase the height limit to about 160 feet on an irregularly shaped "overlay district" that includes most of the mall property along Cherry and Bank streets but leaves out the section that fronts the Church Street Marketplace.
The 160-foot height zone includes several parcels outside the mall footprint: the Macy's department store building, the city parking garage on the west side of Macy's, the office building at 100 Bank Street and a lot used for parking behind People's United Bank at 2 Burlington Square. It does not include the bank building, or the glass and steel office building at 150 Bank Street that was constructed in the 1950s and is considered a notable local example of International Style architecture.
Also excluded: properties on the south side of Bank Street or properties on the north side of Cherry Street.
The zoning amendment does call for another change: increasing the allowable building height on the Church Street Marketplace between Main and Pearl from 38 feet to 45 feet.