Courtesy Of Sarah Brown And Nicholas Glass
Sarah Brown and Nicholas Glass
When Sarah Brown began dating Nicholas Glass in 2009, she had never heard of Loving v. Virginia. After several months together, Brown, a white woman, sought to introduce Glass, who is black, to her family members — and some met her with resistance.
"Once I processed the situation, and [my] anger, I really wanted to make something constructive of it," Brown said, "[so] I started researching the history of interracial relationships in the United States."
Among Brown's findings was the story of Richard and Mildred Loving, the Virginia couple whose interracial marriage would lead to the June 12, 1967, U.S. Supreme Court ruling striking down all existing anti-miscegenation laws in the country.
The anniversary of that decision has come to be known — aptly — as Loving Day. The name is credited to Ken Tanabe, who inspired the day of celebration and awareness in 2004 with his senior thesis at Parsons School of Design in New York City.
Brown, now 32, and Glass, 37, married shortly after moving to Vermont from Washington, D.C., in 2012. In 2014, the Essex Junction couple launched Loving Day Vermont in partnership with Burlington's Peace & Justice Center. That first year, they organized a Q&A-style lecture at North End Studios.
"We felt isolated and singled out, in a way, so we were looking for a community," Brown said. While Vermont's population is staggeringly white (94.6 percent, according to the 2010 census), in D.C., she said, "[we] felt like we were just sort of the norm." She continued, "We were a little bit naïve when we moved up to Vermont, [thinking,] Oh, it's this liberal paradise."
Now in its fifth year — and on the 51st anniversary of the civil rights milestone — Loving Day Vermont will be celebrated on Tuesday, June 12, with a concert and party. Singer-pianist Myra Flynn will perform a "Loving Day Edition" of the University of Vermont Live on the Lawn free concert series, hosted on the outdoor stage at the Dudley H. Davis Center. Zero Gravity Craft Brewery will present DJ Craig Mitchell and offer a Loving Day Ale. One dollar per sale of this special brew (also known as Little Wolf) will be donated to Loving Day Vermont.
Last year, Ferene Paris Meyer, 36, of Burlington, joined Brown as a co-organizer of Loving Day Vermont. Meyer, a woman of color, married Josh Meyer, who is white, in 2007; the couple relocated to Vermont from Massachusetts in early 2012.
Though Meyer acknowledged that she and her now-husband discussed race "from the moment we started dating," she first learned about Loving v. Virginia in 2016 with the release of director Jeff Nichols' historical drama Loving.
"I had this moment like, Holy shit, this narrative and partnership that I have [was] started on the backs of this couple," Meyer said. "This was never talked about in history books."
Indeed, in recent years, awareness of the Lovings — and the cultural and political struggles their story represents — seems to be gaining traction. 2017 marked the Supreme Court decision's 50th anniversary, ushering in a wave of media coverage. Just last week, a memorial was erected to honor the Lovings in their Virginia home of Caroline County.
For Catarina Campbell, 28, and Electra Shaw, 30, Loving Day has taken on especially personal significance: June 12 is the anniversary of their first date. As a queer, interracial couple engaged to be married this October, they have concerns about marriage equality that extend beyond race — particularly, they noted, since the election of Donald Trump.
Campbell and Shaw first realized the import of their anniversary at a Loving Day house party that Meyer hosted last year. "It's been a really beautiful part of our relationship ever since," said Campbell. For her, Loving Day has contributed to "recognizing love as an act of resistance and an act of liberation in a way that is really meaningful to me."
Jericho writer Phyl Newbeck first learned of the Supreme Court case in 1997, when she saw the 1996 TV movie Mr. and Mrs. Loving.
"I thought, What a cool story," Newbeck said. "I didn't really learn much about this case in law school."
When she sought to do further research, Newbeck discovered that no book had been written on the Loving case. So, she recalled, "Not knowing what the hell I was doing, I wrote a book on it."
Virginia Hasn't Always Been for Lovers: Interracial Marriage Bans and the Case of Richard and Mildred Loving was released in 2004 — the same year that Loving Day was born from Tanabe's thesis work.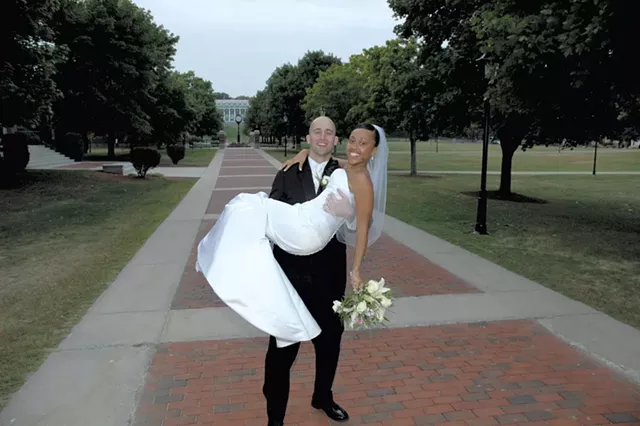 Courtesy Of Josh And Ferene Paris Meyer
Josh and Ferene Paris Meyer
At the time of Loving v. Virginia, Newbeck explained, 16 states still maintained laws banning interracial marriage. In U.S. history, 41 states at some point had such prohibitions; Vermont was among the nine that never did.
"We've gotten asked so often, why do we celebrate it in Vermont?" Brown said. As organizers, she and Meyer noted that their biggest challenge is an attitude of "[Loving Day is] great and all, but why should we care?"
For many of Vermont's multiracial families, the significance of Loving Day hits home as they experience (or anticipate) the challenges of raising their children in predominantly white communities. Brown noted that she's been asked if she is her daughter's mom, and Meyer recalled being mistaken for her children's nanny. In one case, a daycare teacher described Brown's daughter as "mulatto."
"A lot of this is driven by our desire to create spaces for our children to not be racialized," said celebrated Burlington poet and UVM English professor Major Jackson, 49. He and Meyer first met at "Black Friday," a gathering for families raising brown children in Vermont.
"I'm very happy that [Loving Day Vermont is] calling attention to a fact of modern love," said Jackson, whose wife — poet, UVM professor and Green Mountains Review associate editor Didi Jackson — is white. In fact, the couple agreed, it's not even "modern" love; interracial relationships are part of the history of the country.
Still, he and Didi, 48, recalled being asked questions about their relationship that strangers probably would not ask same-race couples — for example, while buying groceries or dining out.
Vivian Mason, 71, of Colchester, moved to Vermont in 1997 with the explicit hope of finding a safe place to raise her son, who was born in 1984 from her marriage to a black man. When she lived in California as a white woman with a biracial baby, she said, people often assumed her son was adopted. "It fit their comfort level."
Mason learned about Loving v. Virginia through Loving Day Vermont's inaugural event in 2014. For her, the event is "not just about [recognizing] racism but about parenting and the love we have for our children." A year earlier, Mason launched the CCTV Center for Media & Democracy series "Conversations on Race Now" with Susan Linskey.
"I've seen a lot in the 21 years we lived here, and I've seen a lot of change," said Mason. While she acknowledged that Vermont has been "a wonderful, wonderful place" to raise her son, she also recalled plenty of frustration — and the realization that change is gradual.
As part of their ongoing efforts, the organizers of Loving Day Vermont welcome interracial couples and multiracial families who want to reach out and share their stories.
"If one person [sees] Loving Day [and] gets the message, that's one person who didn't get it before," Mason said. "Maybe it's frustrating not to see it happen faster, but [racism] is a deep-rooted sickness, and it's going to take a long time to change it."
"A lot has changed, and not a lot has changed," Brown said of the five decades since Loving v. Virginia.
"1967 is not long ago at all," Meyer added. "This lived experience I have every day was only recognized 49 years ago," she recalled realizing when first watching Loving. "It makes my heart sad, a little."
"What's horrible," commented Jackson, "is that we still are living under stereotypes and the racialized thinking. It's too bad that that occasionally becomes what defines people.
"Our love and all the interests that [Didi and I] share are not predicated on difference," he continued. "In fact, it's the opposite."