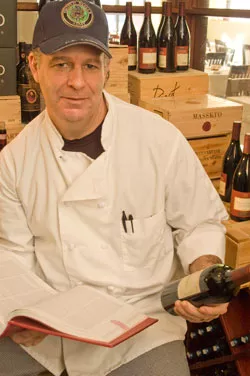 Matthew Thorsen
Kevin Cleary
Every winter around this time, Kevin and Kathi Cleary, owners of L'Amante on College Street in Burlington, offer a five-week series of special fixed-price menus. Monday through Thursday, diners can sample three courses from a particular region of Italy, with optional (but highly recommended) wine pairings.
One week the fare might be from the Mediterranean island of Sardinia, known for its seafood and spit-roasted meats. The next, tongues travel to Trentino-Alto Adige, where a pervasive German influence could put sauerkraut, dumplings and smoked meat called speck on the menu. Since the food costs just $32 per person, it would be hard to find a more frugal European vacation — for your palate, anyway.
How did a chef from Long Island end up specializing in regional Italian food? In 1995, after six months at the New England Culinary Institute, Cleary went to Boston to do an internship at Lydia Shire's innovative restaurant Pignoli. "I started out as a prep guy during the day. After about four or five months, the chef said, 'If you stick around for six more months, I'll get you some extended stages in Italy," says Cleary, referring to culinary internships. The offer was too good to resist. Cleary recalls, "I called NECI and said I wouldn't be coming back."
In Italy, Cleary worked at a Michelin-starred restaurant in Imola, and then at a tiny place in Tuscany. Back in the U.S., he held various positions at Italian restaurants until, in 1999, he and Kathi opened their own in Gloucester, Mass.: L'Amante. In a 2001 review, Boston Globe restaurant critic Alison Arnett called Cleary's pan-seared chicken "exuberantly rich" and said he made sea bass "sing."
When the Clearys sold that restaurant four years later, the plan was to take some time off. But on a trip to Burlington, the couple noticed a realtor's sign where the Hunan Chinese Restaurant had stood. "I made a call … The landlord was great," Cleary says. "That was it; that's why we're here."
Thank goodness for serendipity! We love dining at L'Amante, and the regional wine dinners are a wonderful way to explore Italian cuisine — made with many Vermont ingredients — without buying a plane ticket. We decided to grill Chef Cleary.
How did your family eat when you were growing up?
My father was a fireman, so he wasn't always there, but my mom and my siblings and I would sit down at the table every night and have dinner.
It was the standard '70s and '80s American cuisine — pot roast, goulash. My mother was a pretty good cook, so everything was good. And everything rotated: We knew when we were having meatloaf and pork chops.
We'd order in Chinese food and pizza, but we didn't go out to eat much. Going to restaurants was a special occasion — maybe that's why I got into the industry.
Back then, were there any foods you thought were gross?
I couldn't eat eggs, and now I love them. I'd eat them every day if they didn't have so much cholesterol.
On the weekends we'd go to church, and then my mom would make breakfast. I always had to have pancakes. I couldn't even stand watching my family eat eggs.
In college, eating my first egg was strange to me. It was fried, over hard. I don't know why, but that's what I chose. I stared at it for a little while [before trying it]. It was good.
Name three foods that make life worth living.
Sometimes I think I'm still in this business just so I can make Bolognese. There's no way I'd be able to live without my Bolognese.
Vegetables — we eat so many vegetables, Kathi and I. I just love broccoli rabe. I'll eat it literally almost every night.
There are so many foods that I wouldn't want to live without, but I'd have to say cheese. Pretty much any type of cheese.
Have you ever eaten something truly weird?
To be honest, I'm not a very adventurous eater. People watch Anthony Bourdain and Andrew Zimmern [on TV] — they'll eat anything — and I think they get the idea that all chefs will eat anything. I'm not one of those guys.
I'll eat bottarga [dried fish roe]. A cheese was one of the [strangest things I've tried]. We were at a restaurant in Friuli [Italy] a couple years ago, and we ordered every cheese on the cart. [The server] opened up this little bowl, and there was a lot of liquid in it. She scooped a little bit out. It was kind of the consistency of Jell-O or pudding, and it stunk like sulfur. Then she stood there, so I had to try it.
There's not much else [to mention]. I don't really stray that much, even when I'm out.
What foods are always in your pantry?
I always have Snyder's [of Hanover] sourdough pretzels, lots of yogurt, water and coffee. Right now we have a giant block of cheddar. And caffeine-free Diet Pepsi.
We have a lot of snack stuff, but there's not a lot of food. We eat every meal except breakfast at the restaurant, and we don't really entertain that much. On our days off — our one day off — we usually go out, although we've been eating at home a little more often. Usually I'll go to the restaurant, cook something and bring it home. Like I'm not already there enough!
If you left Vermont, what local products would you miss most?
Number one would definitely be the cheeses, all of them. Maple syrup. Cavendish [Game Birds] quail. I had it for dinner last night. We have customers who come in and just want the quail.
Of course, I could actually get all of these things outside of Vermont.
If you could have any chef in the world prepare a meal for you, who would it be?
I'd like to say Ferran Adrià, but I'm not sure I'd be into that [style of cooking]. There's this other guy in Spain that I've read a little about. His restaurant, Asador Etxebarri, is in the Basque region.
The chef's a retired arborist, so he researched coals — the different woods and how they heat — and now he has this little, tiny restaurant in the middle of nowhere, where he cooks everything over an open flame.
You're trying to impress somebody with your culinary prowess. What do you make?
You know, I think that some of the hardest dishes to do are braises. A braise takes so much patience, and I think that shows how much you care about the dish. Even when you're browning [the meat], you have to be really patient. Don't put something in the pan and start shaking it around.
So anything braised. I think I do really good rabbit, lamb shanks, osso buco. I love short ribs; maybe I'd make those.
Describe your best meal ever.
I have a top five that are all really close to one another. Some are just really simple, simple meals. We've had some great meals in Piedmont [Italy].
But overall, Kathi and my brother and I went to Daniel [in New York City]. This was probably 10 years ago or so, and everything about it was unbelievable. I got to go into the kitchen and spend 20 minutes talking to [Daniel Boulud]. It was absolutely over the top, and probably the most expensive meal we've ever had.
There are four other ones that rank right behind it.
What's your favorite cookbook?
It's a really old, old cookbook that my sister-in-law gave me. It's Italian [Regional ] Cooking by Ada Boni, English translation circa 1969.
I'll refer to that a lot, especially for [L'Amante's series of regional] dinners. I don't copy recipes, but it's nice to look at cookbooks. It's more of an inspirational kind of thing: I'll take an idea and give it some kind of twist.
Name a local restaurant that you patronize.
When you own a business, it's important to support everybody, so what we try to do is spread it around, go everywhere — well, every place that's open. It's getting harder. The Kitchen Table is closed [on Sunday]. We've never even been to Hen of the Wood. [Bistro] Sauce is closed on Sunday now, too.
We go to American Flatbread, Bangkok Bistro and Leunig's. We try to pick a different place every week. We really like A Single Pebble. We'll go to The Bearded Frog. We were there last weekend for a burger.
What's your favorite beverage?
Wine. Any kind. It has nothing to do with getting a buzz. When you open up a bottle of wine, it changes, and then it changes in the glass.
I've become a pretty big fan of sparkling wine lately.
What kind of music do you like to listen to in the kitchen?
I let the other cooks decide, and they basically have rock on, or KOOL 105. It's definitely more of a background thing.
If I had a choice, I wouldn't mind listening to some jazz.
If you weren't a chef, what would your job be?
I would be in the wine trade, definitely. Not necessarily making wine; maybe working for an exporter or an importer.
I'm taking a wine course right now — it's a diploma course with the Wine & Spirit Education Trust [based in the UK] — and that's kind of all consuming. I pretty much taste [wine] every day. I have one more test in June, and if I pass I'll get the diploma.
What are your hobbies?
I like to golf. In the summer, when it's nice, I try to get out and golf about twice a week. It's hard because it's a four-hour commitment, and summer is our busiest time of year.
What's your most embarrassing favorite food?
Cheez-Its. It's so embarrassing. If they're in the house, I could literally eat a whole box: I have to stop myself. They're just packed full of flavor! Sometimes Kathi will say, "I bought you a box of Cheez-Its." Damn it, why? I just lost 2 pounds.
It's just a holiday thing now. I eat them on Thanksgiving and Christmas.