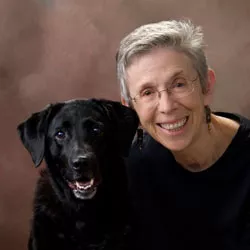 Laska and Robbie Pfeufer Kahn
By title alone, Milk Teeth: A Memoir of a Woman and Her Dog would seem to fall into the same cutesy genre as John Grogan's bestselling 2005 memoir Marley and Me. Though it does feature a deviantly behaved Lab and a plethora of lessons on life and love, Robbie Pfeufer Kahn's meditative, soul-searching book couldn't be more different.
For one thing, Kahn is a feminist sociologist and University of Vermont professor for whom "memoir" means methodical, wrenching, scholarly self-examination, not an occasion for witty entertainment. Written as a daily journal Kahn kept from January 1997 through January 1998, Milk Teeth documents her first year with Laska, a spirited black Lab puppy.
This is Kahn's second Lab; her first was mild-mannered Sarah, purchased for her son Levin. But Laska's mischievous ways affect the author in ways Sarah never did: They resurrect difficult memories from Kahn's own prelingual childhood. As she puts it, Laska's teeth "chewed right through the cellar door where my childhood self was still locked up."
When the 12-week-old puppy bares her teeth at Kahn or eats her poop for the umpteenth time, the author "shak[es] with a scared rage." She finds herself delivering a disciplinary blow with too much force or "attribut[ing] dark motivations" to the dog for her "lack of kindness" — though most of Laska's antics seem like typical puppy behavior.
Painful memories surface as a result of these interactions. The author recalls being a humiliated 2-year-old photographed by her father as she sat strapped to the toilet seat in a training harness. She can't shake memories of being dressed in frilly smocks by an unloving, depressed mother who was indifferent to her preference for overalls.
Kahn's relationship with her parents is still difficult; at 56, she writes, she has been estranged from them for three and a half years. But the author deals with these deeply unsettling developments in typical academic fashion: She researches them from every angle. Long passages from scholarly works on psychoanalysis, child abuse, animal abuse, cultural studies, Buddhism and even Karl Marx populate her journal entries.
Thanks perhaps to her role as teacher, Kahn excels at explaining things — from the origins of Chanukah to the history of the domestication of animals. Occasionally she carries the didacticism too far, inserting whole conversations that sound awkward and merely convey an agenda. For the most part, though, the book appeals with its fine prose. The journal entries often have a raw power, their feel of authenticity enhanced by Kahn's literary flair.
The journal format may suit Kahn's purposes because it's the most honest approach, but one wishes she had melded the days into a narrative driven by realizations rather than by the calendar. Some entries seem like daily exercises the author performed to ward off writer's block.
Despite the author's unrelenting self-scrutiny, there are some puzzling blind spots. Kahn laments the high rates of pet dog abandonment, the low rates of adoption and the fact that 5 to 10 million dogs are killed each year to make more room in animal shelters. Yet she pays a breeder for a pedigreed dog.
Perhaps it's out of line to criticize other people's financial decisions, but Kahn herself takes her parents to task for one of theirs, attributing the estrangement to their curt withdrawal of regular funds when she was in her early fifties.
For Kahn, the money issue is part of her parents' lifelong pattern of withholding love. And the epilogue records an extraordinary conversation between the author and her aging mother that reveals she is not far off the mark. Ultimately, though, Kahn comes to terms with her past and present in unorthodox ways that will surprise any reader with common assumptions about parent-child relationships. And, don't worry, Laska turns out fine.