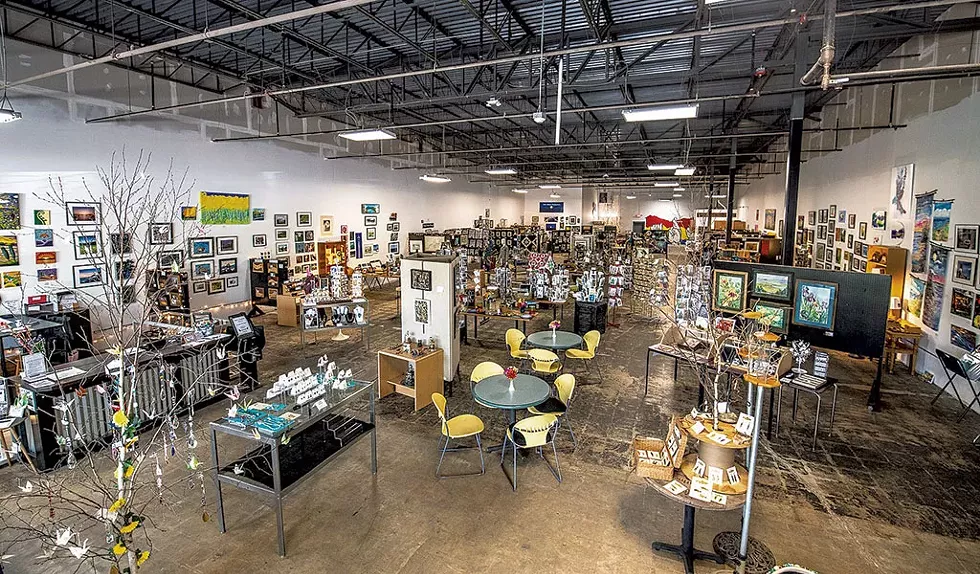 Courtesy Photo
The Milton Artists' Guild
Looking for a one-of-a-kind gift? Want to spruce up your Zoom background? Consider patronizing a local artist. In-person artist markets are rare this holiday season, but finding and buying work by Vermont artists online is easier than ever. And there are many options.
"You don't have to spend a lot of money to support a local artist," says Patricia Trafton, owner of Burlington's Soapbox Arts. "There's a price point for everyone."
For example, a 5-by-7-inch hand-embroidered wildflower garden from Jennifer Carusone of Burlington-based Pixie Twine, a vendor at this year's Women's Festival of Crafts, sells for $35. At the other end of the spectrum, artist Mary Lacy's large-scale self-portrait — a mosaic made of broken dishes — is listed at Soapbox for $16,000.
That may be steep for many of us. But Trafton points out that people routinely spend $2,000 on a couch but "stop short of doing the same with a great piece of art." Why? "It can feel really self-indulgent," she suggests. But it's actually "a beautiful thing" to support local art and the people who create it.
The presence of so many local artists is "one of the reasons we all love Burlington and Vermont," Trafton adds. "This is a place that has so much culture for its size."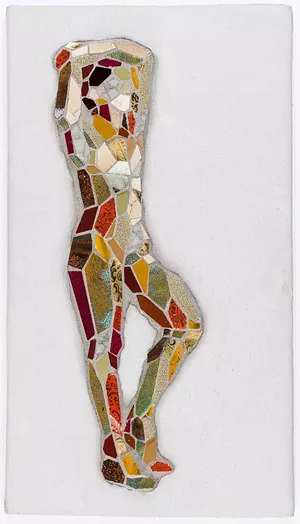 Courtesy Photo
Mary Lacy's "Small Figure II," made out of dishes, grout and cement on board
Indeed. Vermont's creative sector, including artists and arts organizations, accounts for more than 9 percent of jobs in the state — a higher than average percentage. But it's been hit hard by the coronavirus pandemic. In July, the Vermont Arts Council revealed that the 200 arts organizations and 400 individual artists who had applied for support grants collectively projected losses of $38.6 million.
A thriving arts and culture scene "is not a given," warns Trafton. "It doesn't just come with a place. It has to be supported to survive."
Supporting the art scene during the pandemic often means shopping online. Many local artists and galleries have opened digital storefronts for the first time. The Milton Artists' Guild is one of them. Its art classes and professional development workshops for artists have moved online, too.
Still, its website includes just a fraction of the 135 artists on exhibit in its gallery. Fortunately, the organization is housed in a 6,200 square-foot space formerly occupied by a Hannaford. "It's really easy to socially distance, for sure," says executive director Caitlyn Kenney.
The gallery has expanded holiday hours, she says. There are lots of items to brighten up the home office where you'll be working this winter. "If it's just four white walls and a laptop," she says, "it gets to be pretty dreary pretty fast." Happy shopping!
Events
Courtesy Photo
Embroidery, art on canvas by Jennifer Carusone of Burlington-based Pixie Twine
'Bundle Up' Makers Market:
Thursday, December 3, various Merchants Row locations in Middlebury, 3-7 p.m., experiencemiddlebury.com
Chandler Artisans Holiday Market:
Through December 24, in person & online at Chandler Center for the Arts, 71 N. Main St., Randolph. chandlerartisansmarket.org
Expanded Artisan Gift Sale:
Saturday & Sunday, December 5 & 6, 10 a.m.-2 p.m., at River Arts, 74 Pleasant St., Morrisville, riverartsvt.org
Holiday Artist Market:
Saturday & Sunday, December 5 & 6, 10 a.m.-3 p.m., outdoors in Burlington, City Hall Park, burlingtoncityarts.org
Moretown Artisans' Sale:
Online, moretownartisan.com
Women's Festival of Crafts:
Through December 18, online, womensfestivalofcrafts.com
In person and online:
Artisans Hand
89 Main St., Suite 8, Montpelier, artisanshand.com
Artist In Residence Gallery
10 S. Main St., St. Albans, artistinresidencecoop.com
Edgewater Gallery
6 Merchants Row & 1 Mill St., Middlebury, edgewatergallery.co
Frog Hollow Vermont Craft Gallery
85 Church St., Burlington, froghollow.org
Furchgott Sourdiffe Gallery
86 Falls Rd., Shelburne, fsgallery.com
Golden Hour Gift Co.
32 ½ Church St., Burlington; 17 E. Allen St., Winooski; & 2567 Waterbury-Stowe Rd., Waterbury Center, goldenhourgiftco.com
Milton Artists' Guild Art Center & Gallery
199 Route 7, Milton, miltonartistsguild.org
Soapbox Arts
266 Pine St., Suite 119, Burlington, soapboxarts.com
Studio Place Arts
201 N. Main St., Barre, studioplacearts.com
Thirty-odd
270 Pine St., Burlington, thirtyodd.com
Online or by appointment:
Common Deer
210 College St., Burlington, commondeer.com
Essex Art League
essexartleague.com
South End Arts and Business Association
seaba.com/shop
This article was commissioned and paid for by Pomerleau Real Estate.