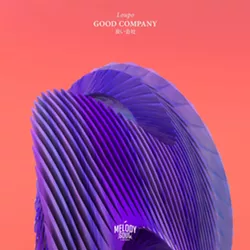 (MelodySoul, digital download, vinyl)
For years now, young producer Loupo has been the best pinch hitter in Burlington's hip-hop scene. Give him some room to get set up, and he can bathe any venue in lush beats that feel like a chakra massage. His latest album, Good Company, represents a new artistic leap from making beats to crafting fully formed compositions.
Over the course of his first two albums, Transitions (2014) and Enigma (2015), Loupo perfected a personal recipe for instrumental hip-hop. His output was jazzy, wobbly and distinctly stoned. The playful ear for melody that shaped his earlier canon is even stronger here.
Loupo specializes in creating intricate soundscapes that hit you in the gut before you can fully process what's going on. Last year, he released a short EP of remixes, Moods, which pointed in a new direction. He incorporated textures of electronic music and carefully studied the pacing and presentation of his songs — and they were all songs.
Good Company is much more than drum pads and chopped loops, too. It's a collaborative kaleidoscope, heavy on live musicians. These most especially include keyboardist Danny Whitney and guitarist Max Bronstein — the latter also plays bass on several tracks.
Last year Loupo started assembling these songs with Baton Rouge label MelodySoul. It's hard to pull off an album that sounds so cohesive without growing stale, but they've done exactly that.
The album launches with "So It Begins," which embodies the cooperative approach. What starts as some luminous keyboard riffs over a staggeringly slow beat quickly evolves into layers of orchestration. This isn't just session musicians cutting solos over beats. It's something much more intimate and refined.
Things kick into high gear with "Letters." It's an album highlight, a full-on future R&B song, vocalized by the impeccable Stephanie Heaghney. She's lead singer of local "soul-hop" outfit Smooth Antics, a band that includes Whitney and Bronstein, too. The chemistry is so damn good it threatens to steal the show.
Bronstein, in particular, is cool and assertive. He classes up everything he touches — and he's on half of the tracks. Another album highlight is the psych-rock banger "Hotseat," which features Canadian producer and multi-instrumental madman falcxne. It's a glorious earworm.
Fortunately, the rest of the album places the spotlight squarely on Loupo. He's more than ready for his close-up. Good Company overflows with ideas but never once feels crowded. Loupo's ability to evoke moods and create space has never sounded so effortless or cinematic.
It cannot be emphasized enough what a Quincy Jones-like level of work Loupo put into Good Company. The album is a transformation and a big, brave step for one of the most interesting musicians in Burlington today.
Good Company by Loupo is available at melodysoul.bandcamp.com. Loupo performs with Crusty Cuts on Saturday, March 11, at SideBar in Burlington.