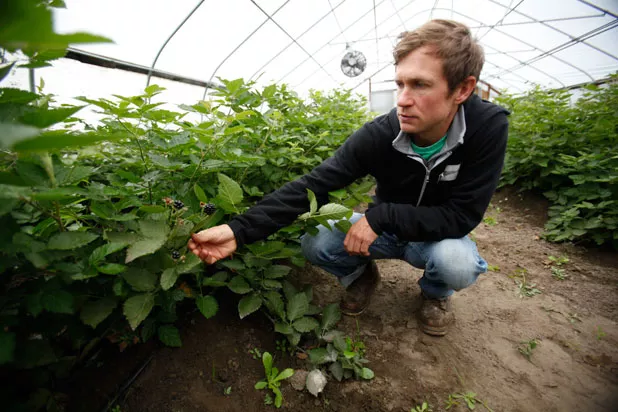 It was a tough spring for Adam Hausmann. Floodwater seeped into his fields in Burlington's Intervale five times over two months, drowning hundreds of strawberry, raspberry and blueberry plants, along with grapevines and young cherry trees. His hoop house and field strawberry crops were swept away, and his summer and fall raspberry varieties succumbed to root rot. His table grapes, just coming into production, were wiped out.
Having farmed in the fertile floodplain for nine years, Hausmann, owner of Adam's Berry Farm, knew to expect some saturation. A little flooding is the trade-off for land as fecund as that along the twisting Winooski River. But five floods before his season could even get started were a bit much.
Still, Hausmann remained undeterred. Once his fields dried out, he replaced his strawberries. The weeks it took to replant the bushes felt like months, Hausmann recalls. He knew he wouldn't be able to make up for the $40,000 he'd lost on the strawberries alone, but at least he'd get something.
In addition to the strawberries, Hausmann and an employee — he'd been forced to lay off the rest of his six-person crew — put in fall raspberries that could bring in some late-season revenue. Then the farmer kept his fingers crossed for blueberry season.
By July, Adam's Berry Farm seemed back to normal. The parking lot was crowded and families meandered along the rows of bushes, filling flats with fat, juicy berries. Kids shrieked at their parents when they found marble-sized fruit. "Oh, my God! Mom, look at this," Hausmann remembers hearing all over the fields. Their voices brought a smile to his face, he says.
"We were so dispirited all spring. It was hard to find the motivation to stay focused and passionate about work," Hausmann admits. "But the normalcy of blueberry season was almost enough to eradicate the dismal spring."
Then came Irene.
Floodwaters from the late-August tropical storm surged through Hausmann's fields and swamped every plant. In some areas, the turbid water was chest deep. It swallowed the berries he had left, rendering them "adulterated," so they couldn't legally be sold. After six floods in total, Hausmann had lost some 2500 pounds of fruit.
For him and other farmers who lease land through the Intervale Center, this most recent catastrophic weather event has called into question the practicality of doing business in a floodplain. While they all acknowledge the inherent risk of farming the Intervale, none of them anticipated enduring multiple "100-year" floods in one season.
Together, the 12 farms in the 350-acre valley lost roughly $750,000 worth of product. Around the state, total Irene-related losses from vegetable farms are approaching $2 million. Some farmers wonder whether they need to move to higher ground. Others question whether farming is sustainable at all, given the repeated knocks they've taken.
"They're not throwing in the towel," reassures Sona Desai of the Intervale Center. "But they're realizing there's an imminent need for them to think about the future."
Many farmers are trying to remain positive, looking at this hardship as motivation to diversify, pursue new business models and become more creative. Still, they can all agree on one thing: It was a hell of a hard year to be a farmer in the Intervale.
*****
In the wake of Tropical Storm Irene, the U.S. Food and Drug Administration laid down a set of mandates that promptly ended the 2011 growing season for all farmers in the Intervale. It prohibited growers whose fields were inundated from selling any crops that had come in contact with floodwaters. They were also told to not plant anything in those fields for at least 60 days from the date of the flood.
Many farmers question the science behind the FDA orders. Desai says she would like to see more research at the local level to determine whether consuming crops that have come in contact with floodwater poses any risk. For now, though, all farmers can do is comply.
As a result, farms with wholesale accounts, such as Arethusa and Pitchfork, couldn't fulfill their orders, while farms that sell at markets, such as Diggers' Mirth Collective and Half Pint, were left with only a couple weeks' worth of produce to offer. Farms with community-supported-agriculture (CSA) shares, such as Intervale Community Farm and Samara, had to cut those shares short; members missed out on the remaining four or five weeks of the season.
The monetary value of the losses per farm is staggering: Adam's Berry Farm lost $100,000; Diggers' Mirth, $100,000; Arethusa, the only farm in the Intervale with crop insurance, nearly $200,000; Intervale Community Farm, one of the Intervale's original farms, $185,000.
Depending on the farms' business models, some fared financially better than others. Because Intervale Community Farm is a CSA whose 525 members paid for their summer shares in advance, the fall crops that were destroyed had already been bought. By contrast, at Pitchfork Farm, farmers Eric Seitz and Rob Rock, who do a tidy wholesale business, lost 75 percent of their revenue for the year.
"We were just starting to catch up from the spring flooding," says Rock. "We planted very heavily for the fall, and we took quite a hit."
Help is being offered to farmers around the state in the form of public and private grants and loans. The Farm Service Agency is offering low-interest loans to farmers with flood damage, and many will also be eligible for federal assistance to recoup lost revenue.
In addition, a variety of funds have been set up, including the Vermont Farm Disaster Relief Fund established by the Vermont Community Foundation; the NOFA-VT Farmer Emergency Fund; and the Vermont Farm Fund Emergency Loan Program organized by the Center for an Agricultural Economy and Pete's Greens.
The Intervale Center has its own pool — the Intervale Center Farmers' Recovery Fund — which, at press time, had raised $57,000, much of it donated by Dealer.com and City Market/Onion River Co-op. These grants and loans won't make the farmers' businesses whole again, but they're a start.
*****
The sense of loss is palpable, not just in the exhausted voices of the farmers, but at the Intervale itself. Normally at this time of year, farmers would be harvesting plump beets, spiky kohlrabi and perfectly striated delicata squash. Instead, those crops lie untouched in their fields, as if someone forgot to harvest them. Hoofprints from opportunistic deer dot the windrows, and clouds of mosquitoes hang heavy over the fields. On a recent weekday afternoon, there's no farmer in sight.
"It's bizarre," says Andy Jones of Intervale Community Farm. "It's kind of a ghost town. There's nobody out in the fields."
For Hilary Martin of Diggers' Mirth, visiting the Intervale, where she has farmed for nine years, is like salting a wound. Like many of the farmers who lost so much, she'd rather stay away. Her new job picking apples at Shelburne Orchards has been a welcome distraction from the sadness of a season lost.
"Being down at the Intervale is really hard. You're used to the rhythm of production," Martin says. "To be there with produce that looks good and know it can't be used is a reminder of the energy that we've put in for nothing."
It's an especially stinging reminder when much of that produce was planted in an effort to make up for the losses of the spring, says Thomas Case of Arethusa Farm. Case and his business partners, Ben Dana and Danielle Allen, have a tough road ahead of them. They have prepaid wholesale orders that they can't fill and now must refund. They have outstanding debt they cannot service. They're maxed out on conventional loans because they have no collateral. And none of them will be getting a paycheck from the farm any time soon. They'll all have to go and get jobs, Case says.
While they look for work, they will also be reflecting on Arethusa's future at the Intervale. Case says he's not willing to turn his back on farming, but he's weighing his options. "From where I am right now, it's going to take a long time to recover from this," he says, the dejection apparent in his voice. "It's hard to imagine we could survive another event like this."
Though he is sad for his farm's loss, Case remains, at least outwardly, optimistic about the days ahead. He went on a job interview the other day — his first since 1997 — and he's considering how he can further market his agricultural and business knowledge. He's using his forced leave to spend time with his family and work on long-deferred projects around his house, luxuries he can rarely afford during the growing season.
"I feel like all the doors are open for me within this calamity," Case says. "There's opportunity to examine my whole life. Maybe this is the time to make a change."
For Hausmann, whose perennial plants will be feeling the effects of Irene for years to come, the unexpected furlough has prompted some soul searching, as well as much-needed long bike rides. He's wrestling with questions of what to do next. A fellow farmer who doesn't farm at the Intervale told Hausmann in no uncertain terms, "The Intervale is over. You have to get out." It's something Hausmann has to consider.
"Everyone is questioning the long-term stability [of the Intervale]," he says. "Can I financially, physically, mentally, emotionally handle a reoccurrence of this? The floods are more erratic and more intense. All of us expect flooding in March. But to have it in July, August, October? These are bizarre times."
Hausmann hasn't yet made any decisions about the future of Adam's Berry Farm, but he, like Case, is considering his options. Leaving the Intervale is a possibility. So is working with the Intervale Center to avert future disasters.
Desai and the Intervale Center staff are looking at what they can do to make the land more sustainable. That might mean sponsoring studies on floodplain farming and flooded crops to determine the risks to food safety, or moving farmers to higher fields, or reducing the number of acres in production.
"There are a lot of things to think about," says Desai. "I wish we had the answers already."