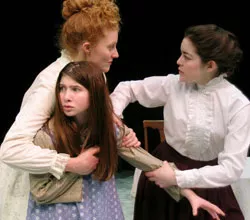 Helen Keller once said, "Although the world is full of suffering, it is also full of the overcoming of it." Montpelier's Lost Nation Theater strives to convey this indomitable attitude in its production of The Miracle Worker, the Tony Award-winning drama by William Gibson. The play tells the story of a young Helen Keller who was blind, deaf and mute, unable to communicate or live a normal life, until her family hired Annie Sullivan as a teacher and caregiver. According to LNT's Kathleen Keenan and Kim Bent, who serve as director and lighting designer, respectively, the company made a conscious choice to begin its 2009 season with an inspirational story that might provide perspective and encouragement to audiences facing tough economic times.
The production presented unusual obstacles to both performers and crew. Kate Kenney, playing Annie Sullivan, and Liz Gilbert, playing Helen Keller, had to learn the manual alphabet of American Sign Language (ASL). Keenan says Gilbert knew her letters before rehearsals began, while Kenney learned ASL from a library book and online videos of people signing. Becoming fluent in the gestural alphabet still took some doing. Kenney says the toughest part is multitasking: Think you have the hand movements down? Try signing your lines, moving around the stage and interacting with others at the same time.
Because Helen and Annie don't converse through speech, the play challenges the two performers to convey their characters on an intensely physical level, with fight scenes choreographed by Dan Renkin. In addition, Keenan brought in consultant Alwayne Worcester, who works for Deaf Vermonters Advocacy Services, to instruct the actors in deaf and blind behaviors. Gilbert must portray Helen as someone equipped with only touch, taste and smell, and Kenney as Sullivan must interact with those senses; her role — in real life and on stage — is to help Helen find "a world outside the darkness" and bridge the gap of isolation caused by her disabilities.
Though the play addresses dark issues, Keenan believes its audiences leave the theater hopeful, because these two women "overcame so many obstacles and were so wonderfully stubborn about it."
On May 1, storyteller Rene Pellerin, a Waterbury resident who has a genetic form of deaf/blindness called Usher Syndrome, will perform a piece entitled "Unstoppable" before The Miracle Worker, further highlighting the play's issues of communication and education. Both performances that night will be audio-described for the blind and signed for the deaf.