Jeb Wallace-brodeur
Kathleen Keenan (left) and Kim Bent
In his quest to reunite with his wife, who's trapped in the underworld, Orpheus enters the stage from a high platform and slides down two long aerial silks suspended from the ceiling. Before Eurydice's untimely death, the newlyweds had celebrated their love by dancing on the silks in acrobatic fashion, a feat of daring rarely seen in a stage play.
These scenes from Sarah Ruhl's Eurydice, a retelling of the Greek legend, were performed in 2015 by Lost Nation Theater in Montpelier. Director Eric Love strayed from the script by expanding the women's chorus and using the aerial silks as visual metaphors, both for love and for the chasm between the underworld and life on earth.
Many conventional theater buildings wouldn't support such an innovative staging. But this Eurydice was performed in a room with 25-foot ceilings: the former gymnasium of Montpelier's 1911 city hall. Since 1989, Lost Nation Theater has repurposed the space as a professional theater and arts center, progressively transforming its black-box-like environs. Today, the company performs a mix of comedies, dramas, classics and contemporary works — such as a new adaptation of Sense & Sensibility, which just wrapped — and smaller productions, including an annual Halloween party, the Poe Spooktacular.
This year, LNT turned 40. Numerous local and regional awards testify to its achievements. And, despite internet and video streaming and the proliferation of competing local arts events, it is thriving.
What's the company's secret?
No single factor explains LNT's endurance. Too many different elements, both visible and invisible, go into the productions it has staged over the decades: creative stage design, professional and nonprofessional actors from Vermont and elsewhere, and a supporting cast of volunteers, downtown business owners and city personnel committed to LNT's success.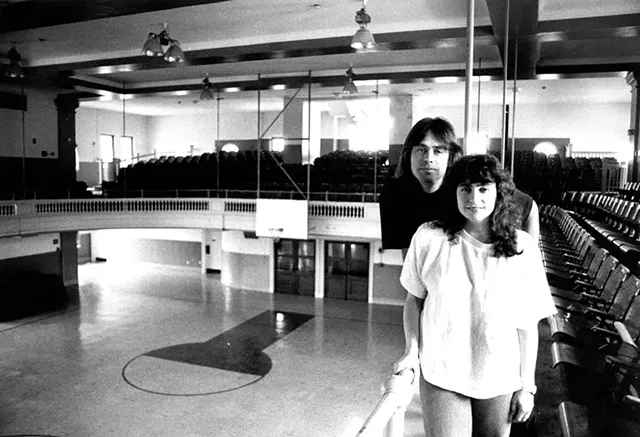 Courtesy Of Jim Lowe/barre-montpelier Times Argus
Bent and Keenan in Montpelier City Hall Auditorium, 1989
"That was a real nice culminating moment," says founding artistic director Kim Bent about Eurydice. In his view, the production exemplified the company's commitment to building long-term relationships. Love had worked as an actor for many years before making his directorial debut with the play. (He's currently director of education at Northern Stage in White River Junction.) Scenic and lighting designer Clay Coyle had worked with LNT on and off since 2001. The costume designer was a New York City-based colleague of Love's. The core cast had worked with LNT many times before. Finally, "The chorus of nine teenage women was comprised primarily of youth who had worked their way up through the LNT Conservatory," says Bent.
"The original question [we asked ourselves] was, 'How do you support a resident theater company?'" he continues. "We don't have the population base, and only the largest communities in the nation can do that. So the next best thing is to gradually, over time, develop a network of folks that you work with. And that really does start to pay off at some point."
To be sure, LNT's networking has paid off in countless ways. But what Bent may be too modest to say is that the two most essential ingredients of LNT's success are himself and producing artistic director Kathleen Keenan, who also happens to be his wife. The two are performance professionals committed to high-quality theater, education and community service in central Vermont.
"They're both so willing to keep learning and growing, and that amazes me about them," says former production stage manager Kris Weir of the couple at LNT's helm. "They're open to change and new ideas, and that's always welcome at the company.
"Their skill sets complement each other," she adds. "It's the pairing of the two of them that can move mountains."
Act I: A Quixotic Quest
Courtesy Of Susan Lang/lost Nation Theater
Bent and Keenan in Gunslinger, 1984
A sixth-generation Vermonter and native of Braintree, Bent is soft-spoken with a gentle, easygoing manner. He earned a BA in theater at the University of Vermont, studied at the Royal Academy of Dramatic Art in London and received a master's degree in theater from Long Island University. From 1971 to '74, he was a member of the Iowa Theater Lab, a renowned improvisation-based, nonverbal experimental group that performed in the U.S. and Europe.
"I grew up in Vermont, I appreciated Vermont, but I went through a long process of trying to get away," says Bent. "I was really into a more esoteric, idealistic idea of theater, something other than simple narrative storytelling."
Bent returned to Vermont in the mid-'70s, but it wasn't until he became aware of poet-playwright David Budbill's work that he felt inspired to embrace more traditional theater.
"At that point, David was going around reading his poems, these big, long poems that were essentially portraits of Vermonters, like Antoine, the French Canadian logger," Bent recalls. "Hearing him read really turned my mind around about the possibilities of theater ... to the value of doing plays that already existed and, in particular, the value of creating stories right out of your own personal experience."
Bent founded LNT as a nonprofit professional touring company based in Bristol in 1977. In the early years, he created plays for adults and children, did school residencies, and built connections with artists in Burlington and beyond.
Keenan, an energetic woman with sparkling eyes and a hearty laugh, met Bent at Long Island University, where she earned a BA in theater and music. After graduating, she directed and composed music for theater and dance-theater companies in New York City and performed off- and off-off-Broadway and at Lincoln Center. As a singer-songwriter, she played at clubs, including Gerde's Folk City.
Keenan moved to Vermont for love, she says, and married Bent in 1988. Shortly thereafter, LNT began its residency in Montpelier City Hall.
The city had lost money on the space during the 1988 residency of New York-based Atlantic Theater Company, says Keenan. But the city manager had grown to like the idea of a resident theater company and put out a call in Variety. LNT applied and won the contract.
"I had just moved up from New York," says Keenan, "and I remember doing the math: We only need 40 people a night!, thinking, How easy is that going to be?" When 18 people attended LNT's first show, "I realized I wasn't in New York anymore," she says.
LNT produced five shows annually, on average, from its first season in 1989 through its fifth. In 1993, the company finally reached the 40-person-per-night mark and broke even financially, Keenan says.
"Kim's commitment to Vermont and making professional theater possible in such a rural state is commendable," she adds. "It's quite the quixotic quest ... to do professional theater in the smallest state capital in the nation."
Many forces have conspired to make that quest viable, including the relationship that LNT and the City of Montpelier have forged. In exchange for free rent, LNT manages and maintains the City Hall Arts Center (the entire second floor of the building) year-round and has spearheaded many restorations. In the 1990s, Bent and Keenan participated in the City Hall Auditorium Improvement Committee to secure funding — including a city bond issue that passed in 1995 — for painting, balcony reinforcement, a sprinkler system, window treatments, a permanent lighting grid attached to the ceiling and other improvements.
"We got really ambitious at that point because, for the first time, we didn't have to rebuild our own lighting grid every summer [at the start of the theater season]," says Bent. "We could put a lot more energy into playing around with the audience-stage relationships."
He and Keenan experimented with theater-in-the-round and theater on two sides to discover how best to use the space.
Inspired by those early renovations, LNT collaborated with the city to invest $132,000 in improvements to the center from 2001 through 2016. Of that amount, the city contributed $12,000, LNT worked with the city to win $43,700 in cultural facilities grants from the Vermont Arts Council, and LNT raised the remaining $76,300. The improvements have included lighting upgrades, a new sound system, high-quality wireless devices for patrons with hearing difficulties, proscenium curtains and new cushioned theater seats on risers in three-quarter round — the seating arrangement Bent and Keenan ultimately preferred.
"We want an intimate audience-actor relationship as our theater experience, so sometimes the actor is no farther from you than where I'm standing right now," says Keenan from three feet away.
"There's not a bad seat in the house," says Burton Dunning of Burlington, a season-ticket holder and former LNT board member. The main floor holds 150 seats, with 50 more in the balcony.
"It's a really unique and interesting space to get to work in," says Weir. "Being able to adapt the space to what you need — or what you want to have, or a director's vision — is a dream come true. Is it a lot of work? Absolutely. Is it worth it? Every single time."
As LNT and the city have upgraded and improved the physical space, the company has been able to present larger and more complex productions, from Shakespeare dramas and comedies to Stephen Sondheim musicals. Since 2010, LNT has averaged 13 shows per April-to-October season, giving more than 100 performances each year.
"We've been season-ticket holders; we've probably seen every show they've done," says Dunning's wife, Susan Plunkett-Dunning, who served on the original LNT board and now volunteers in other capacities. "I'm very impressed," she adds. "They started with nothing at their theater in city hall, and they built an incredible program."
Act II: 'Love Company'
C Ourtesy Of Robyn Oslecki/lost Nation Theater
Having Our Say, 2001
Leading this reporter on a tour of LNT headquarters, Bent and Keenan head upstairs, where the front end of the balcony is crammed with racks of costumes, furniture, set pieces and props from more than 25 years of shows. Every nook and cranny holds organized chaos.
"This plywood silhouette back here is the gunslinger," says Bent, "and right behind him is Lil. [They're] from the first show that Kathleen and I did together in 1984."
Keenan smiles and notes how easy it has been to create ambience for kids' programming "with all of this stuff." During one show that used items from 15 different productions, she enjoyed declaring to students: "This is older than you are!" she recalls.
According to its website, LNT "dedicates itself to staging stories about the hopeful possibilities of human interaction, to education, and to realizing the powerful potential of theater to transform people and communities." That may sound lofty and vague, until you see a show or talk with the people involved.
"It's so much fun to do every year," says Taylor Stevens, a teenager who participates in LNT's youth programming.
"LNT brings variety and challenge to the arts scene in Montpelier," writes his grandmother Carolyn Stevens by email. She's an LNT volunteer and avid patron. "It's a pleasure to have access to the diverse productions — everything from light musical comedy to Shakespeare."
Indeed, Bent and Keenan choose what they call an "eclectic" season every year based on many factors, including their own interests, staff recommendations, public requests and their choices of people with whom they want to work again.
"[The season] is going to have a classic play in it, a new play, a musical, a drama, a comedy and a Shakespeare," says Bent. "That's a conscious decision. At one point, we surveyed our audience, and they confirmed that they appreciate that [diversity]."
"We're really proud of our ability to do quality productions on both ends [of the spectrum]," says Keenan. In the 2016 season, "We went from Hairspray to RED. Hairspray was this cast of 25 — a big dance show, big spectacle, bursting our theater at its seams. RED ... was two actors and intense, intimate drama — really heady stuff."
The LNT directors also choose plays that challenge audiences to contemplate real-world issues. "I'm a big believer of art for art's sake, theater for theater's sake, but also for what it can do for us as a community and as a society and as people," notes Keenan. "Empathetic understanding is something we are in desperate need of."
She cites their 2001 production of Having Our Say: The Delaney Sisters' First 100 Years as an example of an LNT show with a social message. The Tony Award-winning play, based on the lives of two African American sisters, heralds their achievement of success and happiness against overwhelming odds. Actors, crew and community members participated in pre- and post-performance discussions, including a panel with multi-award-winning director and playwright Emily Mann, who adapted Having Our Say from the book of the same title.
"It was the perfect balance of community engagement, outreach, education, excellent theater [and bringing] together many groups on issues of race and racial equality and discrimination here in Vermont," says Keenan. LNT often collaborates with other organizations and nonprofits whose missions can be served through interaction with theatergoers.
Those efforts have paid off. Since 2010, LNT has received an Excellence in Theater Special Award from the New England Theatre Conference, recognition as "one of the best regional theaters in America" from the New York-based Drama League, and numerous readers' choice awards from the Barre-Montpelier Times Argus and Seven Days.
Whether prodding audiences to think in new ways or entertaining them with slapstick comedy, LNT shows its commitment to quality in its status as a professional company. In contrast with community theater, in which most participants volunteer their time, professional companies pay actors and the creative team. If the actors are members of the U.S. Actors' Equity Association, their compensation and working conditions must follow union requirements. LNT hires both equity and non-equity actors, from Vermont whenever possible, but also holds auditions in Boston, New York City and beyond.
"I feel like the talent pool they draw is very high," says equity actor Maura O'Brien, who has appeared with LNT since 1999. "I think they are phenomenal in their casting, and they work really hard to find the right people for the roles."
O'Brien notes that many urban-based equity actors return to Vermont year after year to perform with LNT and describe it as their "home away from home." Bent and Keenan, she says, "trust their actors, allow actors to bring in their own ideas, and create a place where actors can play and experiment."
Dunning recalls that, years ago, actors called LNT a "love company," a term of endearment meaning they loved working with and being part of it. Former stage manager Weir had just such an experience.
"When you work with Kathleen and Kim, you come away feeling like you're part of the family," she says. "That's one thing that has [stayed] with me, and one of the reasons why I keep coming back."
While doing graduate studies in arts administration at Boston University, Weir has consulted for LNT and returned to Montpelier to visit. "Being with Kim and Kathleen feels like home," she adds. "You'll find that actors and [theater] technicians will say the same thing."
Act III: Vermont Spirit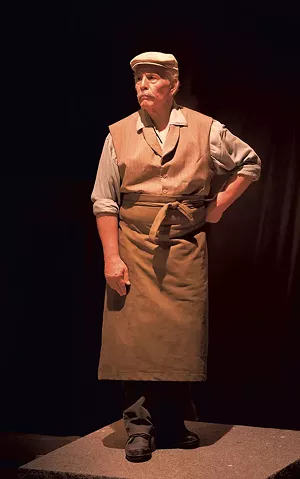 Courtesy Of Robert Eddy
Stone, 2005
Besides nurturing cast and crew, Bent and Keenan work to enrich the city and state where they live and work. That enrichment takes many forms, including plays that tell quintessential Vermont stories and a theater-education program for children and teens.
In 2005, Bent realized a dream when LNT premiered his play Stone, billed as "the glorious and gritty story of the people who shaped Barre's granite heritage." He and Keenan believe that, by presenting plays about Vermont and Vermonters, they help educate the community about its past and present.
In 2015, LNT presented Stone again, in collaboration with the Vermont Granite Museum, to raise awareness of local history. In 2007, it staged David Budbill's Judevine, a poetic, earthy, emotional portrait of rural Vermont. In honor of Budbill, who died in 2016, LNT revived the play earlier this year.
The company also produced But Your Honor: Deane Davis Remembered, which traced the life of the former Vermont governor; and Lyddie, Bent and Keenan's adaptation of Katherine Paterson's novel of the same name. In the latter, a 19th-century Vermont teen works in Massachusetts textile mills to save the family farm.
"I thought it was really neat that they were doing [the Vermont plays], and it felt kind of like our own," says Montpelier City Manager Bill Fraser, who regularly attends LNT shows. "They help you understand where you live. Many people, myself included, didn't grow up in Vermont; they moved here. So some of these historical pieces are really interesting. These are the roots that I'm living in."
If LNT sometimes speaks to Vermonters' past, its engagement with present-day patrons is evident on city hall's cozy second floor. The lobby walls serve as a gallery for exhibiting local artists' work, a concession stand serves food and beverages before shows, and café tables with tablecloths and flowers invite sitting and relaxing.
"On the one hand, ooh, it's so pretty, it's lovely, and it's elegant," says Keenan. "And yet it's very comfortable. We're not precious, so I think that spirit is important."
Courtesy Of John Snell Photography
Judevine, 2017
LNT's presence in the city is a boon to adults and youth alike. From 1991 through 2001, Bent and Keenan ran a drama program at Montpelier High School, playing a more extensive role in local education than is common for theater companies. In 2002, they created the LNT Conservatory for students ages 6 to 20 to learn about acting and theater production.
The conservatory runs summer camps at introductory, intermediate and intensive levels, as well as a camp during February vacation. The camps enroll about 50 youths annually, and hundreds more attend the performances created by participants, says Bent. Aspiring performers and theater technicians come primarily from central Vermont, though a few come from out of state, as well.
Taylor Stevens lives in Virginia but attends the LNT Conservatory for two weeks each summer. "I've seen Taylor's confidence grow along with his work ethic — he takes his roles seriously and values the collaboration with other actors and tech people," writes his grandmother Carolyn Stevens. "LNT's directors and staff are supportive of the young players, and a real community develops among the kids. Taylor stays in touch with some friends from LNT through the winter."
Many children attend the summer productions, gaining exposure to "the immediacy of live performance," adds Stevens, a Montpelier resident.
Fraser's youngest son attended LNT Conservatory when he was in elementary and middle school and performed in two season shows alongside adult actors. "I think it was great for him," says the city manager. "When they put young people in the main shows, the big shows, they treat them like cast members, and there's a responsibility.
"One of the things that my son and other people have taken away from this is that everyone's role is important," Fraser continues. "There are a few lead roles or starring roles, but if one of those smaller parts screws up or doesn't show up, it's still a problem for the show."
For Weir, who worked for LNT from 2012 to 2015, the company's contribution to theater education is just as vital for adults. She developed new skills and learned to mentor students there. "They hold space in a way that no other organization in Montpelier does," she says. "There's not another ... place for theater technicians, for theater designers, for theater directors, for musicians who enjoy playing in performance pieces of that nature."
Act IV: Dollars and Sense
File: Jeb Wallace-brodeur
LNT Conservatory summer camp kids rehearsing Mary Poppins, 2017
Fraser is quick to describe how Montpelier has benefited from LNT's presence. First, he cites economics: Theatergoers often patronize local restaurants, stores and hotels. But the social benefits strike him as equally important. "It adds to the vibrancy of the community ... Many residents go [to the shows]," he says. "Many people consider this one of the nice things about living here in a small community like ours."
He notes that Bent and Keenan live in town, contributing to Montpelier as residents as well as professionals.
The contract between the city and LNT was negotiated annually when the company first took up residence, but it now rolls from year to year with only minor adjustments. "We've ironed out the terms over the years," says Fraser. "Not only are we receiving a service for what they do — that is, managing and maintaining the space for us — but it's bringing art and live professional theater to downtown. The [city] council years ago made the decision that that was a benefit to the community."
"We have a very good relationship with the city," affirms Keenan.
Fraser initially didn't want to discuss his son's acting work with LNT for fear of sounding biased, but it seems difficult to find anyone in Montpelier who hasn't engaged, directly or indirectly, with LNT. Among those are nearly 50 organizations and businesses that underwrite or support the company, such as Capitol Copy, which has provided LNT with unlimited free printing for the past 15 years.
"I receive more positive comments from customers about our LNT sponsorship than any other advertising or other sponsoring we do," writes Capitol Copy owner Glenn Sturgis by email.
The in-kind support of local businesses is key to LNT's continued solvency, says Dona Bate, who has worked with LNT since 1991 in many roles, including board member, fundraiser and bookkeeper. In fiscal year 2017, the company's cash budget was nearly $300,000, including direct income from sales and fees, indirect income from grants and gifts, and expenses incurred for shows, education programs and personnel, Bate says. The value of in-kind donations was nearly $340,000, including printed playbills and season brochures, food and beverages, information technology services, and housing for out-of-state cast and crew members in Montpelier residents' homes.
These figures have been consistent since 2010, Bate says, despite the rising costs of doing business, including insurance, travel and wages. She notes that, while Bent and Keenan have "done an excellent job" of working within the budget, that task requires increasing ingenuity. Since the 2008 recession, corporate sponsorships have become more difficult to procure, and matinée attendance by school groups has dropped precipitously, in part because of reduced travel budgets, she observes.
It's also harder to get people to attend shows, despite the many discount and free ticket opportunities. "It's not enough to produce a wonderful show with an incredible set, costumes, lighting," says Bate. "You have to spend a whole extra sphere of energy and time to get people to come in the door, and that's a huge drain on limited resources and personnel."
Yet Bate, Keenan, Bent and LNT's fans remain optimistic.
"Their productions now are as good or better than anything they've ever done," says Dunning.
"One of the reasons for our longevity and our success is, we have just been so blessed with the people who we've worked with," says Keenan. "They're very dedicated and creative people who know how to do a lot with a little. It's not just us who are putting in the long hours and providing the sweat equity to make things happen."
In addition to more than 100 community volunteers who step forward annually to help, Keenan cites actors and technical crew who have volunteered their services. For example, after charging LNT a fee for a few years, Corinth costume designer Lois Jackson donated her services for six more years until she retired. "That's one of the reasons we could do these beautiful things in 1993 when we had no money at all," Keenan says.
Act V: Setting the Stage
Jeb Wallace-brodeur
Bent and Keenan
Bent is now in his sixties, Keenan in her fifties. They have begun to consider succession planning, and their primary goal is to increase the cash budget from $300,000 to $500,000. "To buy the level of expertise that you would need to keep [LNT] going is more expensive than what the budget currently supports," says Bent. Another option, he adds, is "finding someone who has grown up with the company and understands what it is and wants to keep it going on that basis."
Asked whether they would like to retire or phase themselves out at some time, Bent quips, "Well, Kathleen is fond of pointing out that she is substantially younger than I am."
Keenan bursts out laughing.
"I can leave for a while, and eventually she'll run it," he adds.
"You are forever on staff, babe," Keenan responds, "one way or another."
If sharing a demanding business is stressful for them, it isn't apparent; during an interview, the long-married pair banters with ease. "We work together separately," jokes Bent, who writes grants and plays and handles the technical aspects of the theater.
"Kim is the vision guy, for sure," says Keenan. She composes music, handles musical production, and oversees marketing and administration. Both of them direct and act; they make season and casting decisions together.
When looking to LNT's future, Bate shares the goal of increasing the cash budget, but for a slightly different reason. She wants to add two new staff positions, for marketing and fundraising. Noting that Bent and Keenan work "24-7 year-round, wearing too many hats," Bate says she would like to see the theater flush enough financially to let the directors focus on the shows and educational programs. Toward that goal, she wants to identify new sponsors that can make five-year pledges to the company.
Either way, Bent and Keenan are determined to continue the work they love — which, right now, means they're planning the 2018 season. Former board member Dunning likens their work to a pebble dropped in water.
"Earning a living and entertaining people doing the things you want to do — it's like the perfect job," says Dunning. "You don't get rich at it, [but] you do what you do very well, and you get that reward. And because of that, you're making these waves."
LNT's work ripples out to affect not only audience members and students, he says, but also their friends and families.
And that ripple effect is key to the enterprise, as the couple sees it. Regarding their eventual successors, Bent says, "I think anyone coming in is going to have to appreciate the symbiotic relationship that we have here with the community, and appreciate that's really what makes it work."