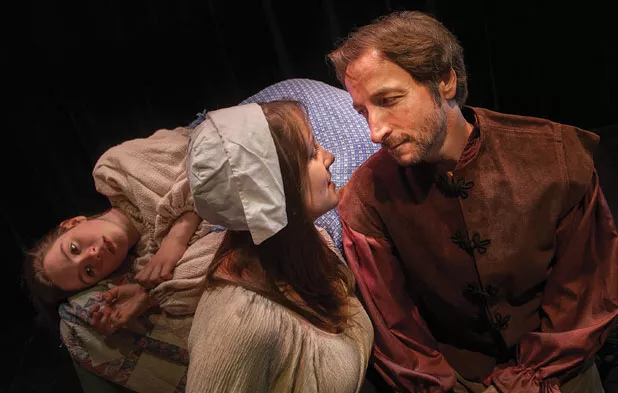 L to R: Karli Robertson, Katelyn Manfre, Paul Riopelle
Arthur Miller wrote The Crucible, his classic drama about the Salem witch trials, in response to 1950s McCarthyism. But the play, produced more often than any other Miller work including Death of a Salesman, is just as relevant now.
Tim Tavcar, a Lost Nation Theater artistic associate who's performing in that company's upcoming production of The Crucible, says Miller knew the play's themes would outlast him. "People and governments and bodies and factions are still trying to rule the masses by planting hysteria about one thing or another," says Tavcar. "[Miller] felt that was a really enduring legacy of the play."
The story follows Salem farmer John Proctor as he struggles to prove that a group of local girls is lying about seeing others consort with the devil. The whole town becomes embroiled in the scandal. "People are taking advantage of these trials in order to do things like charge people with witchcraft, getting rid of them and then buying their land," Tavcar says.
But it's not all doom and gloom. The play "shows that even at the cost of a life, personal integrity can triumph over mass adversity," Tavcar says.
Dartmouth College English professor Brett Gamboa is directing the LNT production of The Crucible, which he calls "a great modern tragedy and among the most haunting of plays. It thrives on contradictions, presenting characters that mingle guilt and innocence, justice and injustice, forgiveness and spite, thus eliciting both condemnation and sympathy."
Artistic director Kim Bent says LNT has wanted to do this show for years. "It's very powerful," he says. "It was just a matter of finding the right time to bring all the elements together." One of those elements was Paul Riopelle, a resident actor with the Cincinnati Shakespeare Company who's playing John Proctor.
There's more to this production than the play. The LNT team has created additional programming to deepen the experience. Robyn Osiecki crafted an interactive timeline of the Salem witch trials and of Miller's creative process, which is displayed in the auditorium's gallery space.
On Wednesday, October 16, Tavcar will present a program on Robert Ward, the composer of the Pulitzer Prize-winning opera based on Miller's play. Ward beat out hotshot composers such as Leonard Bernstein to get the adaptation gig. "Miller didn't write the libretto because he had just married Marilyn Monroe and he said he was too busy," says Tavcar. "But he did approve it."
Ward, whose opera premiered in 1961 at the New York City Opera, died earlier this year at 95. Tavcar will personify Ward and tell the story of the opera's origins by reading correspondence between Miller and Ward, as well as playing excerpts from the original cast recording.
After the performance on Thursday, October 17, Allen Gilbert, executive director of the American Civil Liberties Union of Vermont, will host a discussion of issues in the play, such as false imprisonment, that remain relevant today.
Theatergoers are in for an intimate experience. LNT scenic designer Greg Crawford has transformed the space so actors can perform in the round. Seats are just three rows deep, so everyone will have a great view. Fittingly, those small pockets of audience, says Bent, "function, in a sense, as jury boxes."
"The Crucible" by Arthur Miller, produced by Lost Nation Theater, October 10 through 27; Thursdays and Sundays at 7 p.m.; Fridays and Saturdays at 8 p.m.; 2 p.m. matinees on Saturday, October 13, and Sunday, October 27, at Montpelier City Hall Auditorium. $15-30. lostnationtheater.org