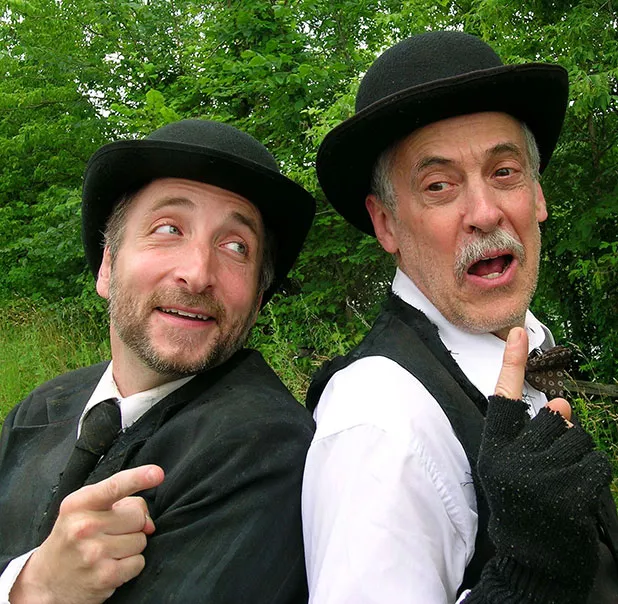 Paul Riopelle and Bob Nuner
For Lost Nation Theater, Samuel Beckett's signature play, Waiting for Godot, is a bit like an economic downturn: Every 10 years or so it comes back around, inspiring reflection on perseverance and hope.
In LNT's third production of the play, which opened at Montpelier City Hall on August 6, Director Tara Lee Downs has aimed to highlight a quality of "buoyancy" in the tale of two tramps idly conversing on a country road while awaiting the arrival of someone neither of them really knows. To that end, Downs, who recently directed American Buffalo at Green Candle Theatre, has drawn on her training as a clown, which she acquired studying performance art at Goddard College in the '90s and, later, under a circus-savvy mentor at Davis & Elkins College in West Virginia. Montpelier residents may know Downs as the clown Amnesia, a regular in the city's Independence Day parade.
With Godot, Downs' goal was to help her actors "find the physical life of these characters that might be bigger than your normal, everyday physicality." The effect is not "over-the-top clowning physicality," she clarifies, but more a matter of "allowing the actors to play with all of the ways that they can use their bodies."
For LNT Co-Artistic Director Kim Bent, who plays an enslaved character ironically named Lucky, such lighter touches are as much a part of this "tragicomedy in two acts" as the work's oft-cited existential themes. He points out that high-profile comedic actors from Bert Lahr to Steve Martin to Nathan Lane have been drawn to the work over the years. In LNT's current production, tramps Vladimir and Estragon are played by Chicago-based actor Paul Riopelle and Vermonter Bob Nuner, respectively. Mark Roberts plays Lucky's master, Pozzo, and Ethan Herz appears as the Boy.
Crediting Downs with striking a balance between the comic and tragic elements, Bent sees Godot as a play resonant with "the tenor of the times." As he notes, "It's a play that presents characters finding a way to make do in difficult circumstances."
What the main characters do in Godot is wait. In the LNT staging, their purgatorial world contains only themselves and two pieces of scenery — a fence and tree constructed from recycled materials by Roberts based on Ellen E. Jones' scenic design. The troupe finds the pieces so artful that they'll auction them off to the highest bidder over the play's run.
But audiences should expect a drama that rises above art for art's sake, according to Bent. "There are drop-dead beautiful lines in the play," he says. "And they're at moments in the play that bring everything home, that make sense of all those strange and bizarre things that have been happening."