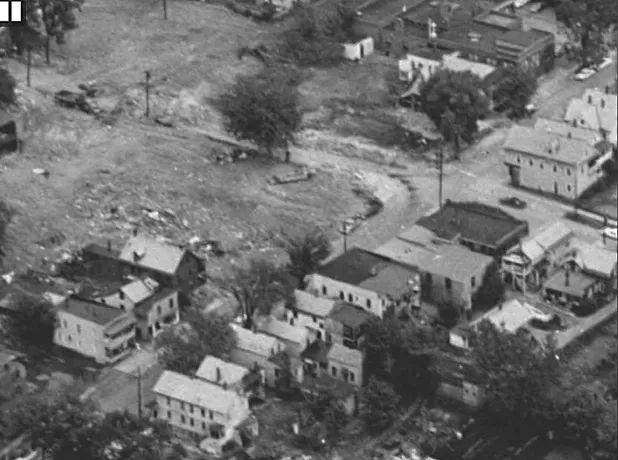 A photograph of the neighborhood in 1966 near the time of demolition
Suburban shoppers who park their cars in the garage adjacent to Burlington Town Center and stroll along the featureless concrete wall toward the lake might be forgiven for not realizing that a very different scene existed here nearly half a century ago.
Before the wrecking ball began to swing as part of a massive urban renewal project in the mid-'60s, this was a neighborhood of clapboard homes where children ran in and out of unlocked doors, where grown-ups shared glasses of homemade wine at the kitchen table, where a sense of common identity ran deep.
On November 9, representatives of the Vermont Italian Club will unveil three illustrated street signs designed to commemorate the mainly Italian neighborhood that was razed to make way for the concrete, glass and brick structures that make up a large portion of what is now Burlington's commercial district.
The plaques "will bring back a bit the lives, the homes and the community spirit that were taken away," says John Varricchione, a club director who grew up in Burlington's Little Italy. Jane Merola, whose grandfather owned a grocery store in the neighborhood, adds that the signs "pay homage to people who didn't have a voice in the 1960s."
A total of 167 families and 67 single individuals were uprooted from the area bordered by Pearl, Main, St. Paul and Battery streets as part of the federally and locally funded Champlain Street Urban Renewal Project. The city used its power of eminent domain to buy out their homes at prices many of the displaced residents later argued in court were unfairly low. The demolition crews moved in starting in 1966. Two years later, the working-class, mainly immigrant neighborhood and its mom-and-pop shops were just a memory.
On a walking tour with a reporter last Saturday, Varricchione paused at what's now a fenced-off alleyway alongside the Costello Courthouse on Cherry Street. "This is where my grandfather grew grapes," Varricchione said. There's nothing new about Vermont vintners, he noted, recalling that "many of the families here used to make their own wine."
Merola, who took part in the walkabout, stopped a few yards to the west, where South Champlain Street used to run between Pearl and Cherry streets. "This is where my family's home was," Merola said, overlooking the parking lot of the Cathedral Square apartment house. She remembered going to family dinner every Sunday at her grandparents' home above their grocery store a short distance away on Cherry Street. That site is now part of the parking lot of the Cathedral Church of St. Paul.
What kind of neighborhood was Little Italy?
Everyone knew everyone else by name, Merola said. Kids playing on the street were often invited into neighbors' homes for dinner. And when her parents sold their home in 1961, "they had to find a locksmith to make keys for it. The door was never, ever locked."
Last Saturday's nostalgic outing made clear that Varricchione, Merola and Terri Burrell, whose parents also lived in Little Italy, are still not reconciled to the erasure of a neighborhood that, with its large population and deep sense of ethnic identity, was unlike most any other in Vermont.
The urban renewal zone remains contested terrain. City officials insisted just a few months ago on adding wording to one of the historical signs to indicate that "the existing vibrant and successful downtown with offices, condominiums, hotels, and a shopping mall is the result of this national project."
But few Burlingtonians would consider "vibrant" an apt description for the row of structures that form a three-block-long wall along the south side of Cherry Street. The parking areas that occupy much of the 27-acre redevelopment sector attest to the mid-20th-century obsession with the automobile. A walkable neighborhood of backyard gardens, two elementary schools and streets swarming with children gave way to freestanding glass-and-brick office buildings, hotels and a windowless shopping mall attached to a rusting steel garage.
Peter Owens, an urban designer in charge of Burlington's Community and Economic Development Office, provides context for the assumptions that animated urban renewal — not just in Vermont but throughout the Northeast, Midwest and parts of the South.
"The intellectual and cultural background for the 'model cities' program of the '60s was a 19th-century, anti-immigrant, anti-urban bias," Owens says. He adds, though, that advocates of radical urban reconfiguration such as New York's Robert Moses and Paris' Le Corbusier "weren't bad people but saw themselves as visionaries." In their view of utopia, "the automobile was a great liberator that would take people to wholesome, green places where their kids could grow up healthy."
Burlington built the public housing project on Riverside Avenue as replacement units for families removed from Little Italy. And those apartments were a big improvement over many of the homes in the old neighborhood, says Frank Cain, who served as Burlington mayor during the urban-renewal era. "A majority of the housing was not in good shape," Cain recalls.
The federal program that paid three-quarters of the $3.2 million cost of the Burlington makeover operated from the premise that it was more efficient to level "blighted" or "slum" areas in old cities than to renovate them piece by piece. A perceived need for economic redevelopment in urban cores acted as another catalyst for the bulldozing of working-class enclaves.
A 2001 video about the Burlington project by Patrick Farrington points out that the city's economy was hurting in the 1950s due to declines in the rail and commercial lake traffic that had earlier enabled the Queen City to prosper. Suburbs were also starting to form a triangle around Burlington, stirring fears the city's tax base would erode as businesses and residents headed east, north and south.
The plan to greatly expand the downtown commercial district enjoyed strong political support, notes the 90-year-old Cain, who served as mayor from 1965 to 1971. "The board of selectmen was just about unanimous for it," he says. And in 1963, voters in five of the city's six wards backed a $790,000 bond to cover the local share of the urban renewal project. Only in the ward that included Little Italy did a majority of voters oppose the plan.
But apart from court battles over the proffered prices for home buyouts, there was little resistance in the neighborhood to its impending doom. "Italian-Americans weren't rabble-rousers," Varricchione says. And Merola adds: "They had an immigrant mentality. They didn't want to make trouble."
Privately, however, resentments simmered.
"My grandfather, who came here from Italy, couldn't believe the U.S. government would take away his property," Merola says. "He said he sent four sons to war and only three of them came back."
One woman did stage a vocal and visible protest against the destruction of Little Italy. Victoria Dutra "stood up for a lot of people back then who couldn't or didn't stand up for themselves," says one of her sons, Jimmy Dutra.
The mother of eight refused to move her family even as all the homes around her on South Champlain and Cherry streets fell to the wrecking ball. She hung a sign above the front door reading "Dutra's Ponderosa" — a reference to the homestead in "Bonanza," a popular television show of the time in which a frontier family sticks tightly together against shysters and other bad guys. Two years after the start of demolitions, the Dutras' home was the only one standing in Little Italy.
Late one afternoon, Jimmy Dutra recounts, his mother was preparing dinner on the electric stove when the power was cut off. "Son of a bitch!" was Victoria's reaction. She then headed straight for city hall to demand that Cain turn the juice back on.
It hadn't been cut off deliberately, the former mayor objects 46 years later. "God bless her," Cain says now of Vicky Dutra, who died in 2009. "She sure could holler. She was a worthy opponent."
The Dutras finally did leave Little Italy for a home on North Avenue, but Vicky never forgot how it felt to wage a lonely battle against powerful forces. "My mother stopped talking to many of her Italian friends," Jimmy Dutra says. "She felt betrayed. They had taken the money and not put up a fight."
Can the historical signs form part of a broader effort to mend Burlington's delicate urban fabric almost half a century later? Is it too late to repair the damage wrought in the name of progress and renewal?
It's at least theoretically possible to construct "in-fill" housing in some of the parking lots and barren pedestrian plazas within the redevelopment zone, Owens replies. He points out, for example, that Hotel Vermont was recently constructed on an odd-shaped lot on Cherry Street that "many people had considered unbuildable." New housing is also rising or planned for parts of downtown, Owens notes, citing residential developments on St. Paul, King and Pine streets.
In addition, PlanBTV, the Weinberger administration's vision for a more densely developed downtown, imagines passageways piercing the stockade of buildings that now blocks north-south access along South Champlain, Pine and St. Paul streets.
"The incredible irony in all this," the CEDO chief observes, "is that we're trying to get back to what we once had."
The Vermont Italian Club is celebrating its 30th year with a gala dinner and display of historical photos on Friday, November 8, at 7 p.m. at the Courtyard Marriott — in the heart of what was once Burlington's Little Italy. Info, 862-2595, vermontitalianclub.org. Burlington's three "Little Italy" panels will be dedicated at 1 p.m. on Saturday, November 9 in the lobby of the Cathedral of the Immaculate Conception, followed by a guided tour of the old neighborhood. Info, 862-2595, vermontitalianclub.org.