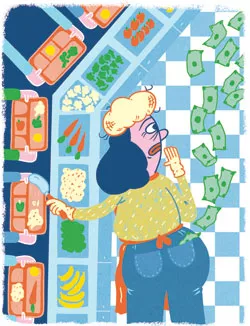 Cheryl Bell, 69, has never had much need for the government, or anyone else, for that matter. The Burlington native avoided marriage, she jokes, because "I don't want to be nobody's babysitter. I got enough to take care of!" She only sought government assistance once, when a back injury from her former career as a racehorse trainer temporarily forced her onto food stamps.
Now, Bell lives on a quiet street in the New North End in a home she inherited when her mother passed away last year. With guns in the household, Bell says that security isn't a concern. But the same cannot be said of her health.
"I have asthma and COPD [chronic obstructive pulmonary disease], and I have a pacemaker, and I have 13 different medications," she says.
Until this past summer, Bell explains, she was confident her employer-sponsored health insurance would defray her medical expenses. She has worked full time as a cashier in the University of Vermont dining halls for 20 years, relying on the job not only for a steady paycheck but also for its benefits. Without children of her own, she also enjoys the chance to joke around with students.
But Bell has been on edge since Sodexo, the global food-service provider that handles UVM's dining services, announced in August that it planned to convert her and other workers to part-time status — a move that would cost them their health insurance coverage and other benefits.
Sodexo blamed the decision on new requirements of the federal Affordable Care Act, commonly known as Obamacare. That didn't sit well with Bell and many of her coworkers.
"When you go out to get a job, one of the big things that people look for is the benefits, and you've had these benefits all these years, and all of sudden they say you aren't going to have them any more, and they're trying to blame it on the Obamacare? I think it's a hell of a slap in the face," Bell says.
She wouldn't be the only one left out in the cold by the changes. Sodexo employs 1000 people around the state. UVM has the most, with more than 300 dining-service workers, but the Vermont State Colleges (VSC), Norwich University, and Saint Michael's and Champlain colleges also have contracts with the company.
Sodexo officials declined to say how many workers would have been affected by the change. Deb Ploof, a food-services worker who is leading a unionization drive, estimates that three-quarters of Sodexo's employees at UVM stand to lose benefits by being reclassified.
For now, Ploof, Bell and their coworkers will keep their benefits into the new year. After Sodexo's announcement drew ire from faculty, staff, students and labor groups, the administrations of UVM, VSC and now St. Mike's have put a hold on Sodexo's changes, pending further analysis of their effects on employees.
Yet the decisions by those schools haven't quelled fears that Sodexo might just try to reclassify its employees' status again in 2015. State Sen. Phil Baruth (D-Chittenden), who also teaches English at UVM, said he plans to hold hearings on the matter in the Senate economic development committee when the legislature reconvenes in January, calling Sodexo employees and managers to testify.
"Sodexo is making a very worker-unfriendly environment," says Baruth. "As we bring the Affordable Care Act online, I do think we need to keep an eye on how workers are affected by this." Baruth says he intends to consider statutory changes that lawmakers could make to curb such actions by employers.
Although Sodexo won't be redefining full-time labor this academic year, company spokesman Gregory Yost maintains that the switch would work to everyone's advantage.
"We continue to believe that the decision to align our full-time employment definition with the Affordable Care Act for purposes of health insurance offers the best outcome for Sodexo employees and allows us to maintain our competitiveness in the market," Yost writes in a statement to Seven Days. "We look forward to working with our employees and our campus partners in Vermont throughout this ongoing process. Beyond that, we have nothing additional to share at this time."
Wave of Protest
Under the shift announced in August, Sodexo said it was planning to reclassify as part time any employee who worked less than an average of 30 hours per week across the entire year.
Like many of her colleagues, Bell has a 40-hour week, but only during the September-May academic year. She doesn't work during summer, so when the off months are entered into the calculation, her year-round average is just under 28 hours a week — not enough to qualify for health, vision and (although she doesn't use it) dental coverage.
Sodexo representatives haven't clarified the nature of the penalties they say the company would face under the federal health care law. However, Vermont's director of health care reform, Robin Lunge, points to the ACA's mandate that firms with more than 50 full-time employees offer health coverage to at least 95 percent of full-time staff, or pay a financial penalty. Although that mandate was originally set to kick in January 1, the Obama administration announced in July that it would delay implementation until 2015.
The Sodexo announcement set off a wave of protest by some students and faculty members. Critics said the federal health care reform did not force Sodexo to reclassify its employees, charging that the company was simply trying to reduce labor costs.
State Sen. Baruth wrote a letter to Vermont Labor Commissioner Annie Noonan requesting that her department investigate the policy change. However, Noonan found the reclassification to be lawful on the grounds that Vermont is an "at-will" state — meaning its employers are free to reduce their employees' hours and pay so long as the changes aren't discriminatory or in violation of any contracts or collective-bargaining agreements.
Sodexo wouldn't be the only business to alter its employees' hours. A recent report by Jed Graham of Investor's Business Daily tallied 363 employers nationwide who began cutting back hours in response to the ACA (none of the firms examined in the report was in Vermont). In the upcoming legislative hearings, Baruth says, he hopes to determine if any other large employers are making similar reclassifications around the state.
In rolling out the new reclassification, Sodexo said it would temporarily raise the wages of affected employees and steer them toward state and federal health care options, including the beleaguered Vermont Health Connect website.
But those assurances haven't won over employees like Bell, who say the new government-sponsored health offerings would cost more and not make up for the loss of other benefits, including disability and life insurance. Those fears — along with other frustrations related to the company's policies — have now spawned fledgling unionization efforts by dining-service workers at UVM and the state colleges.
"My father was a union man for 42 years for the railroad, and he was a great believer in it, and I believe in a union, because this company can do just whatever it wants," says Bell. "To have someone come and do this, it's like kicking your feet out from underneath you. Some of these insurances are $300, $400 a month. I can't afford that."
Interest in a union has spread to other Sodexo employees. "I never believed in unions, ever. Never thought I'd be part of one, never mind trying to organize one," says Ploof, an 18-year veteran of UVM dining services. "But it's like they've just left us no choice."
Ploof has worked as a supervisor in the school's Cyber Café for the last eight years, clocking upward of 50 hours a week during the fall, winter and spring. Now, Ploof believes she would "have just squeaked over the line" for full-time status in the new system.
But as a mother of five and a grandmother of nine who looks after some of her grandkids, Ploof has responded as any matriarch might to the potential change in the benefits of her coworkers — many of whom rely on having large chunks of the summer off to look after their own children and grandchildren.
Denying those workers full-time status wouldn't just disqualify them from health insurance and other benefits, Ploof explains, but also make it harder for them to receive mortgages and loans from banks that "pretty much look at you like, 'Well, what's wrong with you that you can't work full time?'"
Power in Numbers
After the initial announcement that Sodexo would reduce its number of full-time employees, Ploof began working with Kelly Mangan, an organizer at the Vermont Fair Food Campaign, to lay the groundwork for a union of UVM-Sodexo employees under the Vermont chapter of the United Electrical Radio and Machine Workers of America.
The move toward unionization has brought other issues to the surface, including Sodexo's attendance policy, which states that employees may be terminated after seven "occurences" of absence due to illness or other reasons.
By escalating the risk of punishment as employees take days off, Mangan argues, workers are pressured against making a full recovery, which in turn creates a potentially unsanitary work environment. She says, "I know that if I was a student at UVM, I would not want employees having to make a decision between making a day of pay or coming to school ill."
In a statement emailed in response to questions from Seven Days, company spokesperson Enrico Dinges wrote: "Our attendance policy, which aligns with others in our industry, and our award-winning safety program work together to make sure that sick employees get the time off they need to get better while also ensuring that students and other diners are served safe, healthy and delicious food."
Baruth is not buying it. "The reclassification [of full-time status] is a new thing, but we've had sick days for the better part of a century. To have a multinational rewire the sick-day innovation, for them to say you have X number of sick days, it's taking what's a benefit and making it simultaneously a penalty," says the senator and professor.
Ploof calls the policy harmful. One younger woman with whom she is close had an ectopic pregnancy, in which a fertilized egg attaches itself outside the uterus. Her doctor advised her not to work, since too much stress could rupture the fallopian tube where the embryo had implanted, Ploof recalls. But with 6.5 absences already on her record, the employee insisted on working. Only when it became clear that she needed surgery did she seek special permission to go the hospital.
In another instance, two employees supervised by Ploof — women in their sixties and seventies — were written up when they hit four absences.
"They both missed four days in a year. You'd think that would be commendable," Ploof recalls. "But it's like we're in preschool. It's demeaning, it's disrespectful and it really messes with your dignity."
Of the 16 workers approached for this story on the UVM campus, only two would speak on the record. Several said their supervisors have threatened to punish any employees who speak to the media.
Yost didn't respond to those allegations for this story, but he has denied them in the past. "Sodexo does not retaliate against employees," he wrote in an email to Seven Days in September. He has also described the company's openness to letting employees "unionize or not to unionize, as they choose … [and] make an informed decision free of pressure or coercion from anyone."
Both Ploof and Bell emphasize that they don't necessarily want Sodexo to leave UVM. Both women like their coworkers and have enjoyed their tenures at the university. But when the school's contract with Sodexo expires in 2015, they hope to negotiate the next one with collective bargaining power.
"It's kind of hard to trust what [Sodexo has] to say now," Ploof says. "If they should happen to lose the contract, then we just have to make sure we're protected for the next group that comes in."