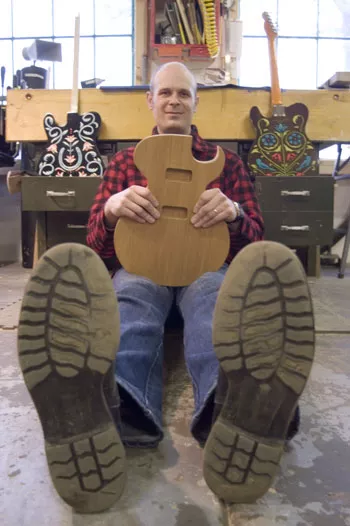 Matthew Thorsen
Creston Lea
Vermont is well known for its artisan-quality products. Producing everything from teddy bears to microbrews, Green Mountain entrepreneurs have had remarkable success in turning "cottage" into cash. Two new musical instrument companies, DeMars Guitars and Creston Electric, are continuing the trend by making choice homegrown axes.
Both companies are proudly local. DeMars Guitars is based in Norwich, while Creston Electric operates out of an "undisclosed location" in Burlington. Each is a one-man operation. At DG, the one man is Dan DeMars, a biotechnology r&d expert turned guitar designer. In-demand musician Creston Lea is the creator of the brand that bears his name.
DeMars' and Lea's products share some similarities - namely, strings and tuning pegs. From there, things get more interesting. DeMars takes an innovative approach to the acoustic guitar, with the pro-level player in mind. Lea designs axes for rockers and alt-country artists who crave a personal connection to their instrument. Both men are earnest craftsmen with a strong sense of aesthetics.
DeMars, 48, has worked for more than two decades as a manager of biomedical research projects for companies such as GlaxoSmithKline and Bayer. Originally from Herkimer, New York, he holds a Master's degree in pathology from the University of Vermont and an MBA from North Carolina's Kenan-Flagler Business School. DeMars sees himself as your average build-a-better-mousetrap kind of guy. "I'm not an engineer, but I've got an eye for design," he relates. "Like the Mac computer, Porsches and Braun kitchen appliances. It's a form-and-function kind of thing."
So how did he wind up crafting instruments? Although DeMars has played guitar since the age of 10, his "Eureka!" moment came in 1979, when he saw the radical-looking Steinberger bass, created by industrial designer-turned-luthier Ned Steinberger. "I was flipping through a guitar magazine in my dorm and I saw this headless bass," DeMars recalls. "It was like the clouds parting."
DeMars was impressed by the instrument's progressive construction. "Ned looked at it from a sculptor's perspective," he says. "He thought the bass was neck-heavy, so he just chopped the head off and put the tuners by the body. I just thought it was a brilliant concept."
In a happy twist of fate, DeMars got a chance not only to meet but also to work with his hero. In 1995, his wife Leslie received a card from one of her best friends announcing the friend's engagement to one Ned Steinberger. By that point, Steinberger had sold his company to Gibson and moved to Maine, where he started the concert string instrument outfit NS Design.
The two men came face to face in 1997, at their wives' 10-year med-school reunion. "We really hit it off," DeMars says. "He was the sweetest, most humble guy. We spent the entire time drawing guitars on napkins."
By 2000, DeMars was dedicating one day a week to Steinberger's company. "Ned asked me to help him do promotion - web design, ads, promotional literature, artist relations - because he doesn't like doing that stuff," DeMars says. "He said, 'You've got an appreciation for design and a business background - you might have some ideas that I've never thought of.'"
DeMars helped promote NS Design at the annual National Association of Music Merchan- disers conferences. At the 2004 event, he scoured the booths for a chambered, solid-body acoustic instrument for his personal use. He didn't find anything he liked, so he decided to build his own. "As it progressed past the prototype stage, I added some of my own ideas," he says.
DeMars' innovations included a solid-body design that is resistant to changes in temperature and humidity, which can wreak havoc on traditional acoustics. This design solves not only the problem of warping but also that of unwanted feedback, as air movement is eliminated.
DeMars' acoustic basses and guitars are "string-thru," meaning that the strings are held in place by ferrules on the underside of the instrument. The top of the guitar doesn't vibrate or "move air," so all string vibration is transferred directly to the bridge saddle and pickup, which results in better tone.
Most significant in DeMars' design is its inclusion of a dime-sized piezoelectric transducer at the neck heel, as well as the traditional location under the bridge saddle. The piezo, which differs from your average magnetic pickup, has been around for years. DeMars' breakthrough is in its placement. By setting a second pickup under the neck, he has captured a new set of vibrations, adding to the instrument's sonic character. "Everybody talks about how the neck influences tone," DeMars says. "I thought, 'Why not capture it?'"
At their unveiling at NAMM 2006, DeMars Guitars caught the eye of several seasoned pros, most of them bassists. Timothy B. Schmit of the Eagles, Derrick Murdock of the "Tonight Show" band, Jeff Beck and Rod Stewart sideman Phil Chen, and session god Leland Sklar all expressed interest in DeMars' four-string instruments. Other supporters include Bon Jovi's Hugh McDonald, who invited DeMars to a Los Angeles concert last March. McDonald is looking to purchase the first DeMars five-string bass when it's released in January.
DeMars' products, which retail for around $3400, have been featured in industry rags such as Guitar Player, Bass Guitar, Guitar World Acoustic, Bassics and Bass Player. Steinberger serves on the company's board of advisors and continues to offer advice and inspiration. Sounds like a sweet situation.
**********
How Creston Lea finds the time to build instruments is anyone's guess. A member of several bands, including James Kochalka Superstar, Missy Bly, and the Cave Bees, Lea is constantly gigging. His lifestyle may not be conducive to getting a good night's sleep, but it lets him put his handmade guitars to use.
He's in good company. Lea's axes have been purchased by a bevy of sought-after players, including Brian Henneman of The Bottle Rockets; Eric Heywood, guitarist for Sun Volt, Freakwater, Ray LaMontagne and Calexico; solo artist and Varnaline and Space Needle member Anders Parker; and Mark Spencer, an ex-Vermonter who's contributed licks to Blood Oranges, Lisa Loeb, Jay Farrar, Kelly Willis and Laura Cantrell, to name a few.
Several local musicians, including Steve Williams, Gabrielle Douglas, Bill Mullins, Lowell Thompson and Eric Olsen, also own Creston Electrics guitars. You may have heard them in action.
Lea, 35, took the long road to guitar making. He moved from New Hampshire to Vermont in 1996, trailing a couple of high school buddies. Here, he took jobs in carpentry, including a stint of tearing down and reassembling old barns. "I was driving all across the Northeast," he says. "It was just ridiculous hours." Later, Lea worked for himself as a builder for hire, but career fulfillment remained elusive. "The kinds of jobs I could take on as one person became less and less interesting," he says. "I started hating the work."
Meanwhile, Lea started playing music around town. When it comes to bands, he's something of a late bloomer. "I was never in a group until I moved to Burlington," Lea says. "Suddenly, all the things I was supposed to be doing fell by the wayside. I actually felt kind of guilty if I spent too much time thinking about music. I knew guys who were carpenters who'd go home and read architectural history and trade magazines. I'd just look at pictures of guitars."
When a friend asked for a few modifications to a guitar he owned, Lea took the opportunity to tinker. "He encouraged me to do it, but he lost interest and left the guitar at my house," he recalls. "I ended up stripping it, refinishing it and putting it back together. I found parts in classified ads, so I only spent around a hundred bucks. But it came out great."
Lea was hooked. "I built a Fender Esquire copy from scratch and, much to my amazement, it was great, too," he remembers. As a player, Lea had a good sense of what he wanted in an instrument. "When you pick up a guitar, you can kind of tell right away if it's friendly or not," he says.
For Lea, avoiding the look and feel of mass-produced instruments is paramount. "When I see the wall of guitars in music shops, they're just so devoid of personality," he offers. "They seem injection-molded; the finishes are almost like plastic. Much to my horror, when I talk to people who don't have a real interest in guitar, they think they're made of plastic. They seem amazed that I actually work with wood."
Lea's instruments have a classic construction, with top-loading strings and down-home playability. He defends his design choices on his website: "Many people insist that in order for certain guitars to achieve proper snap, crackle and pop, the strings must pass through the body and anchor in ferrules on the back of the body. Those people will argue this to the point of violence. I suppose everybody has to believe in something."
Despite his strong beliefs, Lea the businessman knows the customer is always right, and he listens closely to his clients. "When I'm making a custom guitar, there's a lot of emailing back and forth," he explains. "I was on the phone yesterday with a guy who I'd built something for, and we spoke for an hour and a half. I didn't realize this until I got off the phone, 'cause I love talking guitars so much. I had a pretty good idea about what he wanted for pickups by the time we were through."
Lea's customers appreciate his approachability. "Creston has listened carefully to me bellyache and whine for years on end," says Spencer. "He therefore knows pretty much exactly - to a sick degree - what I want."
For Anders Parker, it's all about the instruments themselves. "Creston's guitars are equal parts art, science and tool," he enthuses. "They ooze personality and are aesthetically pleasing, but, most importantly, they're well balanced and a pleasure to play."
Henneman of The Bottle Rockets worries that too many people may catch on. "I hope [Lea] doesn't get so swamped with work that his quality level drops," he says. "Maybe he'll just have to farm it out to Asia, like all the rest of the guitar companies."
That's an unlikely scenario. But, given the interest in his axes, Lea might want to hire a few elves.