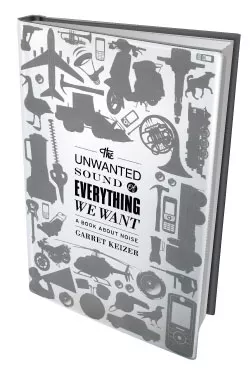 Right off the bat, in his new book, The Unwanted Sound of Everything We Want: A Book About Noise, Sutton author Garret Keizer admits that noise "is not the most important problem in the world."
True enough. But, after 260 pages of Keizer's brilliant, alternately serious and humorous tour through the topic, you may think noise is one of the most fascinating problems in the world. That's because noise is a necessary byproduct of human existence — something a neighbor to an airport endures just as the Roman philosopher Seneca endured it in 50 AD when he wrote about the din of the gymnasium under his apartment.
That said, it's easy to see how a book about noise could be a form of noise in itself. How do you tackle such a nebulous subject without simply adding to the static that squawks from daily life? Luckily, Keizer has experience with this challenge, having already written books on topics nearly as amorphous: anger and help.
This time, Keizer, a freelance writer and contributing editor at Harper's, begins with some definitions of noise — "unwanted sound" is one — and proceeds to show how noise is power and therefore political. (Hitler, it turns out, believed the Nazis wouldn't have controlled Germany without the loudspeaker.) The middle section of the book tells a brief history of noise. Toward the end comes a chapter on "loud America," which includes a lively discussion of Bob Dylan's first electric concert and John Coltrane's shift away from straight jazz to what one concertgoer described as "loud, crazy music." Keizer concludes with ruminations on noise and sustainability and on his own choice for the most beautiful sound in the world. Finally, "sitting quietly at the back" of the book are handy resources such as a time line of noise history, a glossary of terms used in discussions of noise and a list of organizations that deal with noise, among others.
Throughout, the revelations and connections come thick and fast, and the reader turns pages eagerly, wondering what other bits of truth and beauty Keizer has plucked from the cacophony that surrounds us.
Seven Days sat down with the author on a sunny afternoon on the green in St. Johnsbury — with the background sounds of motorcycles revving, wind blowing and dump trucks beeping — to ask a few more questions about what noise means and why Vermonters, who arguably live in one of the quietest states in the Union, should be concerned about it.
Seven Days: How did you get the idea for this book?
Garret Keizer: Noise has always interested me as a phenomenon, but, as most people, only in the instance when it became a problem. Where I became focused on the subject was 10 years ago, when I proposed to Harper's magazine a piece about a quarry going through a permitting process in Sheffield. There was a conflict within the community. The people at the magazine said that they weren't interested in the subject because they had just done a story on Vermont, but I had a paragraph about noise and they found that interesting and suggested I write an essay about noise. It was published in 2001, and it was called "Sound and Fury: The Politics of Noise in a Loud Society." Writing that essay opened my ears to what a fascinating subject noise is. It has objective, scientific components, but there are a lot of subjective components, as well.
SD: Did it take you a while to realize noise is such a weighty, important issue?
GK: I think that, early on in the article, I perceived that I hit upon something important. And one of the people who helped me to that awareness was Les Blomberg, who operates the Noise Pollution Clearinghouse out of Montpelier. It's an invaluable resource on noise.
SD: You go through a few definitions of noise in the book; which one do you find most helpful?
GK: The one that I like is "noise as sound out of place." That's not original from me. It's based on an anthropologist who described dirt as matter out of place. That's a useful one, because most people can relate to the fact that certain sounds that are appropriate in certain places don't work in other places. The most creative way to approach noise is not to define what we hate in the sonic environment, but what we like: conversation, birdsong, stillness. That's because noise can work like an imperial power … conquering space and interfering with things that … are essential to a just and sustainable environment.
SD: If it takes energy to make noise, and the world is noisier than it's ever been, does that say something about the sustainability of our current environment?
GK: I do think that noise argues for what is unsustainable, materially and socially. A lot of the sounds of the devices you're hearing are powered by carbon. So, in many cases, noise is the sound of carbon emissions. Therefore, as the world gets louder, we are hearing a truth that is not always audible: that we're warming our climate and using up our resources, etc.
SD: Japan has compiled a list of precious sounds. What are some Vermont sounds you think are worthy of recognition?
GK: A loon's cry on a lake, the bugling of a bull moose, the mooing of a cow. A baseball game in a field, a Fourth of July parade. The sound of a demolition derby at the country fair. The sound of that vanishing breed, the old Vermonter, telling a story, the inflections of the language. I can think also of historical sounds: the sound of trains, sheep, waterwheels. Sounds that have to do with our natural environment, that have to do with the acoustic ecology of a place. The sound of two people slugging it out at town meeting. The sound of French Canadian music. Finally, the sounds of work and of a working landscape, and that could mean a chainsaw, which is a sound, for the most part, I don't find offensive.
SD: There's irony everywhere in your book. Why is noise so ironic?
GK: I used to teach irony to my high school students. Irony has, at root, a discrepancy between appearances and reality, or a discrepancy between expectation and outcome. Noise lends itself to that because noise is a sensation that immediately carries certain messages that a further investigation might reveal to be mitigated by other circumstances. It's also ironic because noise has always accompanied what we call in our civilization "progress": You invent something like computers, which were touted as being able to reduce our workload, but every indication is that, since the electronic revolution, we're all working more, working all the time, and we can't get away from it.
SD: You went to Mars Hill, Maine, and to the Netherlands to talk to people about noise from wind turbines and its effects on people. What advice do you have for Vermonters as we develop wind power here?
GK: I would advise Vermonters against sweeping the issue of global climate change under the rug … No matter where you are on the issue, we've got a serious problem to address.
I would advise Vermonters to go online and find a ranking of communities by per capita income and then look at where the wind turbines are proposed and where they are now. Find Searsburg and find Sheffield. I also advise to recognize the danger of approaching the problem of global climate change by recapitulating the very problems that gave us global climate change. Someone will say, if you're talking about wind turbines sited too close to residences, "The planet is heating up; we don't have time for petty little scruples of little communities." Well, that's exactly the attitude that brought us here. We drive out the devil by putting on horns and donning a devil suit.
SD: What's the best antidote to an increasingly noisy world?
GK: Learn who your neighbors are. You'll make less noise because you respect them and they respect you. You'll be less likely to interpret sounds as noise. Finally, when you're faced with a big problem, you will have people to join with in fighting that problem, including a big noise.