Courtesy of Sue Higby
"Youth Triumphant" sculpture in Barre
Two words that got used a lot in 2020 are "resilience" and "pivot." The former is always a good thing; the latter we'd be happy to dump in the vocabulary dustbin. Pivoting was what everyone on the planet was forced to do this year when the coronavirus arrived — most definitely including the creative sector. The cancellations of performances and exhibitions, the closure of venues, and the loss of income for many artists and arts organizations were severe blows; we may not yet know the full extent of the effects.
In response, creatives got, well, creative. It didn't take long for nearly every kind of artist to reposition themselves online. Many learned recording and livestreaming skills and realized far-reaching opportunities; none of that will disappear when the virus does. Others repaired to the social-distancing-friendly outdoors — think drive-in movies and concerts, Vermont Shakespeare Festival's "Bard in the yard" engagements, and the Flynn's pop-up performances in Burlington parks over the summer.
We'll be relieved to put 2020 behind us, yet we were totally here for the resilience and pivoting. Below, we follow up on seven stories that represent this year in the arts.
— P.P.
COVID-19 Compilations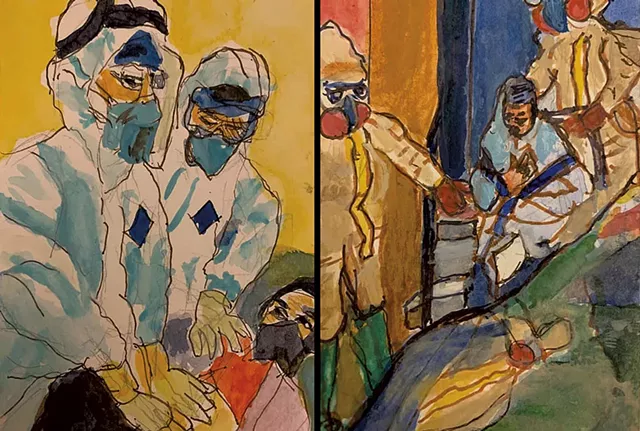 Courtesy of the Vermont COVID-19 Archive
Paintings by Joyce Kahn from the Vermont Historical Society's COVID-19 archive
When the pandemic is finally over, most of us are likely never to want to think about it again. But at least two local organizations are actively trying to preserve the moment. No, they're not sadists; they're historians.
Since late March, the Vermont Historical Society in Barre has been compiling the Vermont COVID-19 Archive, a digital collection of all things coronavirus in the Green Mountains. The open-source, preservation-level archive — which, at press time, numbered 543 user-submitted entries — covers everything from news reports to photos, written stories, and audio and video recordings submitted by regular Vermonters. There are also poems, letters, literary zines, and lots and lots of Zoom meetings.
VHS executive director Stephen Perkins said the flow of submissions has ebbed and flowed over the months, along with the virus. So has the tone of the material.
"The first stuff that came in, there certainly was fear," he said. "Then, shortly thereafter, there was almost a bit of joy, like, 'Hey, this is what we're doing. We're making cookies with the kids or playing music.'"
Submissions slowed in the summer, Perkins said, then picked up in the fall as Vermonters moved back inside. But those more recent submissions, he noted, "don't feel as lighthearted."
Perkins likened the COVID-19 archive to VHS' collection of Vermont materials from the 1918 pandemic.
"I think one of the biggest uses will be for writers and researchers in the future," he said.
Meanwhile, in Middlebury, the Vermont Folklife Center has been building the Listening in Place Sound Archive, a multifaceted project documenting Vermonters' pandemic experiences.
"Listening in Place is about highlighting the connection and relationship building that can come out of deep listening," VFC education and media specialist Mary Wesley said. "What we wanted to bring to the forefront was intentionally setting aside time and space to talk to each other and share experiences and really listen to what people are going through."
Listening in Place includes an archive of daily experiences crowdsourced from Vermonters; a series of virtual story circles; "Virtual Vox Pops," a series of short interviews recorded by VFC staff; and "Show Us Your Masks!," a visual record of homemade mask making.
"It's only become more clear as the months have gone on what a symbol of this time masks will be," Wesley said.
Another component of the project kicked off on December 21, the winter solstice. Listening in Place: Winter Lights explores "how people are thinking about and responding to this darkest time of the year," Wesley explained.
Short interviews with Vermonters will ascertain how they light up the cold season, whether with Christmas lights on cars and buildings, menorahs, bonfires, or other illuminating pursuits.
"We're looking broadly at the different ways that people share light and make light in the darkness this time of year," Wesley said. "In Vermont," she continued, "darkness is something we all contend with."
Visit the Vermont COVID-19 Archive at covid-19.digitalvermont.org. The Listening in Place Sound Archive is available at vermontfolklifecenter.org/listening.
— D.B.
The Almighty Dollar
In 2020 we've celebrated the ways artists and arts organizations have managed to bring creative works into the lives of Vermonters during the pandemic. But, while those endeavors have helped get us through the year, most haven't resulted in significant income for creators. Monetizing digital offerings has been a common struggle, and, despite the promise of the vaccine, we won't return to in-person shows or packed art openings anytime soon.
"There is no sign of any sort of return to normal operations much before fall of 2021," said Christopher Kaufman Ilstrup, executive director of Vermont Humanities. The restart will be particularly slow in the performing arts sector, where tours and shows are typically booked a year or more in advance.
According to a Brookings Institution report, Vermont's creative sector lost $216 million and more than 8,000 jobs between April and July of 2020. That sector makes up a significant portion of the state's economy, accounting for 9 percent of Vermont jobs, according to the Vermont Arts Council.
The federal coronavirus relief act, passed by Congress in late March, provided $781,000 that was distributed to 123 Vermont organizations through the arts council and Vermont Humanities. The council also offered emergency grants of up to $500 for artists, with funding from foundations and donors; it awarded $170,000 to 425 Vermont artists and issued special grants of $16,000 and $11,000, respectively, to the Clemmons Family Farm and Vermont Abenaki Artists Association. Those organizations issued grants, in turn, to individual African American, African diaspora and Indigenous artists.
In July, the Vermont legislature allocated $5 million to arts and cultural nonprofits, using funds the state received from the federal relief act; 115 organizations received up to $150,000 each. When arts leaders first lobbied the legislature for funding, they had requested $50 million.
Nonprofits and for-profit arts organizations were eligible for Paycheck Protection Program grants if they had enough employees to qualify.
CERF+, a Vermont-based organization with national reach that aims to provide artists with a financial "safety net" during emergencies, also offered pandemic relief funds to artists and makers. According to executive director Cornelia Carey, CERF+ distributed $1,000 grants to 592 craft artists for COVID-19-specific relief and reached another 225 artists through a general emergency fund. Five Vermont artists received money through those programs.
Vermont Humanities and the arts council have warned since the early days of the pandemic that the state would see significant long-term effects, and even permanent closures, in the arts and culture sector. In Burlington, for example, two small theaters, Off Center for the Dramatic Arts and Revelry Theater, announced that they would be shutting down and moving out of their spaces to conserve funds for a post-pandemic reopening, which they hoped would be feasible.
While Kaufman Ilstrup said private philanthropy appears to be holding strong in 2020, he could see that changing in 2021 if the hobbled U.S. economy further shrinks donor wallets. Members of small arts organizations that rely at least partially on funds from their town governments worry about whether voters will decide to tighten the belt on Town Meeting Day 2021.
"Without additional federal relief for the cultural sector, we will lose more organizations," Kaufman Ilstrup said. "Probably a lot more."
— M.G.
Seeing the Light
Courtesy of Opera Company of Middlebury
"East and West Shaking Hands at Laying of Last Rail" by Andrew J. Russell, 1869
Opera companies don't typically present works that can be called emblematic of current times, but the Opera Company of Middlebury managed it this fall with a streaming video of the micro-opera "Completing the Picture." Only 10 minutes long, it showcases excellent singing, a Ken Burns-style collage of historical photos and some neat special effects to tell the story of the 20,000 Chinese workers who built the western end of the U.S. transcontinental railroad.
Chinese American Michael Ching composed the opera for children in 2019 for the 150th anniversary of the day the eastern and western ends of the railroad met in Utah. "Golden Spike Day," on May 10, 1869, was captured in a famous photograph crowded with workers and stakeholders — not a single one Chinese.
Not only was the picture incomplete, Ching's opera reveals, but Americans and their legislators went on to vilify Chinese immigrant workers, accusing them of stealing their jobs. (Plus ça change!) The Chinese Exclusion Act of 1882 barred Chinese immigrants from entering the U.S. for 10 years.
Douglas Anderson, OCM's director and impresario, adapted "Completing the Picture" for adult audiences, revising the spoken narrative and eliminating a rap at the end. Having now seen the final product, this critic can say that his version is far more interesting than the original (both are on YouTube) and uses video to excellent effect.
The four singers, all OCM regulars, are Black, Cuban American, Japanese American and white. A guzheng player from Singapore contributed the arresting end-credit music. In one impactful moment during the video, a photo collage of Americans of every race and ethnicity emphasizes the story's present-day ramifications.
Anderson said the video has garnered more than 1,000 views and even elicited comments from abroad. The experience of making it, he added, is "likely a turning point for our company." OCM now plans a full production of Leonard Bernstein's Candide on video in the spring, after the multistate cast has quarantined as a pod.
"A lot of theater has resisted virtual," Anderson observed. "Now I see the light. We're learning how video can help tell these stories. It's a powerful tool."
— A.L.
Balancing Act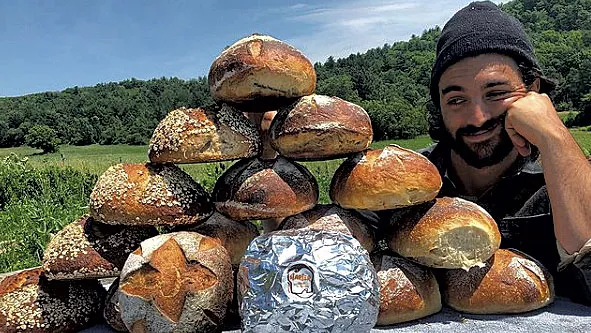 Courtesy of Jacob Tischler
Jacob Tischler
Nine months ago, actor Jacob Tischler filmed his first pandemic sketch — a one-minute Instagram video, posted shortly after he was laid off from his bartending job at a Broadway theater. In the skit, Tischler bickers with his doppelgänger, also played by Tischler.
A few days later, he returned to his childhood home in Williston, where he's been holed up ever since. In the first few months of quarantine, Tischler wrote and performed almost 40 self-isolation sketches, which helped him process the weirdness of being unemployed and living under his parents' roof again. A handful of his videos got more than 1,000 views, but none of them went viral in the way Tischler had hoped.
Then, in May, when racial justice protests swept across the country, Tischler redirected his considerable energy into baking and selling bread — he'd been on the sourdough train long before the pandemic — and donating the proceeds to social justice organizations.
Tischler's baking enterprise, Starter, now has an official website. And, because he is apparently incapable of doing anything halfway, he built a masonry oven in his parents' backyard in the fall with the help of Thea Alvin, an instructor at Waitsfield's Yestermorrow Design/Build School. Tischler's Instagram feed is currently a smorgasbord of bread pics.
Also this fall, he started a master's program in screenwriting — virtually, for now — at the University of Southern California. Somehow, he found time to star in several virtual productions over the past few months, including Northern Stage's radio-drama broadcast of It's a Wonderful Life.
"I'd say I've been fairly overwhelmed," Tischler said. "But I try to focus on feeling grateful for these opportunities, because this is exactly what I should be doing right now."
As strangely liminal as this moment feels, Tischler is mostly happy with where he's landed. "The idea of being in New York City right now totally freaks me out," he admitted. "I've moved way past the desire to merely survive."
Recently, Weston Playhouse commissioned him to write a play that would fit on the back of a postcard — a black-and-white photograph of a kid carrying a stone mallet through a field. The play Tischler wrote, which he titled "Wiser," contains just two lines of dialogue: A boy, who carries the mallet, tells his sister, "Let's break sticks!" His sister responds, "I'd rather build things."
"If this year has taught me anything," Tischler said wryly, "it's that I work pretty well under constraints."
— C.E.
Permanent Moves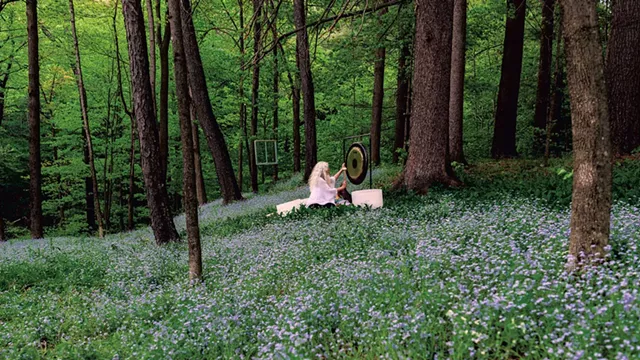 Courtesy of In the Hands of Beauty
Still from "Forget Me Not"
Dancers often practice and develop new works on their own, but it can be exponentially more interesting, productive and fun to create in collaboration with others. So, when the pandemic halted all in-person learning, rehearsing and performing, dancers were temporarily stumped.
It wasn't long, however, before they rallied to keep moving, creating and connecting online. Instructors of everything from ballet to hip-hop learned how to teach via Zoom, YouTube and other platforms. Students of all ages cleared space to practice in living rooms, attics and basements, and dance artists drew on the depths of their creativity to make art in isolation.
As the weather warmed, many gravitated to the outdoors to move together at safe distances. The freedom offered by being outside, combined with video acumen, gave birth to some truly remarkable creations — and may have launched a new mode of expression for Vermont dancers: artistic videos. These are not recordings of stage performances; they're collaborative creations in which dancers, musicians, videographers and editors weave tapestries of movement and sound into cohesive works.
Two pandemic-era videos offer prime examples. In June, the Vermont Dance Alliance, a statewide nonprofit that supports dance artists, released the video "TRACES 2020 Virtual Performance." It's the quarantine version of the group's annual outdoor one-day event. The 11.5-minute video, viewable on Vimeo, features 31 dancers of all ages performing 30- to 60-second pieces in backyards and woodlands, on picnic benches and industrial stairs. Producer Extensity Creative of South Burlington elegantly wove them together, and this viewer found the blend a surprisingly intriguing, clever and satisfying way to watch dance.
A second memorable video of 2020 was "Forget Me Not," directed by Andreas John of Calais and produced by his company, In the Hands of Beauty. "Forget Me Not," which can be viewed on John's website, has won numerous awards, including Best Experimental Short at both the Los Angeles International Film Festival's Indie Short Fest and the Toronto Alternative Film Festival.
In the video, eight dancers remove their face masks as they enter a forest blanketed with spring flowers on a warm morning. As a nearby musician complements birdsongs with chimes, gongs and a drum, the dancers lean on trees, hang from vines, wrap themselves in white silk and savor the breeze. The videography plays with perspective, speed and light to gorgeous effect.
Many Vermont dance artists have created videos during the pandemic, both on their own and in collaboration. Though the wide use of this medium began as a substitute for in-person experience, it may well continue to fuel the transformation of normally ephemeral dance into compelling, permanent art.
— E.M.S.
Movies Under the ... Snow?
Eva Sollberger ©️ Seven Days
Saturn Roblee and Kai and Cavan Meese at a Moonrise Cinemas pop-up
When I went to Colchester's Sunset Drive-In in August for a cover story on the resurgence of drive-ins as pandemic entertainment, the air was pleasantly steamy. Families were bedding down in truck beds and setting up lawn chairs under the stars.
Four months and change later, on December 17, when I reached Sunset owner Peter Handy by phone, he'd just plowed the debris of a nor'easter from the drive-in. "I made some good tracks," he said.
All the better to welcome the families who'd already bought tickets for early (4:15 p.m.) Friday and Saturday showings of movies such as Elf and The Muppet Christmas Carol. The Sunset added those kid-friendly screenings to its schedule by public request.
That's right. While the drive-ins in Fairlee and Bethel have closed for the season, and the mobile ones that sprouted in fields across Vermont like summer daisies are long gone, the Sunset remains open two days a week, showing Christmas flicks in a winter wonderland. Handy said it's the longest his season has ever lasted.
"We're alive and still kicking," he said with a chuckle. "We're looking at January."
Handy declined to say how many cars he sees in a weekend, offering only, "If they weren't coming out, we wouldn't be open." He sees the drive-in as providing a community service to the people who bundle up to see holiday classics or new releases such as The Croods 2: A New Age (which "has been doing fabulous," he said) and Monster Hunter.
"People want a place to go out and be safe," said Handy, whose employees enforce pandemic precautions and "make sure everybody's parking COVID-ly," as he put it.
What about those plummeting temperatures — in the teens when we spoke? "I tell people to dress warm, bring a blanket," Handy said. "And if need be, start your vehicle up — as long as it's not a diesel."
When we spoke in August, Handy didn't have much good to say about the 2020 season, which got a late start due to lockdowns. In December, he was more upbeat, saying, "I think we're doing more business because of COVID." The reason is simple: With social distancing built in, the drive-in offers a safe way to "gather."
"We are a sense of normalcy for these people during these COVID-unsafe times," Handy said.
Though Handy doesn't "anticipate us going too much farther down the road," he declined to specify an end date for his season. He'd already sold tickets for the long-delayed Christmas release Wonder Woman 1984.
— M.H.
Acting Accordingly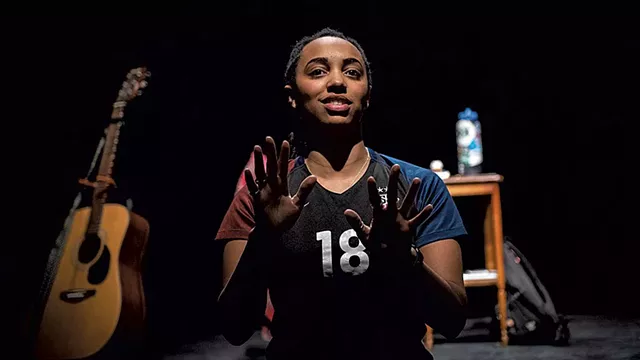 Courtesy Of Kata Sasvari
Stephanie Everett in It's Fine, I'm Fine
White River Junction-based Northern Stage, like every theater company on Earth, was forced to change its plans abruptly in 2020. "We've pivoted so many times we are now tap dancers," producing artistic director Carol Dunne wrote in an email. And fast dancers at that. The coronavirus arrived in mid-March, shutting down just about everything. Despite having had to furlough much of its staff, by early April Northern Stage had launched a weekly series on Zoom called Play Date.
Entertaining and educational, the events were more than just staged readings. Participants were encouraged to sign up in advance, purchase and read the play and discuss it during the Zoom session with actors and a presenter.
"This is a chance to take a deep dive into plays," Dunne told Seven Days in April. Play Date continued for 12 sessions. Middlebury Acting Company is now taking a similar approach with its winter monthly series the American Dream Project.
In a phone call last week, Dunne revealed that in the summer company members wanted to "do Shakespeare" — Much Ado About Nothing — in cars. But "the actors' union basically laughed at us," she said. "We had to move our focus to fall."
Northern Stage pivoted again, creating a short series called Tiny Necessary Theater. The company did a live, onstage presentation of the one-woman show It's Fine, I'm Fine, written and performed by recent Dartmouth College graduate Stephanie Everett.
Rigorous safety protocols included severely restricting the audience in the 240-seat theater. For the first week, Dunne recounted, "We had 30 people a night. Then the governor closed the Vermont border, and we had eight people a night."
The show was also videotaped for later viewing online; for its three other "Tiny" entries, Northern Stage went straight to streaming. "It turned out to be 'Huge Exhausting Theater,'" Dunne said with a laugh. "We did four productions in just a couple of months." Also exhausting: the ongoing effort to "make sure all of us were healthy and safe," she added. "We were getting tested [for COVID-19] three times a week!"
Northern Stage's final show of the year is streaming right now: a radio-play version of It's a Wonderful Life. A photo on the company's website documents the social-distancing measures the cast took while recording.
"We really needed a fresh reminder of all we have to be grateful for," Dunne said, referring to the story's redemptive theme. "Especially in Vermont."
What's up next? In January, the company will livestream New Works Now, readings of three plays-in-progress with follow-up conversations. Though Dunne was reluctant to unveil other plans, she allowed that "Mud season will have something magical, and summer will have something very special."
Getting through 2020 was a matter of careful planning and the crucial financial help of donors and federal and state relief funds, Dunne acknowledged. Though she's worried about 2021, she is also just a little optimistic. "I think we'll have a very cautious re-upping," Dunne said.
It's a Wonderful Life, directed by Carol Dunne, recorded as a radio play by Northern Stage, streaming through January 3. $15. northernstage.org
— P.P.