Courtesy Of Matt Petersen
Fun fact: Vermont has one of the highest percentages of artists per capita in the U.S. Evidence of this is rampant; just about every public space has art on display. (See our guide to BTV galleries.) Want to put your finger on the creative pulse of the city? We've selected just a few up-and-comers to look out for. These fresh faces represent varied fields — from painting to printmaking — and just a fraction of the Queen City's artistic output. But these ambitious originals stand out from the crowd.
Matt Peterson
Publisher of seven issues of the Flatlander zine/art book, photographer Peterson is establishing FLTLNDPR, or Flatlander Press, to help other local artists make books. His own high-contrast film images explore social and physical landscapes with a tender and spontaneous gaze.
Frank DeAngelis
courtesy of Frank DeAngelis
The Burlington artist only took up painting in the last year or so — and has been producing work with a vengeance from his S.P.A.C.E. Gallery studio ever since. Seeming to use whatever surface provides itself, DeAngelis rocks an uncontrived, distinctly self-taught flair, filling up space with his own vocabulary of simple symbols and line work.
Sarah Letteney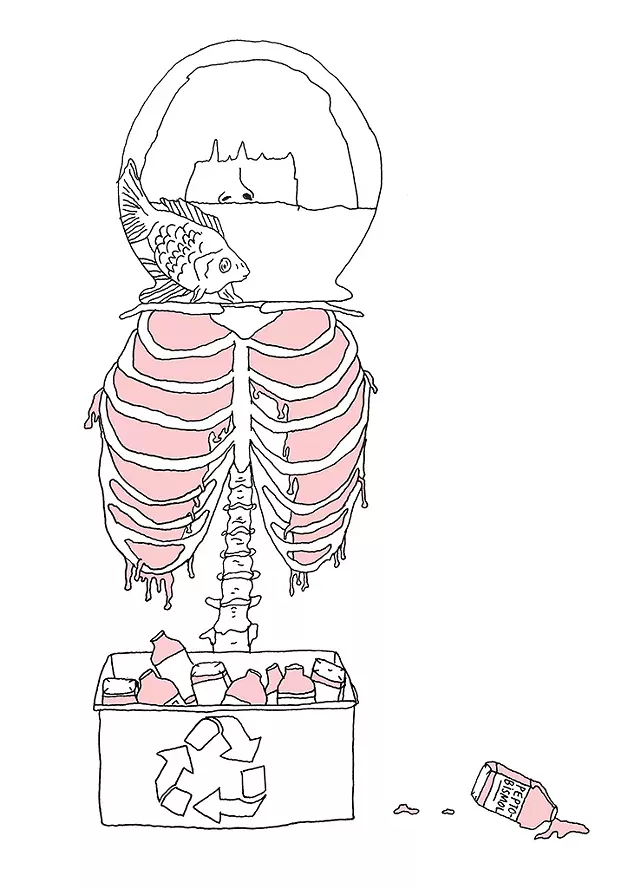 courtesy of Sarah Letteney
The Burlington artist's clean lines, oft-gruesome subject matter and strategic, sparing use of bloodred ink have helped make her a local favorite. She's lent her talents to Vermont food businesses Maglianero Café, ¡Duino! (Duende) and Pitchfork Farm, as well as BTV band Swale. Within her illustrations, ravens, hearts, skeletons and various dead things make frequent appearances.
Emily Anderson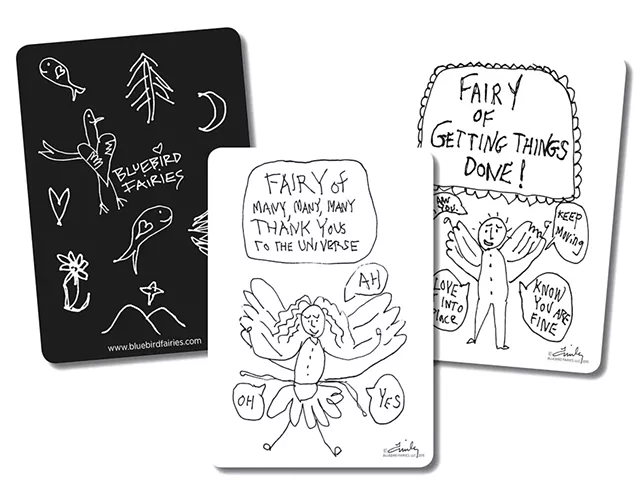 courtesy of Emily Anderson
Anderson describes her oracle deck of Bluebird Fairies as "earnest little drawings that help people do big things." Born from drawings done with her (non-dominant) left hand, the tarot-like cards feature inspirational, adorable and sometimes mysterious magical figures, such as the Fairy of Heart Thumping Love. Anderson offers full decks, as well as readings and intuitive fairy and demon drawing workshops, at various events around town, spreading joy and insight as far as she can.
Rachel Lindsay
courtesy of Rachel Lindsay
While she was a student at Columbia University, the graphic artist created the first graphic-novel thesis — like, ever. Having transplanted herself from New York to Burlington, Lindsay takes on many a Vermontism with her weekly Seven Days strip "Rachel Lives Here Now." Her comics combine wit, humor and zaniness with raw — and sometimes dark — honesty. Look for her first graphic novel, Rx, in 2018.
Jackson Tupper
courtesy of Jackson Tupper
The designer at famous Burlington brand Burton Snowboards has movement on the brain. His "Boys & Girls" series of line drawings shows boys and girls on skateboards doing a variety of things that boys and girls do: high-fiving, drinking, getting married. Tupper's larger, more colorful screen prints, in particular, have a California vibe. His minimal style is cheeky and warm, while always staying very cool.
Alissa Faber
Melding form and function, Faber works primarily with glass, wood and clay, mining the creative possibilities of her materials. For her "Blackened Timber" series, Faber uses found wood as singular glass molds — the molten glass blackens the wood, and, once the two have cooled, they are reunited as a unique sculptural vessel.
Survival Tip: Participating Burlington galleries are free during the First Friday Art walks — and some even offer complimentary snacks. See the art listings for details.