Daria Bishop
Jamie Spano, owner of Bare Medical Spa and Laser Center
Jamie Spano is passionate about helping people look and feel their best. When she started doing laser hair removal for clients in 2012, she was operating out of a tiny room on St. Paul Street in Burlington. She never imagined that a decade later, her business — Bare Medical Spa and Laser Center — would take over the entire seventh floor of the building at 100 Bank Street, a 12,000-square-foot space that towers above the city, with stunning views of Lake Champlain.
Spano started with just a handful of clients; today Bare serves roughly 24,000 of them annually.
"It's hard to believe how much we've grown," said Spano. "I went from working on my own to having a staff, growing out of each space we had almost overnight. It's amazing to think that we've become an industry leader in just a few short years."
Bare's rapid growth has been fueled, in part, by what Spano calls "the Zoom boom." For the last two years during the pandemic, people have been working and socializing from home via videoconference, looking at themselves for hours a day. That's prompted many of them to invest more in self-care. And the team at Bare has been happy to help.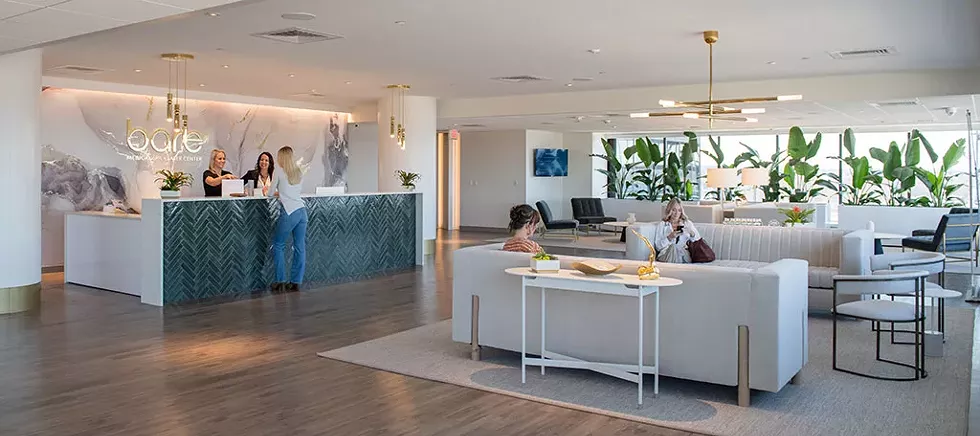 Daria Bishop
The reception area at Bare Medical Spa and Laser Center
With its talented staff and an array of services, Bare has been changing people's lives in a positive way. People come to Bare to erase signs of aging, to remove unwanted tattoos and body hair, and to sculpt their bodies, to feel confident when they see their reflection.
The last decade has also seen the development of innovative new treatments. The medical spa now offers more than three dozen of them, including chemical peels to polish skin; Botox to remove wrinkles; dermal fillers to replace lost volume; sclerotherapy to remove spider veins; CoolSculpting to freeze and permanently remove fat cells; and a staff favorite, the O-Shot, aka the "orgasm shot," an infusion of platelet-rich plasma injected into the vaginal area. It's designed to drastically increase sensation and stimulate more intense orgasms. Do you pee when you sneeze? Bare's got a simple 15-minute treatment for you — the CO2RE Intima.
Spa director Shelby Gillespie offered an inside perspective on Bare's evolution. "Jamie has been so successful because she has her finger on the pulse of the industry that is ever-changing," she said. "Because of that, we're forever changing, so our services are always growing."
Bare's medical team of well-trained, highly educated and talented clinicians is required to complete rigorous hours of training to provide these services. But, ultimately, the Bare experience is about relationships — understanding clients' needs, building confidence, setting realistic goals and achieving results that can be life-changing no matter the service.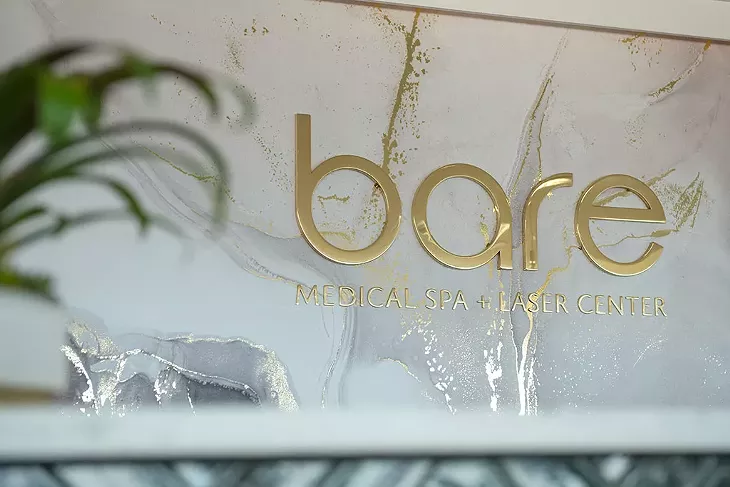 It's an approach that appealed to Susan Woloohojian. She and her husband live on a small dairy farm outside Middlebury. She heard that Bare offered laser treatments to reduce the signs of sun damage on her face, but she had never been to a medical spa before. When she walked into Bare for the first time seven years ago, she was wary.
Woloohojian felt "extremely vulnerable," she said, not knowing what to expect. But the staff at Bare immediately put her at ease. "The minute I walked in, they were so kind and knowledgeable," she recalled. They took the time to explain the procedure in detail, answer all of her questions and allay her concerns. Woloohojian has had a variety of treatments since.
"This is your skin and your face," she said. "You want somebody who is professional, skilled and qualified. Trust is huge." Bare has earned hers.
The Bare Essentials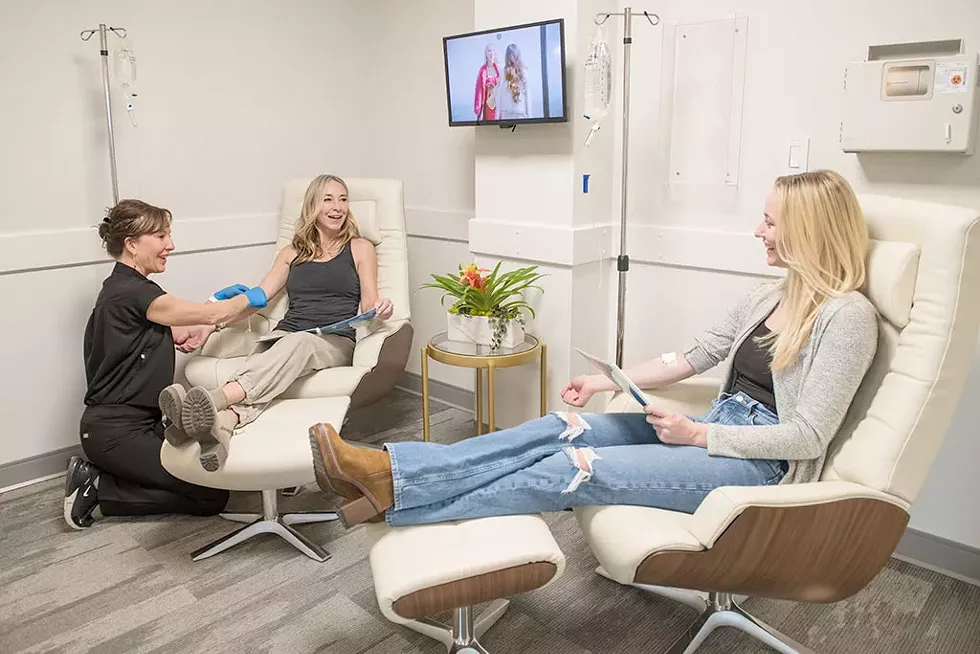 Daria Bishop
Bare clients receiving IV infusions of vitamins and nutrients
Spano's staff of 16 includes a Medical Director, three Registered Nurses, a Nurse Practitioner, a Physician Assistant, four Estheticians and a slew of Laser Technicians.
Bare provides clients with plenty of pampering, but Spano embraces the scientific aspects of a medical spa, going beyond superficial skin care and feel-good services. Med-spa equipment can be costly, but Spano believes each device has been worth the investment because of the results clients receive.
Interested in some self-care services?
Bare offers more than 30 to choose from. Contact the spa for a free consultation.
The new space is gorgeous, too. Its brass fixtures and luxurious suede couches make it feel more like a lounge in a boutique hotel. The waiting area, flanked by tall potted palms and floor-to-ceiling glass, boasts breathtaking views of Lake Champlain, the Adirondacks and the Burlington skyline.
Bare now has 12 treatment rooms, each with its own expansive view of Burlington and the lake, and three lounges for IV therapy, one of the spa's newest offerings. These IV infusions of vitamins and nutrients can provide a pick-me-up after a late night, an energy boost for a big day, recovery after travel or exercise, a dietary blend for weight loss, and can even perk up the libido. Clients can sit back in a zero-gravity lounge chair, put on a Netflix show and relax while absorbing a customized cocktail.
Spano and Gillespie look forward to hosting events such as Botox parties, Brotox nights for the guys, bridal showers and more.
'A Judgment-Free Zone'
Daria Bishop
Botox treatments at Bare
Bare invites clients to relax and share their hopes and desires.
"When you hold a mirror up and you ask somebody to reflect on the things that they're wanting to tweak or adjust, that's a very intimate conversation," Gillespie said.
Women aren't the only ones having these conversations, Gillespie noted — at least 20 percent of clients are men. Bare also caters to people undergoing gender transition; they represent about 10 percent of the clientele, Spano said.
"We're an understanding place, a judgment-free zone for anybody who walks through our door. People feel comfortable and safe," Spano said.
The reward, she added, is "seeing the expressions on their faces, or tears of joy when they look in the mirror," Spano said. "There is nothing more rewarding than making someone feel better about themselves and knowing they're taking that positive feeling with them when they walk out of Bare."
When Woloohojian embarked on her Bare journey, she was concerned that her face would change and appear different, fake, like she had plastic surgery. Instead, she said, she simply looks like the healthiest version of herself.
"Bare is very, very good about listening and taking it slow," Woloohojian said. "When I look in the mirror, it's me."

---
SPECIAL EVENT — Bare is hosting a grand opening party in its new space at 100 Bank Street on Friday, June 17, from 5 to 9 p.m., with hors d'oeuvres, cocktails, and thousands of dollars in giveaways in goodies and services. RSVP on Facebook...

---
Daria Bishop
The reception area at Bare Medical Spa and Laser Center
Bare's Most Popular Services
Laser hair removal is at the root of Bare's success, and it's still one of its most popular services. Wherever someone has unwanted growth, they can get rid of it. It's an affordable, quick procedure, with minimal discomfort, Spano said: "Throw away those razors, guys, and cancel your wax appointment, ladies!"
Laser technology isn't just for hair removal; it helps with facial rejuvenation, as well. Laser treatments can take years off damaged skin, improve overall texture, correct pigmentation, and decrease fine lines and wrinkles, leaving skin with a more youthful appearance. Recovery time for laser skin-care treatments took weeks long ago, but due to advancements in technology, patients can experience amazing results with little to no downtime.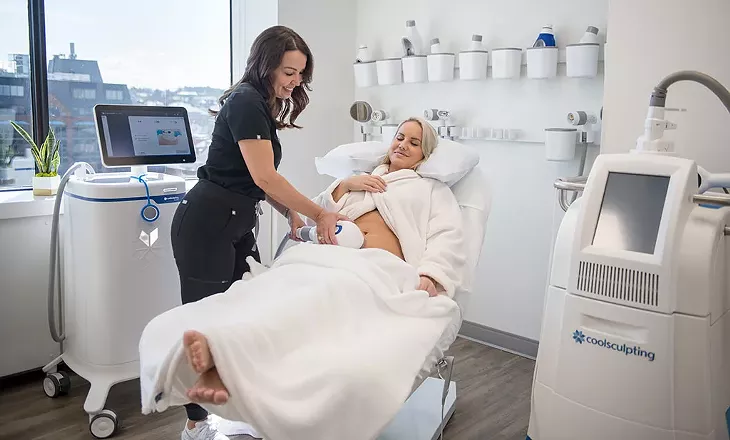 Daria Bishop
A demonstration of the CoolSculpting treatment
CoolSculpting is a method of cryolipolysis, or freezing of fat cells. "If you can squeeze it, we can freeze it," the Bare staff likes to say. Bare has completed thousands of treatments over the last five years — more than any other CoolSculpting provider in Vermont and more than all in the tristate area. In fact, Spano travels all over the country sharing her knowledge and expertise with other businesses as an Allergan Medical Institute Faculty Trainer.
Interested in some self-care services?
Bare offers more than 30 to choose from. Contact the spa for a free consultation.
Bare offers the latest and greatest of CoolSculpting machines, the CoolSculpting Elite®, which is able to "dual" sculpt, cutting the treatment time in half. This noninvasive procedure eliminates 20 to 25 percent of fat cells in the area treated. Nancy, a Bare client who asked to use only her first name, said she favors the EmSculpt Neo® for eliminating bulges. This machine targets legs, thighs, buttocks and the abdominal area with strong electromagnetic pulses three times what muscles are capable of doing on their own. When was the last time you did 20,000 squats in a 30-minute session? It's now possible at Bare. "I don't want to go to New York City or even Montréal for these services," Nancy said. "It's really great that Jamie has brought these services to Vermont. I will always support her in that effort going forward."
"What she has built is truly unique for our area," Nancy added, "and trailblazing." Intimate wellness services that enhance sexual experience and satisfaction are another groundbreaking realm for Bare. Aging happens throughout the body, for everyone. Bare recognizes this and offers different services that are needed on a more personal level.
Daria Bishop
The EmSculpt treatment room at Bare
In addition to the O-Shot, Bare also offers the Emsella chair. This magic throne uses high-intensity electromagnetic energy to stimulate contractions in the pelvic floor muscles, providing the equivalent of more than 11,000 kegel exercises in less than 30 minutes. For clients that take pride in their looks "everywhere," Bare offers a "Wing Lift." As women age, they naturally lose volume in their labia. The Wing Lift involves infusing the body's own growth factors with dermal filler into the labia. This can lead to an increase in sensation (for the woman and her partner) and a more youthful appearance.
Watch a short video tour of Bare's new location
In the near future, Bare will be offering bioidentical hormone replacement therapy. BHRT tempers fluctuating levels of natural hormones, which interfere with sex drive, mood, skin and body weight. An outside pharmaceutical company will process the bloodwork to analyze a person's hormone levels and customize a treatment protocol specific to them. Hormone pellets are produced for that client's specific imbalance and are gently placed under the skin, where they slowly dissolve.
"Your hormones level out, and you will notice an increase in your energy levels, a better night's sleep and, for many, an increase in libido. This treatment can last up to four months," Spano said.
Bare Medical Spa and Laser Center