Jeb Wallace-Brodeur
Jack Pickett
On a hot afternoon in late September, guests at von Trapp Brewing Bierhall Restaurant drank refreshing lagers at outdoor tables with mountain views. Inside, they sat at a long U-shaped bar in sight of a wood-fired Parrilla grill on which sausages sizzled. In each spot, flights of beer in golden and amber hues paired well with pretzels dunked in mustard — and with the changing colors of the surrounding hills.
In his office off the spacious dining room, Jack Pickett, general manager and executive chef of the restaurant, fielded a series of queries from gingham-clad employees who popped in: How many bottles of wine should be set out for a private picnic? And what kind? Any suggestions for the beer? Where should the bar be set up, anyway? It's a cash bar, a server told Pickett, and no one has cash.
Pickett offered quick solutions to these on-the-spot dilemmas with equanimity and good humor. In his office that day, he also responded to inquiries that came by telephone and text. A forager called to ask Pickett if he wanted 60 pounds of hen-of-the-woods mushrooms.
The fungi intrigued Pickett — he's a vegetable man from way back — but they aren't bierhall fare. The 200-seat restaurant is a meat eater's paradise that features bratwurst, knockwurst and burgers. A selection of Austrian-style side dishes, including potato salad, red cabbage and sauerkraut, complements the meats.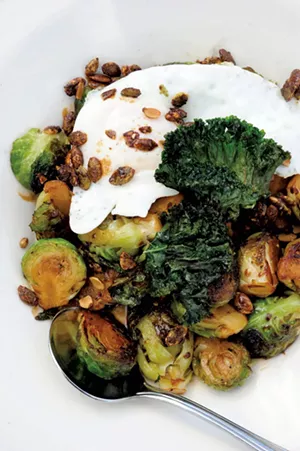 Jeb Wallace-Brodeur
Brussels sprouts and a fried egg
"What I love about Trapps, and I'm totally into it, is: I love authentic cuisine," Pickett said. "I'm not into fusion restaurants. We've made concessions, but this is a pretty good facsimile of an authentic [Austrian] beer hall. [Although,] we don't have the dirndls and the women who can carry 10 pints of beer."
Pickett, 64, has been a fixture in the Stowe restaurant scene for almost 40 years since moving to Vermont in 1978 to ski and cook. He and his wife, Julie, a children's librarian, raised a son and daughter and have two grandchildren. They live in Morrisville, where Pickett serves on the board of the recently opened Morrisville Food Co-op.
Pickett grew up in the Pioneer Valley of Massachusetts and studied cooking at Le Cordon Bleu in London. Since his first restaurant job in Stowe, as chef at Ten Acres Lodge, authenticity for him has meant seeking quality local ingredients and forging relationships with farmers. Decades before farm-to-table became a cliché of Vermont cuisine, Pickett practiced it in his kitchens.
"I predicated my entire career locally," he said, noting that, for him, sourcing locally is at the heart of being a chef.
"A chef is the guy who knows how to find the best food and the finest ingredients," Pickett said. "He knows how to procure stuff. And you've got to be able to run the kitchen and have people who are willing to work for you."
Alan LePage is a vegetable farmer in Barre who cultivates land that his family has farmed since the Civil War. He calls Pickett the "Alice Waters of Vermont," referring to the legendary chef in Berkeley, Calif., who founded Chez Panisse. "Jack invented Vermont regional cuisine," LePage said.
He sold produce to Pickett at Ten Acres Lodge and later at Blue Moon Café, the chef-owned restaurant Picket ran for 10 years in Stowe Village. Pickett taught him a lot, LePage said, and paid him what it was worth to grow labor-intensive varieties of crops.
"He was the only superb restaurant customer I've ever had," the farmer said. "I've had a lot of restaurants that put a sign on the door about how much they love local suppliers. But when it comes right down to it, they're not really in the ball game. Jack was the only exception."
When Johannes von Trapp decided to expand his brewery and open a bierhall at the resort his family had founded in 1950, he sought Pickett to run the kitchen. Von Trapp, 78, president of Trapp Family Lodge, is the youngest of the 10 siblings whose family of singers was made famous in The Sound of Music.
"Jack's a talented chef and a nice guy," von Trapp said. "He's intelligent and a hard worker. And I thought he might enjoy the position."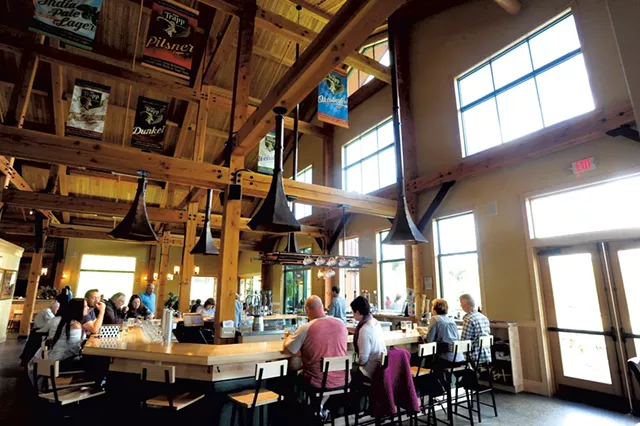 Jeb Wallace-Brodeur
Von Trapp Brewing Bierhall Restaurant
Pickett manages a staff of 60 at the bierhall, which serves up to 800 people on a busy day and averages about 500, he said. His duties have ranged from setting up the payroll system to refining how the tap lines operate. He will sometimes "expo" for the kitchen — restaurant lingo for being an expediter, the person who communicates between the kitchen and the dining room — making sure orders get out in a timely fashion and are delivered to the right table.
On Sunday of Columbus Day weekend, the bierhall served a record-setting 833 people, according to Pickett. "It was insane but fun," he said. "I served beer, I ran food, I cleared tables, I expo-ed for quite a bit."
On occasion, he returns to his first love — cooking. In August, Pickett prepared a wine-pairing dinner with the chef at the lodge, making herbed ricotta gnocchi with spring vegetables and prosciutto, braised oxtail and vegetables with green garlic gremolata, and roast medallions of veal with porcini and potatoes.
Pickett is probably best known for Blue Moon Café, which he opened in 1992. He was the "lucky cook" who was on the receiving end of LePage's vegetables and still speaks in awe of the mesclun the farmer brought him — young greens, flowers and herbs that needed only the simplest dressing. After a long day in the fields and a night in the kitchen, LePage and Pickett would still talk about vegetables for the next day.
"He was selling this produce to me, and I was having a ball with it," Pickett said. "If there's an odd vegetable that's on the market today, I will bet anything Alan LePage was growing it 25 years ago."
After a decade at Blue Moon, Pickett sold the restaurant to his manager. "I was afraid I was going to get stagnant and not be innovative," he explained. "It was a mistake, in hindsight. I should've stayed with it. I dream of it even today." He misses the intimate setting and intricate, super-local cooking. The café closed in 2015.
Pickett is also a carpenter, and he thought he'd try his hand at building houses. He was working on one in Morrisville in October 2003 when a nearby propane tank exploded. Pickett and a coworker were severely burned in the fire. He credits the emergency room doctor at Copley Hospital in Morrisville, and his Carhartt jacket, with saving his life.
The ER doctor determined that the men should be transported by helicopter to Massachusetts General Hospital in Boston. "There was no room for error," Pickett recalled. The jacket had protected his torso, providing doctors with healthy skin for grafting. He was in Boston for treatment and rehabilitation for three months, including six and a half weeks in a medically induced coma, Pickett said.
"They were able to get good-quality grafts off me," he said. "My recovery is certainly because I had viable skin."
The injuries Pickett sustained and subsequent treatments made a return to cooking — a physically demanding job in a hot environment — particularly challenging. He underwent multiple operations in the years after his hospitalization, including nine surgeries on his hands.
"I couldn't open a can of cat food without using a lever," Pickett said. "The most important thing was to be able to cook again."
He would go on to open two more restaurants in Stowe: Frida's Taqueria and Grill and the Phoenix Table and Bar. Neither is still in business. Most recently, before the bierhall gig, Pickett was a prep cook at Spruce Peak Base Camp Lodge.
"I put on chef's whites, got my knife and went to work every day as a cook," he said. "I made 80 gallons of soup at a whack. It was great." After 40 years in the restaurant business, that job proved to be "excellent background" for his current position, Pickett said.
At von Trapp Brewing, he can look outside to see his beloved mountains and work to make the bierhall an authentic experience. Other cooks can slice potatoes and grill sausage while Pickett solves the problems du jour.
"People like Jack Pickett, no one's ever gonna put up a statue to him; he's not going to go down in history books," LePage said. "But he set a course that continues to be a vaunted one in Vermont."
Sausage Sport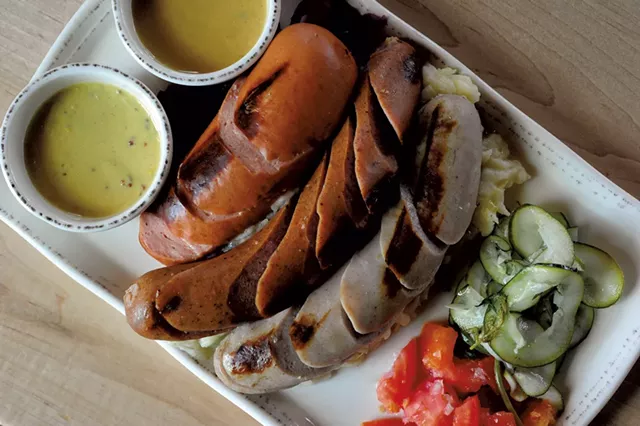 Jeb Wallace-Brodeur
A selection of Austrian sausages
Eating isn't typically a competitive event for my friends and me, but a sunny Sunday lunch at the von Trapp Brewing Bierhall Restaurant had an element of gamesmanship to it. I, for instance, stood over the platter of sausage — fat links upon fatter links upon juicy chunks and end pieces — to get a better view of the offerings and secure an optimal vantage point for serving.
One friend rooted for hidden treasure — bacon jowl! — while another announced that the red cabbage was hers. (To be fair, she did share.) I assumed I could monopolize the celeriac, but I had misjudged my pals. They wanted to eat it, too. So I played the pity card and successfully wrangled more than my share.
Thankfully, the kitchen was savvy enough to place six ramekins of mustard on the tray; none of us had to resort to hoarding condiments.
This sausage bacchanal was washed down with lagers in a variety of styles — the more we ate, the less we cared if we drank Kölsch or Helles. It was all part of the gimme game.