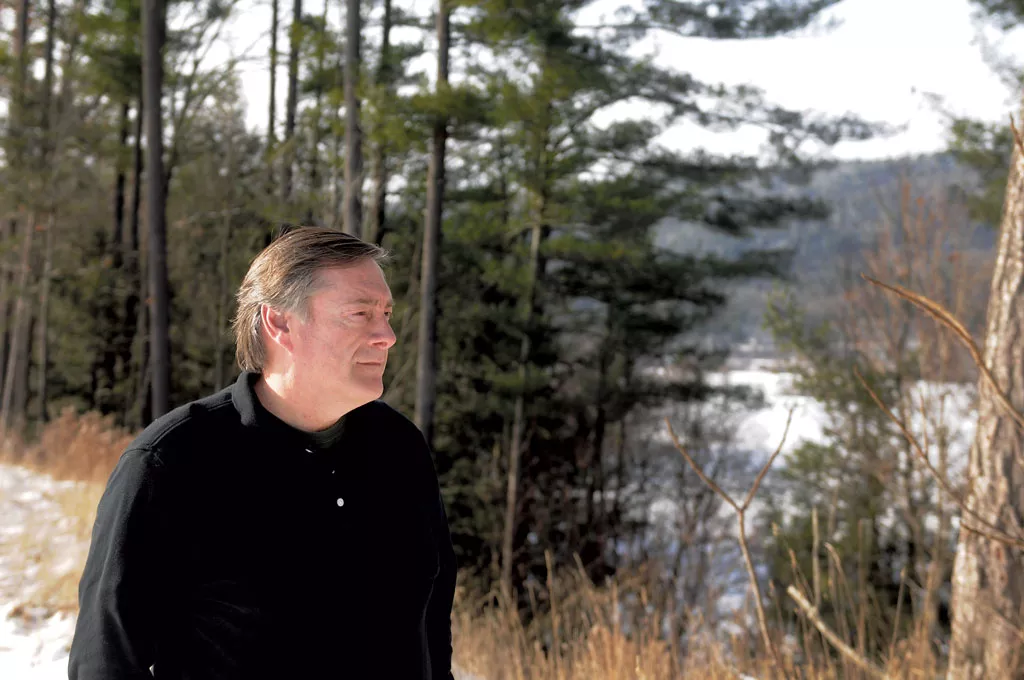 Sarah Priestap
Kenn Stransky
More than 1,100 Vermont children who rely on the state for protection have a little-known friend in their corner: a court-appointed guardian ad litem who can offer opinions on their cases in court. Kenn Stransky had been one such volunteer for 17 years. But he resigned last month to publicly criticize the Vermont Department for Children and Families.
"The public needs to know that the system is broken," said Stransky, who offered assistance as a guardian ad litem (GAL) in the Essex County family court. Speaking out in a Caledonian Record story after years of frontline experience, Stransky complained that DCF ignored his advice and failed to provide him crucial information in children's cases.
Meanwhile, attorneys, advocates and other insiders say the GAL program is poorly funded and lacks the volunteers and supervisors to maintain manageable caseloads in some parts of the state.
None of that is news to Sen. Dick Sears (D-Bennington), who cochairs the Committee on Child Protection — a group convened earlier this year after the untimely deaths of two infants under DCF supervision. Sears said his committee heard GAL testimonies over the summer and confirmed that they included complaints similar to Stransky's.
"They get frustrated when their voices are not listened to," said Sears. His committee is expected to roll out a DCF reform bill in January.
Volunteer guardians are appointed in cases of alleged neglect, abuse or abandonment — or if a child is beyond parental control or habitually truant. Guardians act as an objective party but also share opinions on what they believe would be best for their charges.
Currently, 312 guardians volunteer in Vermont courts. The number has increased significantly over the past seven or eight years, said program coordinator Mary Hayden, but so too has the caseload. Neither cases nor guardians are evenly distributed across the state, which means in some places guardians can have as many as 15 or 20 children assigned to them — considerably more than the target maximum caseload of 10. St. Albans, which hosts the largest number of child welfare cases in the state, has just 16 active guardians to oversee 183 cases.
The program is also strapped for cash. In the past its allocation from the state's general fund has been supplemented with grant funding from the National Court Appointed Special Advocates (CASA) Association — a national network of more than 900 community-based volunteer programs.
That foundation's budget is tight, and as a result Vermont's CASA funding fell from an all-time high of $80,000 in 2010 to $30,000 last year. Currently, Vermont's GAL program doesn't have enough funding for supervisors, which means 40 percent of volunteers in the state can't easily get help or assistance when they need it.
Behind the Scenes
Stransky's decision to resign offers a rare glimpse into the private world of guardians ad litem, who are bound by confidentiality not to speak about the children they represent in family court.
Stransky alleged that DCF workers, particularly those in the Newport office, disregarded the opinions of guardians ad litem and failed to properly communicate changes in the cases in which they were involved. He said judges don't push back against DCF's recommendations or failures to share information. "It's at the peril of kids," said Stransky.
Both Essex County State's Attorney Vince Illuzzi and Essex County Sheriff Trevor Colby praised Stransky's work and said his decision to quit is a loss.
"He would actually go out and meet with parents and grandparents and brothers and sisters, and really inform himself on what was going on in a particular case," said Illuzzi. "He was basically my eyes and ears."
Stransky, who works as a teacher at a prison in New Hampshire, fell into the guardian ad litem gig almost by accident. At the time, he was working as a reporter for a New Hampshire newspaper covering the courts in Essex County. A court clerk asked him to pitch in during an emergency juvenile case. He couldn't write about the case, obviously, but he volunteered to help out.
In recent years he's handled two or three cases at a time — because of his experience in the courts, he said he was often assigned the most difficult ones. Stransky interpreted the guardian's role as part investigator, part mentor. "We could go to anyone, anywhere, and ask questions about families and kids," said Stransky. He'd meet with teachers and doctors, and ask the clerk at the local mini-mart how often a parent might come in to buy beer. It wasn't always the "normal, admissible-in-court kind of stuff," Stransky said, but such sleuthing served to paint a more detailed picture of a child's life.
Children, Stransky said, seemed to intuit that he had their best interests in mind. He'd explain that he was a volunteer. "They can tell us anything and everything, and they do," said Stransky. "They open up, and it's a floodgate."
Getting the DCF office in Newport to cooperate, on the other hand, eventually wore him down. "The Newport office has gone rogue," said Stransky. He blames supervisors rather than caseworkers, who on the whole, he said, are talented and hardworking. Supervisors, he alleged, were micromanaging cases and pushing hard for family reunification over any other outcome.
One supervisor, Stransky said, told him that reunification was the "policy" — and that nationwide statistics showed better outcomes for children if they stay with parents or biological relatives. To that, Stransky countered: "There are exceptions to all rules, and Vermont is not California, and Essex County is not Philadelphia."
Stransky said he wasn't alone in his frustration with DCF. He recalls a case in which teachers, school nurses, neighbors and others called DCF repeatedly over the course of a year to express concern about possible drug use and neglect in one home. DCF allegedly countered that they sent investigators but didn't find a reason to remove the children from the home.
"The community anger and disgust was real," said Stransky. "The system was so horribly broken, and just the arrogance of the DCF office had become so clear to everybody."
Finally, a local cop and Colby, the county sheriff, got a search warrant to enter the home and discovered hypodermic needles mixed in with the kids' toys. "Everything that had ever been accused was real," said Stransky.
Common Complaints
Vermont guardian ad litem coordinator Hayden believes that simple measures could help ease the tension between GALs and DCF caseworkers — for example, requiring that DCF caseworkers inform GALs of important decisions, such as a change in a child's custody placement, and promptly return voicemails and emails.
DCF staff should also "be trained to understand not only what information is confidential," said Hayden in her written testimony to the Committee on Child Protection, "but when sharing with justice partners is permissible, as it promotes child safety."
Hayden couldn't comment on the specifics of Stransky's decision to leave the GAL program. But Pam Marsh, an attorney in private practice in Middlebury and one of two certified child welfare law specialists in the state, said that experiences can vary broadly depending on a GAL's location and relationship with individual DCF offices.
Marsh said GALs are often frustrated when they aren't copied on court motions or filings, and that DCF caseworkers might not return messages promptly or include GALs in case correspondence — things that should be happening, given that the GAL is a formal party in legal proceedings.
And the constraints of those legal proceedings can be frustrating, too. Marsh explained that while GALs are expected to do fact-finding and interviews, they're only allowed to give an opinion in court based on the testimony they've heard in the courtroom. If a guardian stands up in court and refers to the work he or she has done out of court, the opposing attorney will often object. In other cases, GALs will sit through proceedings only to have a judge forget to ask their opinions at all.
"I rarely, if ever, have heard a complaint from a guardian about, 'This family is too difficult,' or, 'This family is angry,' or, 'The kid isn't progressing,'" said Susanne Schmidt, the part-time coordinator for the GAL program in Chittenden, Franklin and Grand Isle counties. "Almost all of the complaints that I hear are about the system, and about the system being difficult to navigate."
"That's a good sign," Schmidt added, "because it shows me guardians are in this role for the right reason."
DCF is no stranger to criticism. Last month, a report issued by the Vermont Citizens Advisory Board found DCF at fault for the deaths of two children in their custody. The report paints a picture of a dysfunctional department in which caseworkers failed to communicate properly with those involved in a child's case; ignored signs of drug abuse; misunderstood basic responsibilities; and pursued family reunification at all costs, even when apparent dangers existed at home.
DCF commissioner Ken Schatz, who took the job in September, said that when it comes to the "complicated, challenging matters" surrounding many child-abuse cases, not everyone agrees about what's best for a kid. What's important, Schatz said, is maintaining respect among the various caseworkers, attorneys and guardians involved in a child's case.
"We all have the common goal of keeping children safe," said Schatz, who said his department is taking a more "cautious and protective" approach in the wake of the two fatalities. Schatz said the department is awaiting a forthcoming report from Casey Family Programs, a nationally renowned child welfare foundation, for recommendations on DCF changes.
Heavy caseloads are the biggest culprit when caseworkers fail to communicate effectively with others on a case, according to Schatz. Statewide, social workers average 16 cases — four more than the recommended 12-case maximum. DCF has hired 17 more social workers in recent months, bringing the statewide total to 160, and is recruiting one more. But it's also seen an increase in the number of cases, which means average caseloads haven't decreased. The number of calls to DCF's child abuse hotline has gone up, too, from 17,000 last year to 19,000 this year.
In Essex County, Stransky isn't reassured by promises of change at DCF. "Heads haven't rolled," he said.
That's why he quit. His role as a GAL prohibited him from speaking publicly about flaws in the system. "I had come to the end of my rope," said Stransky. "I had tried to make improvements working within the system, and it was unsuccessful."
During this legislative session, he hopes to testify before any committees considering DCF reform. "Now that the gag is off me," said Stransky, "I will be able to tell the stories that they need to hear."
The original print version of this article was headlined "Silent No More: Longtime Guardian Calls Child Welfare System 'Broken'"