Glenn Russell
Volunteers use a mallet to make holes in wood that will eventually become a bed
At 8:30 a.m. on the Saturday before Christmas, the temperature hovers in the single digits. It's the kind of morning that lends itself to sleeping in, or at least lingering under the covers a little longer than usual. But Bob Brosseau is already up and at 'em — loading a trailer hitched to his red Dodge Ram pickup truck with bed frames, mattresses, sheets, blankets and pillows.
For the next few hours, Brosseau and his team will be winding through Fairfax, Milton, Burlington and Winooski, delivering beds to nine children who have been sleeping on mattresses or blankets on the floor, or on couches. This day is a special one for the team. At their last stop, they will deliver their 100th bed.
Building beds for kids in need is the latest venture for a trio of sixty-something men: Brosseau of Jericho, Dan Parot of South Burlington and Mike Lemieux of Colchester. The three grew up together in Winooski in the 1950s and '60s — in the days when "parents kicked you out of the house, and you didn't come home until 5," laughs Brosseau, 64.
Brosseau and Parot have known each other since they were kids. Both attended St. Francis Xavier School and logged many hours at each other's houses, playing wiffle ball and football in the backyard, and biking to North Beach. The woman that Brosseau took to his prom later became Parot's wife. Lemieux moved to Winooski in high school and served as best man in Parot's wedding. The three men took their young families on group camping trips, and their kids became friends, too. In more recent years, they've helped each other do volunteer projects for their workplaces and churches.
Last summer, they launched the first Vermont chapter of Sleep in Heavenly Peace, a national nonprofit that builds and delivers beds to kids ages 3 to 17.
Glenn Russell
From left: Childhood friends Dan Parot, Mike Lemieux and Bob Brosseau
Brosseau was inspired to start the chapter after watching the Facebook-based web series "Returning the Favor," in which host Mike Rowe travels across the country spotlighting people who give back to their communities. A 2018 episode featured Luke Mickelson, the Idaho man who started Sleep in Heavenly Peace in 2012. After building a bunk bed for a child at his church, Mickelson realized there were other kids in his community who also needed beds. The organization delivered 11 beds in its first year and now boasts 183 chapters in 44 states and three countries. Sleep in Heavenly Peace — with its motto: "No kid sleeps on the floor in our town!" — estimates that 2 to 3 percent of American children don't have their own beds, based on information collected by chapter members across the country.
Last February, while having dinner at Parot's home, Brosseau showed him the episode of "Returning the Favor." The two men were "both sitting on the couch crying," Brosseau remembers. Parot, who had been a volunteer firefighter and worked for the South Burlington Public Works Department and a local motel before retiring, was looking for a new project. And the letters "S" and "P" in the Sleep in Heavenly Peace logo felt like a sign from his son Shannon Parot, who died of Crohn's disease in 2007. Brosseau sent the episode to Lemieux, who also signed on to help.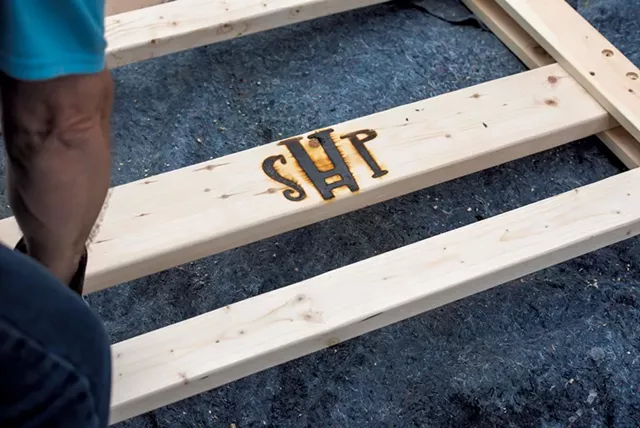 Glenn Russell
Headboards are branded with the Sleep in Heavenly Peace logo
"Whenever one of us comes up with an idea, the others are willing to jump in and lend a hand," says Brosseau of his longtime pals, noting that he couldn't have undertaken the project without them.
Brosseau and Parot attended a training in Idaho in the spring where they learned more about the mission and history of the organization and how to use software programs to track donations, expenses, bed requests and deliveries. They also got hands-on experience in a bed-building workshop.
In June, they launched the Chittenden County chapter of Sleep in Heavenly Peace. With a $5,000 donation from Phish's WaterWheel Foundation — drummer Jon Fishman used to bowl with Brosseau — and a 50 percent discount at Lowe's, the men purchased tools: chop saws, drill presses, sanders, drill kits and ratchet guns. They've shelled out some of their own money on the initiative. Brosseau bought the trailer for his truck so he could make deliveries in the snow and rain, and he and Parot paid their way to Idaho. They also rely on a fleet of volunteers, many of whom are family members or friends they've known for decades. Employees from companies, including Mascoma Bank and Myers Container Service, have constructed beds as a way to give back to their community, and Brosseau has also hosted holiday and New Year's volunteer building sessions
Glenn Russell
Volunteers prepare to dunk a headboard in a vat of homemade wood stain
A barn behind Brosseau's house, which once housed his mobile home, is the chapter's headquarters. Volunteers gather there about twice a month to cut, sand, drill, fasten, stain and brand the organization's logo onto bed frames, which can be quickly assembled into single or bunk beds when they arrive at families' homes. A "Wall of Heroes" sign hanging in the barn displays a board for each of the building sessions, signed by the participants.
When Brosseau puts out requests for new bedding on Facebook, he often comes home the next day to find packages on his doorstep. Individuals or companies who want to help can volunteer during weekend building events, or donate money — $1,800 covers construction of 10 beds; $3,500 funds 20 beds. Parot has recruited a handful of South Burlington businesses to set up clear boxes, with miniature bunk beds inside of them, to collect patrons' spare change at the cash register.
Glenn Russell
A finished bed
Brosseau wasn't sure when he started how many area kids needed beds. But through word of mouth, an active Facebook page, and connecting with social service agencies like the Howard Center and the Champlain Valley Office of Economic Opportunity, requests have been growing steadily. Their first delivery was three beds to siblings in Franklin County, ages 5, 7 and 16, whose excited reaction, says Brosseau, "made our hearts melt and made us say, Yes, this is what we want to do."
Crystal, the mother of those siblings, explained that a friend had filled out a bed request for her family. "It was such a load off our shoulders," she wrote in an email, noting that one of her four children has autism, and her husband works "crazy hours" to make ends meet. "We are that family who donates and helps families out when we can, but this time we were the ones who needed a little help," she said. When the men came to deliver the bed "they were so kind and friendly. No judgment, just amazing people looking to help families out."
Glenn Russell
Volunteers sand wood boards before building begins
Since then, Brosseau and his friends have delivered dozens more beds, primarily in Chittenden County, but as far afield as Rutland when they are able. They have a backlog of more than 80 bed orders that they're working to fill, with an average wait time of 30 to 60 days.
The Saturday before Christmas, the men deliver nine beds to five different households. The team — Brosseau; Parot; Lemieux; Parot's adult daughter, Stephanie; and another friend, Michael Barrett — make quick work at each location. Brosseau keeps a binder with delivery information in his truck and acts as the "advance man," knocking on the door to make sure families are at home and ready to receive their beds. Then the group brings in tool bags, headboards, footboards, siderails, slats, rolled-up mattresses, bedding and pillows. Wearing Santa hats blinking with light-up Christmas tree decorations, they are jovial and efficient, with an unspoken understanding common among people who've known each other for decades.
After assembling two single beds in a home in Milton, one of the men announces, "Your beds are ready for you, kids. Come in!" And a young boy and girl scurry upstairs and jump onto the same bed, covered with a jungle-animal-themed comforter, laughing. At an apartment in Burlington, where they're delivering a bunk bed and a single bed to a family that used to be homeless, they invite an eager 13-year-old boy to operate their drill. And in a house in Winooski not far from Brosseau's childhood home, the men commemorate their 100th bed delivery — this one for a teenage girl who had been sleeping at her aunt's house or on the couch — with a silver balloon and a group photo. As the group leaves, the girl's mother thanks them, adding, "She's going to be surprised when she comes home."
Glenn Russell
Bob Brosseau
Social worker Gabrielle Clow, who works with students in the Winooski School District, has filled out several bed referrals for families this school year. The online application takes just minutes, she says, and Brosseau has been quick to respond to both her and families letting them know the status of the request. In her line of work, she says, problems related to mental health, poverty and homelessness often feel so complex that they're not easy to solve. But Sleep in Heavenly Peace offers a service that can quickly lead to a concrete, positive change. "It's such a nice feeling to say, 'Oh, your little one needs a bed? I can work that out for you,'" Clow explains. A good night's sleep is critical for kids to be able to learn, she adds, and having their own bed gives kids a "self-esteem boost" and "something to be proud of."
While delivering beds, the three men have encountered kids who are sleeping on piles of clothes on the floor, or on moldy, stained mattresses. "We all think we're 'peaches and cream' around here," says Parot. "You just don't realize how bad people have it."
Currently, Brosseau spends several hours each night after work fielding requests for beds and researching fundraising and outreach ideas. On weekends, he's either building beds or delivering them. When he calls to tell people they're on the wait list for a bed, "I always apologize," he says. "I get sad because it feels like we didn't fulfill our promise."
When asked why he's so devoted to the organization, Brosseau's answer is simple: "If someone needs help and I can help them, why not?"