Glenn Russell
Marty and Doug French
Marty and Doug French rolled into Burlington in June 1971 in a Volkswagen bus with a 4-month-old baby, a poodle and all of their possessions, including $600 worth of metalworking tools. They sort of had a plan: Neither of them had any experience running a business, but they knew how to make jewelry.
Within a week, the couple found a storefront on North Winooski Avenue, whipped up some inventory and opened a shop they called Fire & Metal Goldsmiths. On their first day, recalled Marty, they sold a silver hairpiece for $20 and figured things would be all right.
In 1980, the Frenches moved to their current location at 146 Cherry Street. Thirty-eight years, two children and two fluffy dogs later, they are closing their doors. A few weeks before retiring from the business they started more or less on a whim, the Frenches took the time to look back.
"What's interesting is that we got set up pretty quickly, actually," said Marty, now 70.
"It looked it, too," quipped Doug, 71.
Their dialogue is point-counterpoint, setup-punchline, the well-choreographed routine of two people who have merged over the decades. But they've retained their individual personalities: Marty is bubbly and warm, generous with hugs, and quick to point out when Doug doesn't give himself enough credit. Doug has an impish twinkle in his eye, as if he's perpetually on the verge of telling a joke.
Theirs is a story of detours and why-nots, a case study in how doing something for the hell of it can turn into a career. But it's also a tale of love, perseverance and craft. Their almost four decades on the Burlington jewelry scene are a testament to the Frenches' steadfastness as partners in business and in life.
Marty grew up in Burlington, and Doug was raised in Bethesda, Md. Both attended Friends World College (now LIU Global) on Long Island, a Quaker university that emphasized travel before "experiential education" became a catchphrase in academia.
When Marty and Doug met in the fall of their freshman year, as they tell it, they were immediately smitten. The '60s were happening, and everything seemed new and experimental. At the height of the civil-rights movement, the pair took a six-week road trip to the South with an interracial student group, befriending activists of all stripes between New York and Alabama.
After about a semester at the college, Marty and Doug dropped out — even the most free-flowing curriculum seems to have been too square for them. They wound up in Cambridge, Mass., and found jobs at a shop that produced handmade clothing, leather goods and silver. There, they learned to make jewelry in the simple, elegant style that became their trademark.
There was a small hiccup in their bohemian paradise: The Vietnam War was raging and, in 1966, Doug applied for conscientious-objector status. After waiting more than a year for clearance, he burned his draft card in a fit of civil disobedience and resolved to refuse induction. That meant he could be sent to prison.
He and Marty knew visitation would be easier if they were husband and wife. So they tied the knot on December 30, 1967, a month after a council-of-elders-style Quaker meeting hastily convened by Marty's family, who lived beside the Burlington Friends Meeting on North Prospect Street. "Everyone thought we were pregnant," recalled Doug.
A few months later, he finally got approved for alternative service in Cambridge as a hospital orderly, rendering the nuptial scramble unnecessary. But the pair were serious about each other, and when their son Jesse was born, they wanted to put down roots.
That's when they packed their belongings and drove from Doug's parents' house in Bethesda to Burlington in search of a fresh start. Befitting their revolutionary attitudes, Fire & Metal opened on July 14 — Bastille Day.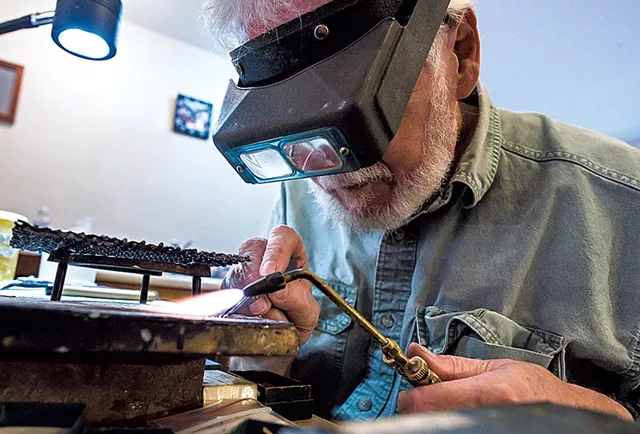 Glenn Russell
Doug French
When the Frenches moved to Cherry Street, downtown Burlington had not yet evolved into the dining-and-shopping mecca it is today.
"In those days, Church Street was what you drove up on a Saturday, honking your horn after you got married," remembered Doug.
Back then, Marty and Doug said, the town had a handful of shops selling yarn, art supplies and musical instruments, along with several other jewelers. The couple easily found their niche, even as more boutiques and jewelry stores began popping up after the completion of the Church Street Marketplace in 1981.
"There was nobody like us in town," Marty recalled. "We were the only ones that had a workshop inside the store. People come and lean over our benches, chat with us while we work. It's a friendly place."
The Frenches didn't necessarily intend to become jewelers for life: Fire & Metal has had month-to-month leases from the very beginning.
"We started out by saying, 'We'll do this for a few years and see what happens.' And then we thought, We'll do it until the kids are through college. That was 25 years ago," said Marty.
Marty made most of the shop's regular inventory, while Doug — who, by his own admission, tends to work better with deadlines — handled the custom orders, especially the wedding rings.
"It's just a joy to watch him engage with customers around this really significant piece of jewelry," said Marty. "He builds a relationship with anyone he's speaking with. And I don't know if he's even aware that he's doing it, because it's so natural."
Right on cue, Doug demurred: "Well, I'm not just trying to sell something," he said. "What I want to do is have fun and get something good going between us. Not like that cheesy atmosphere you see in ads."
The Frenches' laid-back approach has won them a loyal following. They made wedding bands for Jane and Sen. Bernie Sanders (I-Vt.) and count Marcelle and Sen. Patrick Leahy (D-Vt.) among their regular customers. The legalization of civil unions in 2000, and then of same-sex marriage in 2009, brought in gay ring seekers. In fact, Doug made rings for Peter Harrigan and Stan Baker, two of the plaintiffs in Vermont's landmark civil-union case Baker v. Vermont.
Last summer, Doug made wedding bands for Ella Spottswood and Emily Corwin.
"It seemed like everything we saw was covered in diamonds, or really heavy and manly," said Spottswood, 34, who works in the Vermont Attorney General's Office. "When we walked into Fire & Metal, it was totally refreshing. We ultimately picked very simple rings, and we love that they were made locally by this kind and caring craftsman."
After observing engaged couples for so many years, the Frenches have a unique perspective on the dynamics of a successful partnership.
"You can pretty much tell right away whether a couple is going to make it," said Marty. "The really happy couples listen to each other. It's always a bad sign when one person talks over another."
"Or when one person is staring at their phone the entire time they're in the store," added Doug.
Some of their relationship insights have been personal, too. In their 51-year marriage, Marty and Doug haven't always liked each other, they acknowledged. For a brief period in the '90s, they didn't live under the same roof: Doug moved out of their house in the Old North End and got his own apartment.
"We reached a point where we needed to live separately in order to figure out how to be together," said Marty. "But we wanted to be together."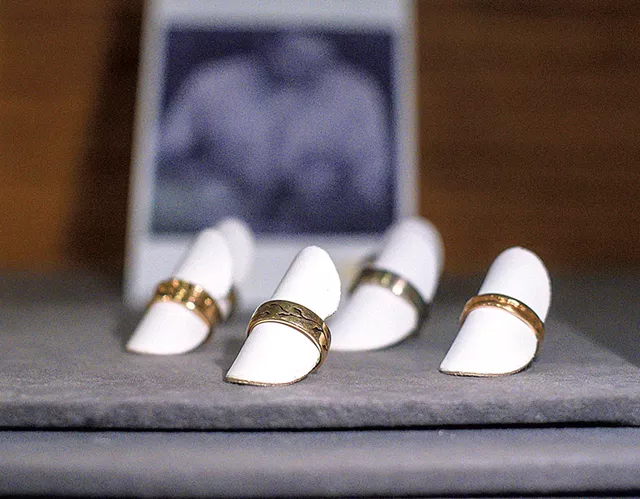 Glenn Russell
Wedding rings at Fire & Metal
While they were separated, they continued to work side by side in the shop almost every day. "Oddly enough, we were at our best in that setting, even when we weren't sure whether we could stay together as a couple or not," Marty recalled. "We were putting our best faces forward, and that actually made us better partners."
Doug summarized it more simply: "I needed to figure out how to be married to Marty."
After four months of living apart, they reunited and started seeing a counselor, who taught them a practice they continue to this day: Every Sunday, they carve out time, Doug explained, "to talk about the things one or the other of us would just as soon not talk about."
Being in the trenches of long-term commitment themselves, the Frenches seem eminently qualified to forge jewelry meant to last a lifetime.
"I give this shop credit for saving our marriage," said Marty. "It's like our third child, and it's also our artistic home, our community home. It's taught us how to communicate, how to behave with each other when people are around and you don't like the other person very much. I think we have a lot of credibility as far as selling wedding rings to people."
Besides traditional jewelry, the Frenches have worked on a number of oddball commissions. One of their more memorable jobs was repairing a Superman belt buckle worn beneath the robes of a Vermont judge whom they declined to name. Another customer, an IBM engineer, asked Doug to create earrings for his wife in the shape of DNA double helices.
The Frenches agree they'll miss the work, but the hardest part of retirement will be losing the "shop friendships" they've built over decades.
"There's one guy whose wedding rings I made who's been coming in for years around Christmas with his daughter to get gifts for his wife, and we get to shoot the shit and catch up on life," said Doug. "It took me longer than it should have to realize that jewelry is not just decoration."
Jeremy Bond, who owns Champlain Leather, adjacent to Fire & Metal in the same building, said he'll miss having fellow artisans for neighbors. "A lot of their customers have become their friends, and I've gotten to meet many of them over the years," he said. "And their customers became my customers. We had a little community." He added wryly, "They're lucky enough to be able to retire. I don't plan on doing that anytime soon."
In retirement, the Frenches will continue making jewelry, albeit at their own pace. Doug plans to keep himself entertained with his pet projects, which often involve fantastical contraptions made of painstakingly crafted silver pieces. One summer, he took a break from jewelry and started building tiny models of what he calls "improbable technology" — steampunk-looking gadgets of exquisite detail and zero practical application.
From a storage room in the back of the shop, Marty pulled out one of his creations: a tiny ornithopter with Citroën-style headlights and wings that flap when you spin the propeller. A silver banner engraved with the word "REPENT" hangs from the rear. Doug said he put himself in a trance using a self-hypnosis technique and emerged with a 19-step plan for assembling the piece.
"All but one step turned out to be right," he said. "But I don't really like gimmicks."
"Self-hypnosis is a huge gimmick!" countered Marty.
"Well, yeah," Doug conceded. "But that was in my thirties, when I wasn't feeling confident about life and wanted to use whatever I could find to try and have control. [I] subsequently learned that trying to have control is probably not the best thing to do. One evolves."
After Fire & Metal closes on September 29, the Frenches will undoubtedly continue their evolution. And it will start with a cross-country road trip next spring, a reprise of their nomadic youth.