Benjamin Roesch
Felix, Shannon and Leo at Thundering Falls
Though we've often driven by the exit on our way to Boston or Connecticut, my family had never explored the Woodstock/Killington area until recently. In an effort to see more of Vermont outside of Chittenden County, we decided it was time to head south from our home in Burlington. It was rainy and unseasonably chilly on the early June weekend of our visit, but that didn't deter us. The area is so loaded with great food and family-friendly activities that we wondered why it took us so long to get there.
Where to Stay
We tried to get a room at the On the River Inn (1653 West Woodstock Road) in Woodstock because their indoor pool, sauna and kids' game room enticed us. But Dartmouth's graduation had them all booked up. Nearby Killington offered some solid options, though, so we stayed at the Killington Mountain Lodge (2617 Killington Road). They offer a stunning panoramic view of Killington Peak, and we greatly appreciated the massive outdoor Jacuzzi on the cool Saturday we visited.
Our room — at the off-season $170 rate — was bare bones and showing its age, but the communal lodge area has a bar and a pool table and was well maintained and cozy. After a long day of exploring, we elected to order pizza rather than venture out for dinner. The concierge graciously suggested we watch a movie in their movie room. He popped us some popcorn and we munched pizza in plush chairs while watching Frozen on a big screen.
Other hotels and inns in the area include the Sleep Woodstock Motel (4324 West Woodstock Road) right on Route 4, the pricey but luxurious Kedron Valley Inn (4778 South Road) in South Woodstock and the Killington Grand Resort Hotel (228 East Mountain Road), as well as a number of chain accommodations.
What to Do
An American kestrel at VINS
Though we were staying in Killington, we wanted to focus on activities in the Woodstock/Quechee area, so we took Exit 1 off of I-89 and worked our way over to Killington via Route 4, which is packed with beautiful scenery.
A good friend who grew up nearby recommended Quechee's Vermont Institute of Natural Science (6565 Woodstock Road), which is committed to avian education and rehabilitation. We started our journey on their campus, which features 17 raptor enclosures where you can observe eagles, falcons, hawks and owls. We arrived just in time for the "Raptors Up Close" talk, where our good-natured and knowledgeable guide showed us the rough-legged hawk, the American kestrel and the great horned owl from only an arm's length away. Seeing them fly back and forth between the trainers demonstrated the birds' fierce hunting potential, and my sons, 8-year-old Felix and 6-year-old Leo, were definitely impressed. The campus also offers a bird hospital, rotating exhibits and nature trails. Admission for two adults and two children was over $50, but it was memorable and worth it to us.
Courtesy of Simon Pearce
Glass blowing at Simon Pearce
Just down the road from VINS in Quechee is the lavish flagship Simon Pearce facility (1760 Main Street) in a converted mill on the Ottauquechee River. It houses a fine-dining restaurant, bar and store filled with wondrous hand-blown glassware. The thought of my kids surrounded by fragile glass objects made me a little nervous, but the store is worth passing through to get to the basement for a glassblowing demo. Halfway down the stairs, you can hear the hum and feel the heat from the 2,500-degree ovens that soften the glass into a malleable form. Glass blowers field questions from visitors while working at an assembly-line pace. Our kids were entranced by the gleaming globs of molten glass that magically transformed into drinking glasses.
A short drive down the road into Woodstock is the Billings Farm & Museum (5302 Old River Road), a working dairy farm and window into Vermont's past. The restored farmhouse was a forestry operation in the late 19th century. Many of the barns feature casual exhibits with antique tractors and farm equipment, but the dairy cows were the highlight of our trip. When we arrived, they were in the barn for milking, which happens twice a day. The staff was warm and informative, and the cows — bony on top and bulging around the middle — were surprisingly massive. Our boys were amazed and repulsed to witness the cows relieving themselves; a staff member was quick to make it a teachable moment about the vital role manure plays in the farm's ecosystem.
Benjamin Roesch
Leo and Felix at Billings Farm
Visiting the dairy bar, which is only a short walk from the cow barn, is a must. It serves flavorful, creamy ice cream made with locally sourced milk (all the milk produced on the premises goes to cheesemaking), and, though the day was cold, we sampled chocolate chip and vanilla with peanut butter cups. On the way out, we tasted three varieties of Billings Farm cheddar and shopped for souvenirs in the gift shop.
The Woodstock welcome center has a friendly staff and clean public restrooms. The downtown is quaint and worth a walk around; we enjoyed window-shopping up and down Main Street. Don't miss Yankee Bookshop (12 Central Street), Vermont's oldest independent bookshop, where we stopped to buy some summer reading material.
Further down Route 4 in Bridgewater Corners is Long Trail Brewing Company (5520 US-4). There's a gorgeous wraparound bar, cleverly repurposed tables for two made from aging barrels, and plenty of indoor and outdoor seating for lunch and dinner. The brewery's open design and high ceiling was inspired by the famous Hofbräuhaus in Munich, Germany. Our boys enjoyed walking the catwalk, which overlooks the brew floor and offers views of the beer-making process, and skipping stones in the adjacent river. My wife, Shannon, and I squeezed in a quick tasting of Long Trail's craft beer offerings including the tart and sweet Cranberry Gose and their seasonal summer ale. A wide selection of beers and assorted souvenirs is available for purchase in the gift shop.
The weather kept us indoors for most of the weekend, but we snuck in a visit to Thundering Falls in Killington (2295 River Road). It's one of the largest waterfalls in Vermont and is breathtaking, even when the water is low, like it was when we visited. A raised boardwalk leads from the small parking lot to the base of the falls, making them wheelchair accessible. Even if you're pressed for time, you could park, see the falls and be back on the road in less than 20 minutes. From the falls, you can also hike portions of the Appalachian Trail. We ventured up to peek at the cascading water from the top and enjoyed watching it slip out of the mountain and plummet over the slick rock face.
On our next trip, we'll hope for better weather so we can hike down into Quechee Gorge, Vermont's deepest at 165 feet. We've heard the hike down into "Vermont's Little Grand Canyon" is family-friendly and provides photo-worthy views.
Where to Eat
File: Justin Cash
Worthy Kitchen in Woodstock
Our top food priority was Woodstock's Worthy Kitchen (442 Woodstock Road). Friends who'd dined there had given it rave reviews. The restaurant is light and spacious, and the amiable host immediately greeted us and explained their ordering system: the menu is on a large chalkboard adjacent to the bar counter, where you order, receive a beeper and, if you're in the mood, choose a craft beer from their extensive, stellar selection to sip while you wait.
My buttermilk fried-chicken sandwich, topped with pickled red onions and Sriracha mayo, was heaven on a homemade bun. Shannon enjoyed a double patty burger, served pink in the middle, with crispy fries. The kids' mac and cheese was also delicious, but the star of the meal was the maple-bacon chicken wings served with pickled carrots for a tangy twist. We licked our fingers and marveled at the sweet and smoky flavor. Our only regret was that we couldn't sample more of the menu that day. Next time we'll try the poutine with duck fat gravy, the truffle fries and the homemade cinnamon doughnuts.
The Woodstock Farmers' Market (979 West Woodstock Road) is a small gourmet grocery just outside of town. Its pricey wares and tight aisles don't make it especially kid-friendly, but we're glad we ventured in to purchase some homemade pastries and gourmet coffee to go. The peanut-butter-chocolate-chip cookies were huge, and the chocolate mousse cake was decadent and dusted with shaved chocolate.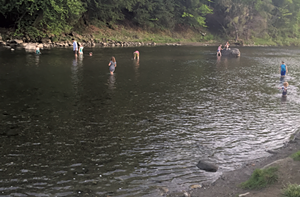 Benjamin Roesch
The Ottauquechee River behind White Cottage Snack Bar
Just down the street is the White Cottage Snack Bar (863 Woodstock Road), which has been in business since 1957 and features assorted seafood and sandwiches. The fried whole belly clams were succulent, and the fish sandwich was crispy and served with the holy trio: lettuce, tomato and tartar sauce. The kids' grilled cheese sandwiches were well above average, with thick-cut, buttery wheat bread and perfectly melted cheese. The only weak link was the New England Clam chowder, which didn't pack enough flavor. But the classic fish shack atmosphere makes it a good stop if you're craving casual seafood. On hot days, visitors stop there for ice cream and a dip in the Ottauquechee River, which runs through the restaurant's backyard.
In the Killington area, the pizzas we ordered in from iPie Pizzeria (1307 Killington Road) were excellent, served on thin crust with just the right amount of cheese and sweet tomato sauce. We weren't too adventurous with our toppings (cheese for the kids, meatball and mushrooms for us), but a number of their specialty pizzas, including an Alfredo version and one with arugula, prosciutto and ricotta, sounded tempting. They also serve a variety of salads and specialty paninis.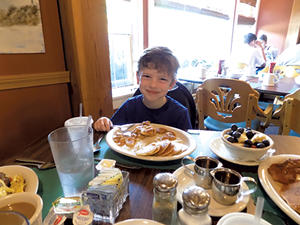 Benjamin Roesch
Back Country Café in Killington
On our way out of town, we stopped for breakfast at Killington's Back Country Café (923 Killington Road), a kitschy diner with a long bar and walls crammed with deer heads and funny signs. (One promised to add $25 to the tab if you were a pain to deal with.) The kids chowed on chocolate chip pancakes, Shannon had a homemade popover smothered with loaded scrambled eggs and I had corned beef hash. The service was friendly and the food was well prepared. But, for the kids, the massive bear rug suspended over the exit made the biggest impression.
Logistics
The drive from Burlington to Woodstock is around 90 minutes. At the kids' request, we had a Hamilton soundtrack sing-along, which made the ride fly by. The area was easy to navigate, and our off-season visit meant that most of our destinations weren't crowded. When booking accommodations check the rates; they tend to be significantly more expensive in season.