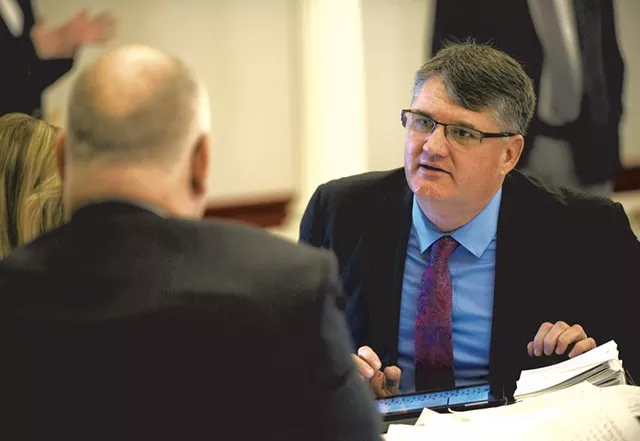 File: Jeb Wallace-Brodeur
House Minority Leader Don Turner
Finally, it's over. The legislative session that threatened to turn into a real-life Zeno's paradox (you keep getting closer to the end, but you never quite arrive) adjourned after a whirlwind veto session on June 21.
"It was definitely a strange session," says House Minority Leader Don Turner (R-Milton). "There was never any kind of flow." At the beginning, we had Gov. Phil Scott's dead-on-arrival budget with its proposed upending of local school budgets. The House, meanwhile, stumbled through the electoral recount saga in the Orange-1 district. That finally ended, after much hand-wringing, with the seating of Rep. Bob Frenier (R-Chelsea) on February 22.
In late April, Scott announced the proposal for statewide bargaining of teacher health care benefits, which derailed adjournment. That issue alone forced two weeks of extra duty for lawmakers, followed by gubernatorial vetoes and last week's one-day special session.
So, before the whole schemozzle fades into the mists, let's indulge in an unscientific and incomplete accounting of this session's winners and losers.
Loser ... and Yet a Winner
The governor: He began the session with a no-hoper budget plan and ended by settling for less than he wanted in the final budget deal. Scott's late-session gambit on teacher health care blew a hole in one of his campaign promises: to seek a 90-day limit on legislative sessions. In the end, we got very close to 140 days. Policy-wise, his victories were few and his missteps were frequent. But, politically, his Teflon coat seems intact. He can plausibly claim to be the taxpayers' voice in Montpelier, while some of his new initiatives (childcare, higher education, affordable housing) will burnish his centrist credentials. A few yelps of dissent can be heard from the party's right wing, but, for the most part, Republicans are just happy to have one of their own in the corner office, holding the line on taxes.
Winners
The House Republican caucus: After years of wandering in the wilderness of minority status, the caucus pulled off a stunner in early May, coming one vote shy of defeating the majority Democrats on a key vote on the teacher health care issue. For Turner, it was "the closest I've come to winning" in six years as minority leader.
House GOPers were also buoyed by the passage of a budget without any tax or fee increases. "We have a governor who has taken a stand," says Turner. "He has more power going into next year."
State Treasurer Beth Pearce: She was the quiet force behind two meaningful initiatives this year. She found a way to get Vermont's waterways cleanup project off the ground, with lawmakers approving her proposal for a $48 million infusion that is at least "a start," she notes. "It gives us a two-year glide path to plan a longer-term effort."
She also shepherded through the legislature the Green Mountain Secure Retirement plan for Vermonters who are self-employed or work for small businesses. They will be able to buy into a professionally managed investment pool. "It's good for individuals; it's good for the economy," Pearce says. "When retirees have money, they buy goods and services."
Housing advocates: After years of howling into the wind about Vermont's affordable housing shortage, they finally had everyone on their side. And they weren't just getting the usual best wishes but real action on a significant investment in new housing stock.
Gov. Scott launched the push with a proposed $35 million bond issue for affordable housing. The legislature quickly signed on. Erhard Mahnke of the Vermont Affordable Housing Coalition could hardly contain his excitement – or his apprehension that the deal might fall apart.
There were some tense exchanges over how to fund the measure, but it all worked out in the end. As the budget passed on June 21, no one was more relieved than Mahnke.
Losers
The Vermont School Boards Association: It produced the teacher health care plan adopted by Scott in late April, giving him a tremendously effective political weapon: a slogan-ready proposal that could be sold as "saving taxpayers $26 million." And, in the end, the school boards got the shaft; the final deal will force local boards into very tough negotiations on health care benefits — or force them to cut their budgets elsewhere.
"It's not what we were seeking," says VSBA executive director Nicole Mace with a sardonic laugh. "It was a very difficult outcome for us." Yep.
The Vermont Democratic Party: This session did no favors for a party seeking to reverse recent losses in the House and take back the governorship. The legislative majority fought most of its battles on Scott's turf and failed to make consistent, plausible arguments against him.
House Majority Leader Jill Krowinski (D-Burlington) begs to differ. "This session showed that the Democrats have a strong agenda for Vermont," she says. "Investments in housing, mental health services and childcare — plus paid family leave — passed the House, and marijuana legalization passed the Senate."
But many of those issues passed with the support, or at least acquiescence, of the governor. It'll be difficult to draw a clear distinction from Scott, and efforts to paint him as another Scott Walker — the union-busting Wisconsin governor — simply won't fly.
Family leave and marijuana are poised for quick action in 2018, but that's a long way off. And it may be too late to help a would-be gubernatorial candidate stage an uphill battle against a popular incumbent.
The marijuana legalization movement: Pot advocates were once again left at the altar during Wednesday's veto session. This time, they blame the governor for, they contend, reaching a compromise with lawmakers and then failing to walk it down the aisle. The measure died when a motion to suspend House rules was defeated during the special session.
"I think [Scott] planned it that way," says Middlebury attorney and pro bono legalization advocate Dave Silberman. "I believe his plan was to delay the issue until January and then find ways to delay it further."
The failed compromise would have established a commission to examine legalization. Scott plans to appoint his own commission; Silberman fears he'll stack the deck. "We'll see how it's structured and what questions it will address," Silberman says. "It could be a pretext for blocking reform."
The pot issue is a good place to leave our legislative review, since it's another example of Zeno's paradox. Legalization gets tantalizingly close to passage ... but it never quite manages to cross the finish line.
Wait 'til next year?
The Milton Shuffle
Two influential Republicans with a combined 21 years of experience represent the Town of Milton in the Vermont House. And all of that clout may soon go a-glimmering.
Rep. Ron Hubert (R-Milton) will step down from the legislature on July 1, as first reported by the Vermont Press Bureau's Neal Goswami. Hubert owns the Middle Road Market in Milton; he says it's time to get back to business after nine years in Montpelier.
"I'm at the store at 4:30 in the morning," he added. "This was a tough session. I was often home late in the evening, and then getting up that early. I hate to admit it, but I'm not as young as I used to be."
Milton's other state representative is Turner. The minority leader isn't leaving imminently, but don't be surprised if he steps away at the end of his term next year.
Turner is the longtime fire chief in Milton; he's also been the acting town manager for the last three months.
"I'm a candidate for the permanent job," he explains. "It's an exciting opportunity." He still loves his Statehouse duties, but, if push comes to shove, he says his hometown is the priority.
Since March, he's put in full days at the Statehouse followed by long evenings at the town offices. And Milton, you might not realize, is Vermont's eighth-largest community, with a population of nearly 11,000.
Reading between the lines, you get the sense that if he's hired as permanent town manager, he may be compelled to leave the Statehouse. It's hard to imagine the Milton Selectboard making a commitment to someone who has to spend at least one-third of the year working in Montpelier. Turner sometimes slips into the past tense when talking about his legislative duties, which seems an obvious tell.
He also expresses confidence that the House Republican caucus would do just fine without him.
"In fire and rescue, you always build a team that can carry on," he says. "That comes from building a leadership team, and I'm proud of that."
Media Note
A couple of changes are coming at VTDigger.org, as one reporter moves on and another assumes a new role.
Jasper Craven has left the online news outlet after two years covering Vermont politics and, for the past six months, the state's congressional delegation in Washington, D.C. Craven has accepted a fellowship with the Investigative Fund, a New York City-based nonprofit affiliated with the Nation.
"[The fund] is an incubator for long-form investigative projects," Craven explains. Journalists submit story proposals; if they are selected, the fund provides editorial support and helps place finished pieces in national magazines.
Craven will assist the fund's six editors. "I'm hoping to pick up investigative skills and try to develop a story concept to pitch to the fund," he says. Otherwise, the future is wide open.
Digger Statehouse reporter Elizabeth Hewitt will replace Craven in D.C. She'll move south in mid-July and likely stay at least through the end of the year.
"It's a great opportunity," Hewitt says. "I've spent the last two and a half years digging into the state budget. I'm looking forward to bringing my budget focus to D.C. There's the potential to explain how federal policies affect Vermont."
Digger's Washington position was meant to be temporary, but it's been extended indefinitely. "People have really responded to our local focus on the congressional delegation and the policies of the Trump administration," says Digger founder and editor Anne Galloway.
Galloway now has a vacancy to fill in the Montpelier bureau, which is nothing new for an operation that brings in young reporters and hones their talent.
"I think it's important for people to have a place to start and get training," Galloway says. "Part of what's missing in the media landscape is a training ground where reporters can get actual experience."
Think of Galloway as the John Calipari of Vermont journalism: Like the Kentucky basketball coach, she recruits talented youth, teaches them the trade, watches them depart for greener pastures and begins the cycle all over again.