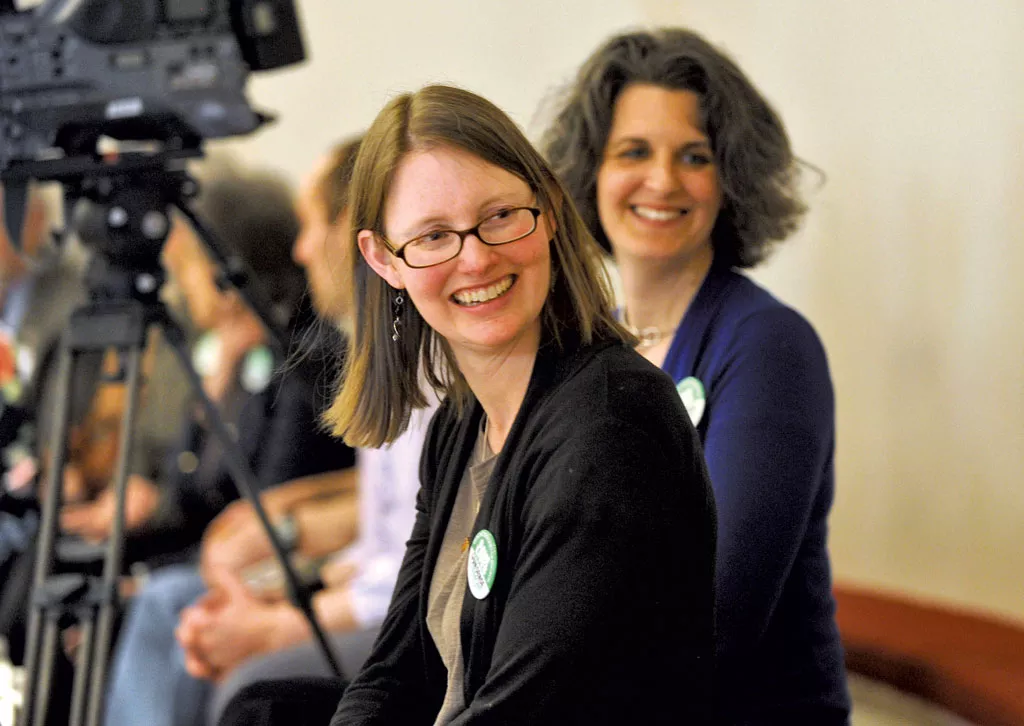 JEb Wallace-Brodeur
Ann Braden
When Ann Braden was 18 months old, her father died in a plane crash. She was on the aircraft, strapped into a car seat, but came away uninjured. "Because of that, I've always lived in full view of how precious, and brief, life can be and how important it is to use the time you've got well," she said. "If someone is giving you the opportunity to do the right thing, you better take it."
For Braden, that "opportunity" came in the wake of another tragedy: the fatal shootings of 20 children and six adults at Sandy Hook Elementary School in Newtown, Conn. The 2012 incident inspired the 35-year-old mother of two to start a petition via MoveOn.org pushing for universal background checks on firearm purchasers. When she'd collected 12,000 names, MoveOn sent her an automated message asking if she had a plan for delivering the petition. She didn't.
But Braden and a few of her supporters quickly came up with one. They dispatched the petition to Gov. Peter Shumlin in March 2013 and followed up with a Statehouse press conference. In the ornate Cedar Creek Room, Braden stood at the podium holding her infant daughter and called for universal background checks on all gun sales.
Looking back, Braden said with a laugh, "I naively thought that one petition was going to do something."
Over the next two years, Braden repeatedly made the two-hour drive from her Brattleboro home to the Statehouse in Montpelier. She also endured being called a liar, an out-of-state interloper and a gun grabber who won't rest until she has confiscated every last firearm.
Despite those accusations, the petite, soft-spoken former middle school teacher has successfully forced a difficult conversation in a state that fiercely protects its gun culture.
"If they hadn't pushed to get legislation in, we wouldn't be here," said Tim Meehan, a veteran Montpelier lobbyist who came out of retirement to lobby for the Vermont Federation of Sportsmen's Clubs.
Last week, Braden watched as the Vermont House followed the Senate in passing the first new gun restrictions in years. The bill, which will likely head to the governor after the House and Senate reconcile minor differences, falls far short of an earlier version Braden supported that would have mandated universal background checks. Instead, it would make it harder for violent criminals and the severely mentally ill to possess guns by requiring courts to send the names of those they deem dangerous to a federal database.
"It's not like I have some list of legislative priorities," she said of the compromise. "It's just that I believe this topic needs to be discussed in a rational way."
Through it all, Braden has stuck to her guns. After she delivered that initial petition at the Statehouse — and realized the enormity of the undertaking — Braden and other gun-control supporters retreated to the cafeteria, sat down at a long table in the back and regrouped. "The only way this was going to work was if we had an organized movement," she recalled.
Her online petition grew into Gun Sense Vermont, a well-organized, well-financed advocacy group that describes itself as an "independent, grassroots organization started by Vermonters, run by Vermonters, and focused on closing the gaps in Vermont's gun laws." The group claims that about 5,000 members have delivered 1,400 letters to their senators this legislative session.
As Gun Sense Vermont grew, Braden took on more responsibility. Near the end of 2013, the organization hired the Necrason Group, one of the most influential lobbying firms in Montpelier. The firm has coached Braden on everything from honing her message to how she carries herself. It helped her navigate the legislative process and face the opposition. She proved to be unflappable — even when surrounded by gun-rights supporters in very small hearing rooms — and also embraced the analytical side of being an advocate: spreadsheets.
"She deserves huge credit for her courage," said Sen. Phil Baruth (D-Chittenden), who, after Sandy Hook, proposed a ban on assault weapons. He later withdrew it as a result of intense pressure from in- and outside the Senate Democratic caucus. "It's very hard."
After the initial Statehouse meeting, Braden said, "The bullying really started ratcheting up. There was one point in May, on Facebook, they got a hold of a picture of me and my kids. The comments were really hard to read," she said. "They're like, 'Those aren't really her kids. They're props.' As soon as they talk about my children, it hits at a deeper place."
A posting from Twitter user @PRoseish_2, an account that has since been suspended, reads, "It's important; kill #gunsense now."
Braden considered quitting. "There was this 12-hour period where I said, 'What am I doing?' I said, 'This isn't going to get any easier.'" But her 5-year-old son and 2-year-old daughter kept her going. "It's so important to me that he sees when it's hard, I'm not giving up," she said of her son. "The more they bullied, the more determined I was."
Her opponents in the gun-rights community acknowledge that the debate can get heated.
Bob DePino of Westminster West, who oversees the Facebook page for Gun Owners of Vermont, said he explicitly reminds members to be polite with their comments. "We don't condone bullying of any kind," he said.
"We do have a lot of strong-willed people," said sportsmen's lobbyist Meehan. "Our members believe right down to their ankles."
Gun-rights activists have focused some of their fury on the fact that Braden is not a native Vermonter. The 2001 Dartmouth College graduate grew up in Connecticut — she visited Newtown before the shootings — and moved to Vermont in 2006. Her husband, a teacher at Brattleboro Union High School, was born in Vermont, but she argued that it shouldn't matter.
"I think it's a mistake to judge someone based on where they happen to be born," Braden said. "To suggest that somehow we shouldn't have a say in our state, that we're not actually Vermonters because of that, doesn't seem in keeping with Vermont's nature."
DePino said it's not that Braden is unwelcome in Vermont, but that she shouldn't try to change the state's culture. "I moved here 10 years ago because of the gun laws, the freedom of the state," he said. "I didn't come here trying to change the state. Don't try to change the state you move to."
Legislators also raised that argument. During a floor debate last month over the gun bill, Sen. John Rodgers (D-Essex/Orleans) called it "an attack on our heritage and our culture.
"I, for one, was born here and brought up in the gun culture, and I think others who moved to Vermont because they liked the culture are welcome," Rodgers said. "Others, who have stated that they want to change our culture here, may want to seek another place that has a culture that they like."
Gun Owners of Vermont president Ed Cutler, who lives in Westminster, has a different beef. "I have a problem with her not admitting where she's getting her money from," he said.
Gun-rights activists argue that out-of-state interests — in particular former New York City Mayor Michael Bloomberg — fund Gun Sense. The billionaire businessman started several gun-control organizations, including Mayors Against Illegal Guns and Everytown for Gun Safety. In January, the latter bought online ads from Vermont news organizations supporting an earlier version of the gun bill, but appeared to pull out of Vermont after lawmakers dropped the universal background provision.
"I think they've been bought and paid for," Cutler said of Gun Sense.
Cutler bases his suspicions on how quickly the group came together — hiring a lobbying firm, contributing $29,000 to legislative candidates last fall and spending $78,000 last year on lobbying. Under questioning in the House Judiciary Committee, Braden acknowledged Gun Sense pays her a salary. She later said the group has one part-time and two full-time staffers, including her, all of whom will revert to volunteers after the legislative session ends in May.
When the House Judiciary Committee grilled Braden about her group's funding in an April 8 hearing, she refused to disclose its contributors.
"The decisions are made by Vermonters," she said in response to questions from Rep. Tom Burditt (R-West Rutland). "It's regular people who are speaking up to make their voices heard at the Statehouse."
On the House floor last week, opponents of the bill pursued a similar line of interrogation. Rep. Brian Savage (R-Swanton) said, "Tens of thousands of dollars in special interest money from outside of Vermont has poured into advertising campaigns, lobbyists and in marketing efforts designed to scare constituents into believing we have a gun violence problem in the state" — words that were repeated by other Republican legislators.
Braden conceded that she looks to national organizations for information but said she is unwilling to disclose Gun Sense Vermont's donors, in order to protect them. "Everyone who is at all connected to us has been mocked on Facebook," she said. "We don't release our donor names to ensure they don't have to face public bashing."
Gun Owners of Vermont and the Vermont Federation of Sportsmen's Clubs both say they receive no money from national organizations. Gun-rights groups have reported spending money on lobbying, but far less than Gun Sense Vermont. Last year, the National Rifle Association spent $1,349. The Vermont Federation of Sportsmen's Clubs, which is an NRA affiliate, spent $2,711. Lobbying disclosures for the first quarter of this year are due later this month.
The Vermont Federation of Sportsmen's Clubs has backed off its opposition to the current bill — it's too weak to oppose, according to vice president of NRA Foundation projects Evan Hughes. But, he added, "We'll strenuously oppose any gun-control legislation in the future."
Hughes speaks for gun-rights activists who fear that Braden will continue to attack their rights. In February, when the Senate Judiciary Committee decided against including universal background checks, she admitted she'd continue to fight for them in coming years. "Inch by inch, she will get a complete ban on certain firearms and permits," Cutler predicted. "You name it, and they're going to try to get it."
Braden said she has no interest in confiscating guns. "I'm not anti-gun," she said. "Our line in the sand is keeping guns out of the wrong hands. Background checks make sense. We have really found a balance of protecting the Second Amendment and protecting people from violence."
At the recent House Judiciary Committee hearing, Rep. Vicki Strong (R-Albany) questioned Braden's motives. "Have you been a person who's gone to Memorial Day and Veterans Day parades?" she asked.
Braden said she had been.
Later, Braden said it seemed as though Strong were questioning her patriotism. "I have a flag on our stoop," Braden said. "I was a social studies teacher."
Strong, whose Marine son Jesse was killed in Iraq in 2005, said later that she was trying to ask whether Braden understood how much some Americans had sacrificed in defending the Constitution.
Rep. Sam Young (D-Glover) brought another perspective to the House floor last week as lawmakers debated the gun bill that finally emerged, two years after Braden brought her petition to Montpelier.
Young spoke last before the House voted 80-62 to pass the bill on Friday morning. Choking back tears, he said that his brother had been diagnosed with paranoid schizophrenia at age 22. After several hard years, Young's brother went missing in January 2004. He was found in the woods a year and a half later, dead from a self-inflicted gunshot wound.
"We'd been down to the local gun store," Young recounted. "My dad said, 'Jim, don't you dare sell my son a gun.' That worked in Glover, but he only had to go as far as Lyndonville to buy a gun."
Sitting alone at the far end of the visitor's gallery in the House chamber, Braden wiped away tears as she listened.
If his brother's name was in a database, Young said, he couldn't have bought a gun. "His name was Timothy James Young. He looked a lot like me. Maybe that was one life you could've saved with this bill."