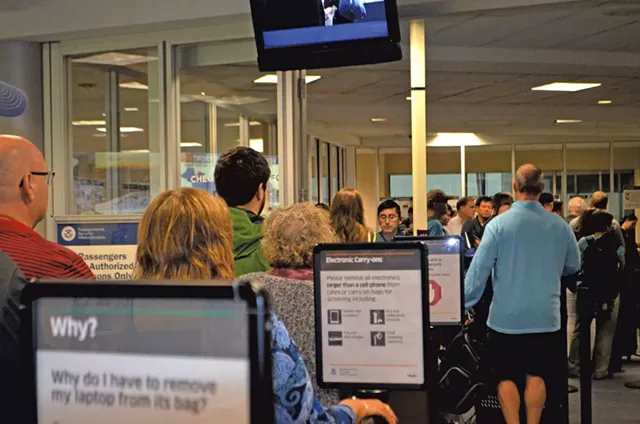 Molly Walsh
The southern TSA checkpoint at BTV
A line of 60 bleary-eyed passengers snaked through a Transportation Security Administration checkpoint at Burlington International Airport last Thursday morning, roller bags in tow, while a security officer called out: "One at a time, please. Boarding passes and IDs, please."
It was 5:15 a.m. — rush hour for the TSA. Sometimes as many as 800 passengers shuffle through screening to board 12 flights that take off between 5:30 and 7 a.m. — the busiest departure window at Burlington's small but expanding regional airport.
Alex Thompson stood in line and noted with some worry that it seemed "longer than usual." The Burlington grad student managed to catch her 5:50 a.m. flight to Detroit — but just barely, as it took 25 minutes to get through security. She'd arrived at BTV only 55 minutes before departure, though airport officials urge passengers to leave a two-hour buffer. "They were boarding the flight when I got there," Thompson explained later.
She was lucky. BTV is seeing more early morning traffic jams at its two TSA checkpoints, and more people are missing flights. Resurfacing of the tarmac next to the northern concourse has temporarily reduced gate access at that end of the airport. More early morning flights are now departing from the southern concourse, squeezing the TSA checkpoint there.
To remedy the situation, and prepare for even more passengers, the airport is building a $300,000 walkway project that will connect the checkpoints so one can relieve the other during peak-time bottlenecks.
"The bottom line is, really, we're growing," said Nic Longo, deputy director of aviation administration at the Burlington airport. The number of BTV passengers is up 13.8 percent over last year, an increase of 51,000 boardings.
The TSA can screen about 300 people an hour at each checkpoint, but sometimes one of them is slammed with 500 people in an hour, Longo continued: "Obviously, the math doesn't work there."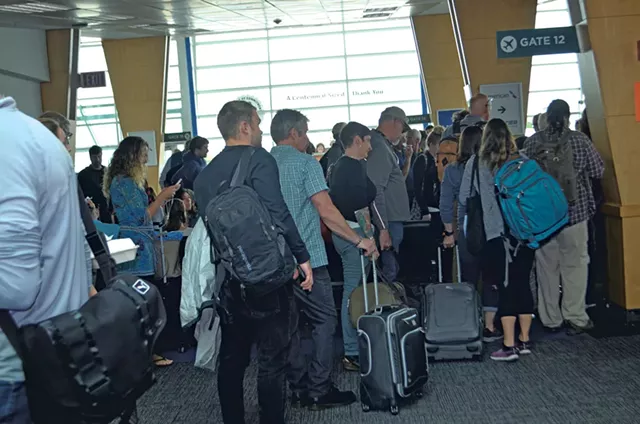 Molly Walsh
Passengers waiting to board a flight at Burlington International Airport
Last week, the Burlington Board of Finance and City Council approved an airport budget amendment that green-lighted the walkway project. The hope is to get it done quickly, possibly within six weeks. "We want this operational for our peak loads this summer," Longo said.
Airports nationwide are expecting more passengers — and longer security lines — during the upcoming vacation season. The number of people flying in the U.S. has increased 12 percent since 2011, according to a recent article in the New York Times, while the number of TSA agents has dropped by the same percentage, from 47,630 to 41,928.
The situation could get worse if President Donald Trump follows through on his threat to move TSA agents to protect the U.S.-Mexico border. Some have already gone voluntarily — but not from Vermont.
"That hasn't really impacted us at all," said Bruce McDonald, federal security director for the TSA in Vermont. "I've got people that would love to go," he said of the security job swaps. But given the circumstances, he said, BTV can't afford to spare any agents.
Currently, passengers leaving from Burlington must be screened at the dedicated concourse from which their flight is leaving. Those flying on United or JetBlue head to the northern checkpoint on the second floor. Customers flying Delta, American Airlines and Frontier use the first-floor southern checkpoint.
The design is outdated, airport officials say. Soon, travelers who pass through either checkpoint will be able to access all gates, like at most other airports in the country.
"The TSA screening demand is at an all-time peak making it difficult to process all the customers in a timely fashion, resulting in missed flights," BTV director of aviation Gene Richards and airport chief financial officer Marie Friedman wrote in a memo requesting the budget amendment. "Due to this constraint, the Airport realizes that connecting the concourses would offer benefits to customers and allow customers to seek multiple TSA screening locations when the Airport is busy."
The plan? In an area beyond the southern checkpoint, crews will punch a hole in a wall that faces the runway on the ground floor. Then they'll build an enclosed walkway and ramp that goes up to the second floor. Existing space on that side of the terminal will be walled off and made into a hallway that provides access to the gates beyond the north checkpoint on the second floor.
The enclosed ramp will be made from shipping containers, which airport officials also used in February to create a new gateway ramp when Frontier first started operating out of Burlington. The airline offered direct flights to Orlando during the winter and began flying to Denver in May.
Last Saturday, United started direct service to Denver in apparent competition with Frontier. Commercial flight departures out of BTV are projected to increase 6.5 percent this year, a figure that represents 700 more departures than last year.
Under the current system, one checkpoint is sometimes underutilized while the other is overloaded. "You can only squeeze so many passengers through," McDonald explained, adding that the connecter "will absolutely help for the passenger flow."
On May 20, the early morning wait time spiked to 34 minutes — more than double the usual 14-minute queue that exists between roughly 4:45 and 6:30 a.m., he said. "There are times in the last month or so, we're running about 20 to 25 percent above capacity, and that's just not something that can be sustained," McDonald said. "We do need some relief."
Staffing up in Vermont, a region with extremely low unemployment, has also been a challenge for the TSA. McDonald declined to say how many TSA positions are allocated to the airport, citing security protocols, but a national TSA press officer said via email it's around 100. About 5 percent of those jobs are currently vacant.
Starting pay is about $17.55 per hour, but shifts that begin before dawn don't help with recruiting. All the airlines want flights to leave at 5:30 a.m. regardless of TSA capacity, McDonald said, so passengers have time to get to bigger hubs, change planes and arrive at far-flung destinations on the same day. "That's the way the market runs," he said.
Many airlines allow travelers who miss flights to stand by for the next available. But several local airline reps at BTV declined to speculate how often TSA is to blame. "We don't provide those metrics, as passengers might be late for various reasons, including traffic, personal reasons, etc.," American Airlines spokesperson Ross Feinstein explained via email.
Afternoons at BTV, when far fewer planes depart, are better: The TSA wait time averages less than two minutes, McDonald said.
Some frequent fliers at Burlington airport have figured that out. Russell Womer, 32, a real estate software consultant who lives in Charlotte, avoids booking early morning flights from BTV. "You are going to experience much more clutter, much longer lines," he said. "That's by far the worst time to hit it."
McDonald has advice to impart, too: Pay attention to the bright-orange signs all over the airport. "If there's one message I could get across, it's arrive early," he said. "We don't say arrive two hours early just for the fun of it."