Courtesy of Kathleen Saville
Kathleen Saville rowing to Samoa
In 1981, Kathleen Saville and her husband, Curt, rowed across the North Atlantic Ocean from Morocco to Antigua in a 25-foot boat of their own making. Between 1984 and 1985, they rowed the South Pacific from Peru to Australia in the same vessel. Saville earned two Guinness world records as the first woman to make these crossings in a rowboat.
The first trip happened at her suggestion, inspired by a summer of rowing in the North Maine Woods. The young couple had hit a fork in the road of life: They could settle into jobs and mortgages or take the less-traveled route, à la Robert Frost. Just before the Savilles set out from Casablanca, someone in the crowd gathered at the dock asked Curt why they wanted to make the perilous journey. "Because, through exploration, people and nations can learn to live and work together in peace," he responded.
In Saville's new memoir, Rowing for My Life: Two Oceans, Two Lives, One Journey, the Rhode Island-born part-time Vermonter recounts her extraordinary relationship with extreme adventure, as well as with her remarkable husband. Curt died in 2001 after a trekking mishap in the Egyptian desert.
Saville, 61, has been on the faculty of the American University in Cairo since 1997 as a senior instructor in rhetoric and composition. She also serves as director of the school's Writing Center.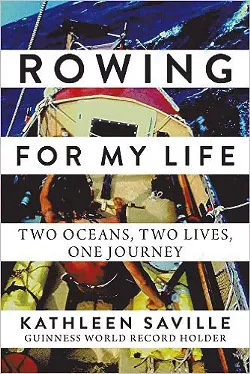 Rowing for My Life: Two Oceans, Two Lives, One Journey by Kathleen Saville, Arcade Publishing, 368 pages. $24.99.
The couple's son, Christopher, who was conceived somewhere in the Pacific, was born in Morgan, Vt., in 1986. These days, he manages his parents' property in the nearby town of Holland. Saville spends summers with him while on break from school. She wrote some of her memoir at their home and some at the Vermont Studio Center in Johnson during a two-month residency.
Writing Rowing for My Life, Saville explains in her preface, was "part of the healing process over Curt's death." And it helped her "better appreciate the relationship that made us so successful as partners, how we evolved as individuals, and how those rows jump-started my life and contributed to making me the person I am today."
Saville's story offers a wild ride through gale-force winds and bioluminescent waters, relentless waves and recurring nausea, flying fish and lurking sharks. Rowing for My Life is both harrowing and heartwarming. Seven Days caught up with the author via email and Skype.
SEVEN DAYS: Tell us about your connection to the Green Mountain State.
KATHLEEN SAVILLE: I first came to Vermont in 1977 when I was dating Curt. Curt's family [from North Carolina] had summered in Morgan in the Northeast Kingdom going back to the late 1940s, I believe. We later moved there the summer after the 1981 Atlantic row. In 1986, we built a tiny house in nearby Holland after the Pacific row. I come back every summer when I have sabbatical leave. I always miss the beauty and peace of the NEK when I'm in the big city of Cairo.
SD: Your South Pacific row, a total of 10,000 miles, is made even more extraordinary by the fact that you were pregnant for the second half of it. What was it like being on the wild seas during that time?
KS: I wasn't really sure until we were rowing between American Samoa and the Vanuatu islands in the western South Pacific, because my body began to feel different on the boat ... One of the discomforts was that I couldn't keep down my seasickness pills, which I normally took for a couple of weeks after we left port. And, of course, I found myself having to go out on deck all the time to pee, which was tricky in stormy weather or late at night.
SD: Despite being in life-threatening conditions, you and Curt managed to speak kindly and respectfully to each other throughout your journeys, as well as give each other "space" to be alone on the 25-foot Excalibur. A lot of marriages would have exploded. Why did it work for you two?
KS: A lot of people have commented on that aspect of the rows, too. I could never understand it at the time, because we were best friends and had an ease of relationship that I took for granted. You pointed out the most important aspect of getting along, and that was giving each other space. That was very important to each of us, not only on the boat but on land, as well. It was instinctive for each of us to gravitate towards a space of our own. On the boat, Curt liked to be in the bow cabin when he wasn't rowing, and I liked being on deck so I could watch the waves, which I did for hours on end.
SD: Curt navigated your ocean crossings using the sun, stars and a sextant. Your only contact with the outside world was through brief ham-radio exchanges, some of which were in Morse code. Talk about the "good old days" of finding your way in the middle of nowhere.
KS: Wayfaring in the middle of nowhere is a full-time job. For some people who thought being on the rowboat for weeks on end was a boring occupation, they have to consider the survival aspect of it. Navigating with a sextant and plotting your course on a chart by hand takes a lot of time. This was part of the reason Curt spent much of his free time from the rowing in the cabin. He loved doing the calculations and plotting how far we'd come and had to row.
The radio was also a highlight in our lives, because we got to communicate with people other than ourselves. We were never serious TV watchers in our marriage anyhow, except for the 1980s soap opera "Knots Landing," which we loved to watch for some reason in between expeditions.
SD: After all that ocean, you made your home in the sprawling city of Cairo, Egypt. What do the ocean and the desert have in common for you?
KS: I suppose it's the wide-open spaces of both the ocean and desert that make a connection for me. I feel as though I have room to think and be creative when there is a lot of space around me. Though I live and work in Cairo, an extremely populated metropolis, I have traveled to the western and eastern deserts of Egypt and spent a lot of time there recharging my soul, as it were ... There is something about a space with a very distant horizon that pulls you in and makes you want to explore every inch of it.
SD: Are you still driven to "explore anywhere and everywhere in the world" — or, as you put it, quoting Henry David Thoreau, "the Atlantic and Pacific of being alone"?
KS: All the time. I travel a lot. Last November I went back to Morocco ... [and] as I sat on the beach at Agadir and thought of us rowing past that very point of land ... I remembered how scared I was on the boat in the horribly stormy conditions of coastal Morocco as a brand-new ocean rower. I'll never stop wanting to explore what is around the next corner.
From Rowing for My Life
Despite the new records we had achieved, more important to me was what I had learned over the past year, combined with the lessons of the Atlantic row. This was something of far greater profundity than the physical aspect or the setting of extreme adventure records. With each successful leg of each row, when I touched land again after what had felt like an extra-planetary experience, I affirmed that I was capable of doing more than I ever thought possible. In the exquisite moments of danger, wonder, and beauty in isolation, I understood it was all about making choices and taking responsibility for decisions ... When I completed my second ocean row, I was only 29, but I knew that I would always be "on the road," not as a sort of female Jack Kerouac but in my own never-ending journey as outsider and explorer, as Other who would travel to foreign lands and cultures, in and out of familiar space and time, leaving only when I was ready to return.