Courtesy of Just for Laughs Festival
(Left - right): Sarah Silverman, David Cross, Julia Louis-Dreyfus, Lewis Black, CarrieFisher
Milton Berle once said, "Laughter is an instant vacation." Here's a way to prove him epically correct: Head to Montréal's Just for Laughs festival, July 13 through August 1. (Anglophone comedians take over in the final week.) Now in its 34th year, this comedy extravaganza pulls in talent from around the world, including Dave Chappelle, Louis CK, Sarah Silverman (returning this year) and many more.
With two million visitors to the festival each year, and more than 1,600 shows, JFL presents an embarrassment of belly laughs just north of Vermont's border. With the additional bonus of a strong U.S. dollar and headliners Nathan Lane, Seth Rogen, Aziz Ansari, Carrie Fisher, Russell Peters, Julia Louis-Dreyfus and others, 2016 is an especially good year to take in the spectacle.
Nathan Hartswick and Natalie Miller, owners of Vermont Comedy Club, are well aware of JFL's appeal. "We're very much looking forward to the fest this year," Hartswick says. In fact, VCC is hosting the eighth annual Green Mountain Comedy Festival in Burlington from July 18 to 23 this year, and then closing the club for five nights so they can attend the Montréal event.
"That's how we vacation, by seeing more comedy," Hartswick adds. "Hey, it's a lot more relaxing when someone else produces it."
This year Howie Mandel, David Cross and P.K. Subban, star defenseman for the Montréal Canadiens, will host galas. These big-ticket, highly produced shows are filmed for television and will air later in the year. Last year, Neil Patrick Harris' gala Circus Awesomeus featured sword swallowers, puppets, DJs and a trapeze act. It culminated in a fitting tribute to Montréal pop star Celine Dion: Harris was serenaded by Puddles, a 6-foot-8 cabaret clown, who sang a heavy metal version of "My Heart Will Go On" aboard a mock Titanic, complete with the Leo and Kate pose.
Just for Laughs is known for these big-name, ticketed shows, but it also presents hundreds of free outdoor shows and unusual street performers. If Marcel Marceau and Lady Gaga had mated, their offspring would likely end up working as street artists here.
Walking through Place des Festivals (Quartier des Spectacles), you may find yourself being followed rather obviously by clumsy ninja, serenaded by a ragtime band of aliens, or watching silent hair stylists in Elizabethan garb work to a soundtrack of ethereal house music. Another JFL tradition, the twins parade, continues this year with an Olympic theme. "Quirk" does not begin to describe it, but perhaps "Montréal" does.
Some of the best festival experiences are shows or performances that take an unexpected turn. JFL affords performers the opportunity to try something a little different and surprise audiences. For example, a couple of years ago, Montréal had its first exposure (intentional word choice) to Amy Schumer's friend Bridget Everett. Her show was included as a free ticket with a JFL pass and took place early in the evening in a small club off rue Sainte-Catherine.
Much of Everett's Mae West-meets-Joan Rivers performance is too risqué to put in print. But one repeatable highlight was when she invoked all the women in the audience to "stand up tall and be proud of what your mama gave you." She then sang a tribute to the various types of "titties" with which women might be gifted. "Beaver tail," "tube sock" and "tic-tac" were among the options. Everett then brought an elderly gentleman up onstage and allowed him to cop a feel, much to his simultaneous embarrassment and delight.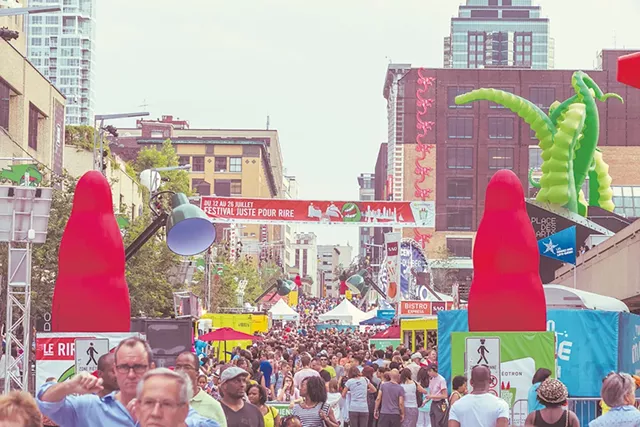 Courtesy of Just for Laughs Festival
Street scene from last year's festival
In addition to publicized celebrity acts big and small, a number of events at JFL feature surprise guests. These shows are some of the festival's least expensive tickets, at around $20 Canadian, and take place in intimate venues. One comic may host the night, but many of the other acts drop in unannounced. Last year, Louis CK stopped by for a set at the Midnight Surprise show, and his name had not even been publicized in conjunction with the festival.
Another great choice for a cheap ticket is a podcast. These are recorded in the hotel at which many of the comedians stay, so there's always a chance of spotting talent on your way to the taping. The informal environment of the podcast gives the hosts an opportunity for playful activity with guests as well as the audience. Adam Carolla, Marc Maron and Artie Lange have all recorded there in the past. This summer, Scott Aukerman's Comedy Bang! Bang! podcast is one of the many shows recording at JFL.
Despite all the laughter, comedy is hard work, so serious comedy nerds might enjoy peeking behind the curtain as some of this work is done. Events such as Andy Kindler's State of the Industry address, the JFL awards show, and the unveiling of Variety's 10 Comics to Watch allow audiences to geek out over insider jokes and rub elbows with current and future stars.
The star makers are well represented at JFL, too, as top managers, agents and executives from networks take in shows and make deals that establish comedy careers.
This "we knew them when" element of the Montréal festival can be the most exciting — at least in retrospect. Pete Holmes appeared at JFL before earning his own HBO series, which premieres this fall. Michael Che was there ahead of anchoring Weekend Update for "Saturday Night Live." And before we were "Inside Amy Schumer," its star performed at Just for Laughs.
Hartswick and Miller are regular attendees of the festival and go mostly for pleasure, but they mix in a little business, too. "These shows do give you a sense for where comedy trends are headed in general," Hartswick says, "and occasionally we'll see someone we didn't know about before and say, 'We should bring that comic to Burlington.'"
Case in point: Mark Forward. The "delightfully weird comedian" that Hartswick and Miller saw last year is playing VCC on September 25.
Where should you stay during the festival? Here's a tip: Choose a hotel close to Place des Arts. It will save you a lot of time and possibly blisters on your feet. Though the city has Bixi bikes for rent and taxis are fairly accessible, most shows take place within the Quartier des Spectacles, which surrounds Place des Arts. It's a pedestrian area closed to traffic. Staying in the neighborhood will make your time in the city easier, especially if you're walking back to your hotel at 2 a.m.
As for food, not to worry: Montréal is increasingly famous for its gastronomy. You could easily walk to get smoked meat at the famous deli Schwartz's, or take the metro to one of Anthony Bourdain's favorite haunts — Joe Beef or Au Pied de Cochon. But the festival assembles a fleet of food trucks, and everything from vegan desserts to foie gras poutine is on offer. For a sit-down meal, restaurants Brasserie T! and Portuguese-flavored Taverne F are scaled-down versions of top restaurants, Toqué! and Ferreira, and are adjacent to Place des Arts.
Just for Laughs offers some serious fun practically in Vermont's backyard. And where else could you wear your Bernie Sanders T-shirt while listening to Lewis Black rant about the Democratic National Convention?