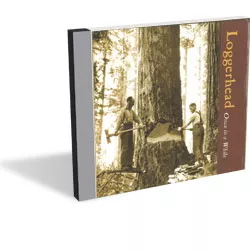 Loggerhead keep the acoustic tradition alive and well in Vermont music with Once in a While. The duo, which includes Eric Palola on guitar, mandolin and lead vocals, and Todd Sagar on fiddle, dobro and backing vocals, provides an instrumentally strong strain of folk that weaves in touches of country, bluegrass and, for good measure, classical.
Palola's vocal and lyrical performance is solid, if unspectacular; like many a traditional folk singer, he draws heavily on familiar motifs. But this isn't really a drawback, because it puts the focus on the group's formidable instrumental talent. Palola's guitar and mandolin playing doesn't beg for attention, but a close listen reveals that he's a skilled player, with nary a bad note or dull passage. Sagar doesn't sing much — he lets his fiddle and the dobro do the talking instead. His contributions with both instruments are gorgeous: sometimes restrained and sometimes blazing enough to incite a hootenanny.
In fact, Once in a While's instrumental songs are the highlights of the album. The masterful fingerwork of both players particularly shines on "Marmalade" and "Burr in the Kilt." The multilayered production of these tracks recalls the lush textures of Chris Thile's newgrass/classical project Punch Brothers, albeit without Thile's abstractness or rock influences.
Despite being just a duo, Loggerhead use overdubs tastefully and subtly to craft a sound befitting a much larger group. On "Raised on a Farm (in 1932)," for example, a mandolin part adds a high-end layer to the song's guitar and fiddle parts, elevating it from simple folk ditty to accomplished composition. It's easy to mistake Loggerhead for a full-on string band, without liner notes to provide the actual credits.
The album's low points occur when the guys stray from traditional Americana. Palola's slow-groove croon on "Highwired" is a bit cringeworthy, and "Just 33" wades into weird '90s acoustic power ballad territory. But these are isolated missteps. Overall, Loggerhead represent Vermont well with acoustic music that's familiar and comforting, like a mug of hot cider on a raw autumn day.