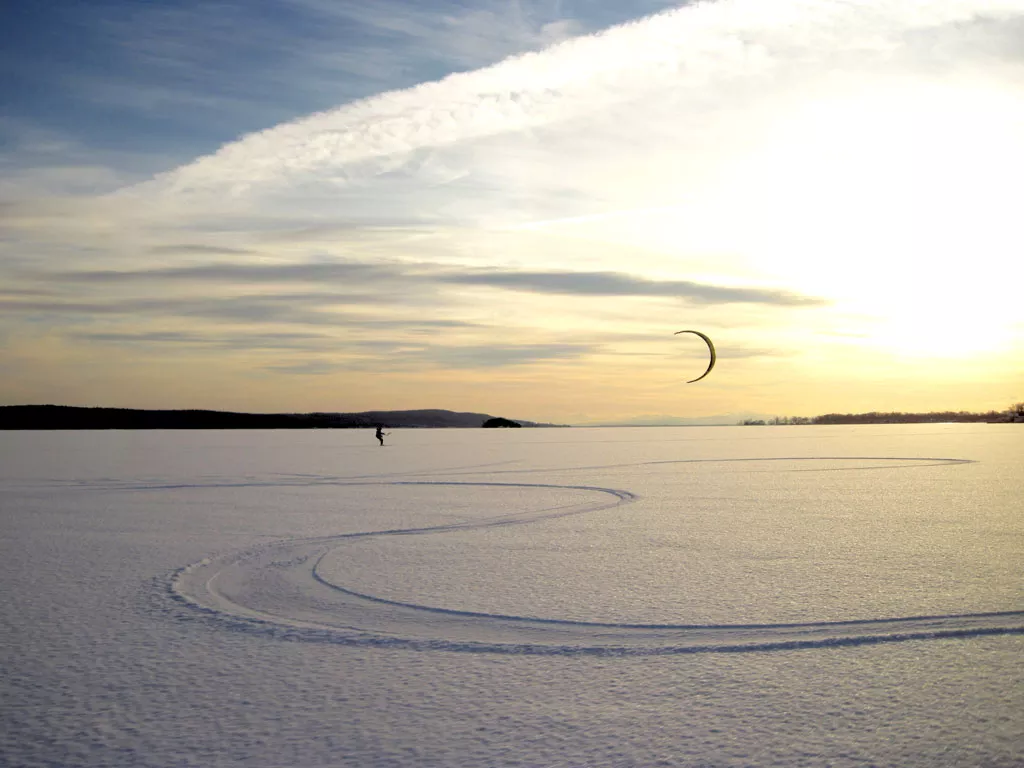 Whitecaps buffet my head and back as I stand chest deep in Lake Champlain off Burlington's North Beach. Above me, a blue, comma-shaped, inflatable kite, which is tethered to my waist harness, shudders in a variable westerly breeze.
With two hands on a control bar, I practice maneuvering the kite left and right, raising and dipping it like a sine curve, from 12 o'clock directly overhead to three o'clock, then back up again. On each dip, the kite enters its "power zone," harnessing enough force to lift my body out of the water — and, if I'm not careful, toss me like a rag doll onto the beach and into the trees.
While nearby swimmers and sunbathers enjoy the unseasonably warm autumn afternoon, I'm working on basic kite-flying skills before even attempting to stand up on the kiteboard itself. In a few months, I hope to snowkite across the lake once it's frozen over and covered in snow.
Snowkiting is the winter version of kiteboarding, aka kitesurfing, which is one of the few recreational activities that can be done on Lake Champlain almost all year round, using nearly all the same equipment. From spring until late fall, kiteboarders skim across the water on finned boards similar to wakeboards. In winter, kiters use the same kites, harnesses and control bars but replace the finned boards with alpine skis, ice skates or snowboards for a thrilling ride across snow and ice.
For anyone interested in trying this exhilarating sport, autumn in Vermont is a good time to learn: winds blow steady, and the lake is shallow and still warm. My teachers, Jerri and Curt Benjamin, of Northshore Kite-Sail-Surf on St. Albans Bay, are certified instructors with the Professional Air Sports Association. If there are Vermont kiters who don't know the Benjamins, I haven't found them yet.
The couple spent decades traveling the world as competitive windsurfers before making the jump to kiteboarding eight years ago. These days, they spend three seasons teaching and kiting in Vermont, then overwinter in Vietnam, where room and board are dirt cheap and kiteboarding is epic. Due to higher liability insurance costs — evidently, the winter activity causes more injuries — they choose not to teach snowkiting, though both know how.
Two years ago, I took Jerri Benjamin's introductory Launch Into Kiteboarding class, which is strongly recommended for anyone interested in getting into the sport, regardless of the season. The three-hour ground lesson covers all the essentials: understanding wind dynamics and basic kiteboarding equipment; how to rig, launch and fly a power kite; how to ride the board; and the safety procedures and self-rescue techniques necessary to operate the kite responsibly.
Kiteboarding on water is more forgiving than on snow and ice, especially when you fall, which all beginners do. But, as Jerri Benjamin points out, snowkiting is actually much easier to learn, especially for people who already downhill ski or snowboard.
"All you need to do is set an edge on your skis or snowboard and then fly your kite," she says. "Obviously, if you don't have the kite-flying skills first, that can become problematic and dangerous."
One reason for kiteboarding's growing appeal is that it doesn't require massive upper-body strength or peak physical stamina, Benjamin explains. Unlike, say, windsurfers or waterskiers, kiteboarders don't need to hold onto the kite; the waist harness does all that work. In fact, one reason the Benjamins enjoy the sport so much is that they can stay on the water or snow for hours on end without getting fatigued.
And though snowkiting may look like an extreme sport best suited for young, athletic daredevils who were weaned on X Games videos, many local kiters are like the sixtysomething Benjamins, who got into it from other watersports.
Mark Hamlin of Burlington also switched from windsurfing to kiteboarding. Come winter, when the 50-year-old anesthesiologist isn't in the operating room or intensive care unit at the University of Vermont Medical Center, he can often be found on Lake Champlain riding the wind on skis or a snowboard, depending on the conditions.
When the lake is mostly ice covered, Hamlin says he chooses skis because they hold the ice better than a snowboard and move him along faster. However, when there's a thick layer of snow, Hamlin prefers a snowboard for catching big air: "I love to jump," he admits.
When Hamlin took up the sport in 2006, only a few people were kiting in Vermont, "and I didn't know any of them," he says. Today, he often heads to Delta Park in Colchester or Sand Bar State Park in Milton, where, on a windy winter day, 15 to 20 snowkiters might be on the lake.
"We live in the perfect place for [snowkiting]. Lake Champlain is so huge and, when it's frozen over, it's like your playground," Hamlin says. "There's almost no one out there except a few ice fishermen, and you can ride for hours. I've gone 50-plus miles in a day just riding around."
Hamlin's friend Gary Kjelleren also enjoys touring the lake with a kite, especially when it's frozen all the way across to New York. The 56-year-old, who's been kiteboarding since 1999, occasionally snowkites from his home in South Hero to Burlington, logging 100 miles or more in a single day. "It's quite spectacular," he says.
Kjelleren, who's also a bit of a speed demon, participates in an online international snowkiting speed competition. Participants from as far away as Europe and Antarctica record their GPS data on smartphones or mobile GPS devices while they're kiting. Then they upload those files to a group in New Hampshire, which determines who had the fastest times. Three years ago, Kjelleren ranked first, reaching a speed of almost 70 miles per hour. "It's great fun," he says.
Although Lake Champlain generally sees more recreation in the summer than winter, Kjelleren says that's not the case with Vermont's kiteboarding community, in which winter kiters tend to outnumber summer ones. "It's way easier to learn," he explains. "I had one friend going 30 to 40 miles per hour the first day he got on a kite. He was having a grand time."
Winter kiting has other advantages, too, at least in Vermont. During warmer months, especially early spring when lake levels are high, Kjelleren says, it's hard for kiters to find wide-open beaches for laying out their kites and lines. Also, because the kites are large and the lines can snag children and pets, many beaches prohibit them. That's not much of an issue in winter, Kjelleren says, when kiters have access to vacant beaches and miles of frozen lakes.
Finally, because snowkiting requires winds as light as 10 miles per hour to cruise, there are more kiting days available than with summer kiteboarding, which typically requires 15- to 25-mile-per-hour winds to get up to speed.
While snowkiting is relatively easy to learn, it's not without risk of injury, or even death. If snowkiters jump and land wrong, they can definitely hurt themselves badly, breaking bones — or worse.
"I've escorted a friend of mine to the hospital who was quite significantly injured," says Kjelleren about a woman who spent nearly a week in the hospital last year after jumping higher than she'd intended. And last February, a 49-year-old experienced kiter in Harrison, Maine, was killed when a wind gust lifted him off the ice and into a shed.
That said, kiting on a snow-covered lake, or even a large open field, is no riskier than skiing or snowboarding on slopes, especially as there are fewer trees, rocks and riders to avoid. And, as Kjelleren points out, "If you get a foot of snow on the ice, it's like landing on a pillow."
Regardless of whether you're kiting in summer or winter, many of the same safety guidelines apply: Never kite too close to rocks, trees or power lines and avoid conditions and locations when the wind is blowing directly into shore. In winter, Kjelleren recommends learning about the dynamics of lake ice and suggests carrying safety gear such as crampons and ice awls in the event you fall through.
And there are other measures for safe riding, like keeping sharp edges on your skis or snowboard for optimal control. Kjelleren and Hamlin also emphasize the importance of good protective gear to avoid major injuries. Hamlin says he never snowkites without wearing hockey-style kneepads, elbow pads, a helmet, an impact vest and shock shorts.
Sadly, no one in Vermont currently advertises that they teach snowkiting or rent out kiteboarding equipment — yet another reason to learn in the fall. But according to Benjamin, beginners can practice by using a small, 3-square-meter trainer kite. (Experienced kiters typically fly 10- to 14-meter kites.)
The cost of all that gear quickly adds up, which may explain why most Vermont kiters aren't teenagers. Getting outfitted with a kite, control bar, harness, helmet and board can run at least $1,500, even if you buy used equipment. Throw in a wet suit and personal floatation device (for summer) and extra padding (for winter), and you're looking at a serious up-front investment.
Nevertheless, as Benjamin points out, once you have all that gear in hand, the only other expense is gas money for driving to the lake; no annual lift tickets or trail passes required. Then it's just a matter of watching for prime wind conditions — and ducking out of work without anyone noticing you're gone.