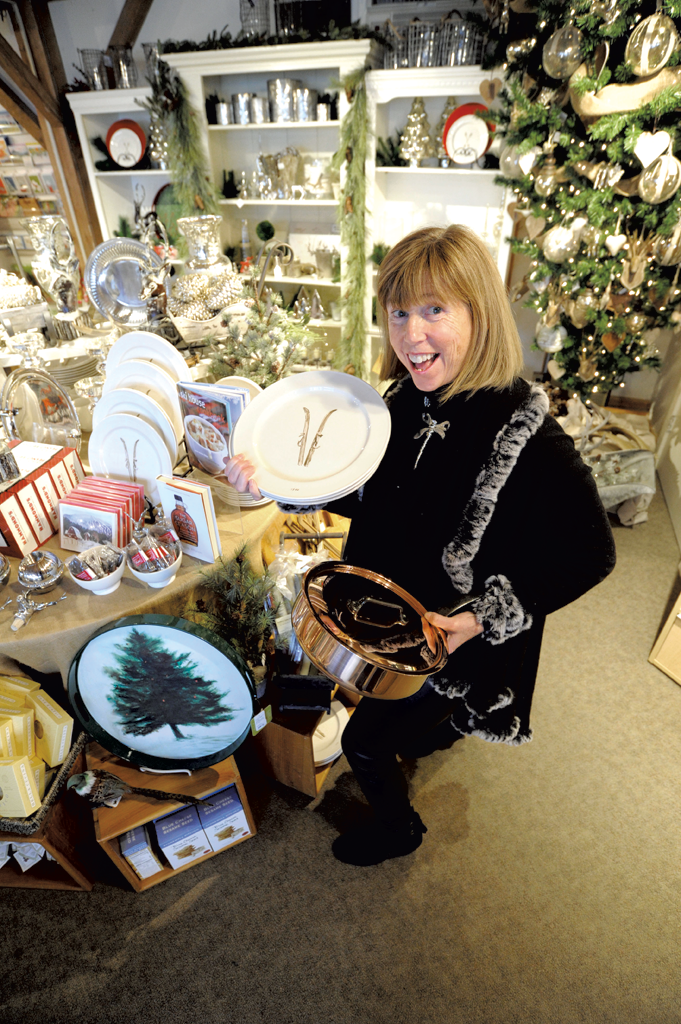 What's in a name? Even Shakespeare couldn't answer that question. But in the case of Stowe Kitchen Bath & Linens, you should expect to find more than the sign at the store's entrance suggests.
The home goods shop on Mountain Road has carried kitchenware for 31 years, and bath and linen products since the store expanded in 2000. In recent years, though, owner Kate Carpenter, who took over the business five years ago, has gotten even more creative with the retail selection.
"People are like, 'This store sells clothing now?' And I'm like, 'Well, are you cooking naked in the kitchen?'" she quips.
Die-hards need not fear: The store is still spilling over with homey items. Classic offerings such as Wüsthof knives, Pine Cone Hill bedding, Pré de Provence bath products, Thymes fragrances and Mauviel copper pots line the walls and cover the artfully arranged display tables. "I don't mess around with our cookware," Carpenter says. "That's just what we're built on."
Now, though, shoppers can also browse handcrafted jewelry, an eclectic array of women's garments and a quirky collection of stocking stuffers. (Surely someone on your shopping list wants an Albert Einstein bobblehead doll?)
"It's not often that people come in and say they can't find something," Carpenter says.
Indeed, Stowe Kitchen Bath & Linens' current inventory includes thousands of items from more than 800 vendors around the globe. New products come in each week; last Friday, staffers were busy unloading four truckloads of merchandise that had arrived in time for the holiday shopping rush. Carpenter says she's "always on the hunt" for new items.
To meet the demands and pique the interests of Stowe's international tourists — not to mention discerning locals — Carpenter goes on numerous buying trips per year and sets Google alerts for new product lines. Frequently, she notes, she's inspired by her customers' taste. After spotting an eye-catching dragonfly pendant on one shopper, for example, Carpenter went online to research the jewelry maker. It was UNOde50, a Spanish line sold in just a handful of U.S. boutiques. Carpenter quickly placed an order, and says the funky adornments have been a hit.
Other rarities — at least for a Vermont kitchen store — include Australian skin-care line Jurlique; Grey Goose shot glasses, popular with the ski crowd; hand-carved, heart-shaped birch-wood ornaments, custom made for the shop in Belgium; and clothing by Yala, a company that makes casual garments from bamboo fiber and silk.
Stowe Kitchen Bath & Linens also stocks its share of locally sourced items. A particularly popular Vermont brand is Ursa Major, the Burlington-based natural grooming product line for men. "We get guys skiing for the weekend in Killington who drive up to Stowe Kitchen Bath & Linens to get Ursa Major," Carpenter says. "That's how frenzied it is."
Killington to Stowe is a short trip compared with the treks some other customers make to shop in the Green Mountain State's popular ski town. "People fly in from these beautiful little villages in the UK every year to come Christmas shopping here," Carpenter says. "We have gals that fly in from Dallas, Texas, to come shopping here."
The store's loyal following predates the current ownership. Carpenter, a native of Carthage, N.Y., first entered the store as a customer back in 2005, when she and her husband lived and worked in Telluride, Colo. "I just fell in love with it," she recalls. "I was like, Oh my God, this is quite a venture here."
The following year, the family relocated to Stowe to be closer to relatives in the Northeast; Carpenter and her husband purchased the store in 2009. She credits previous owner Nancy Bennum with building a solid customer base among Stowe's locals and visitors. "It was an unbelievable foundation to jump from," Carpenter says.
Once the store changed hands, the new owner knocked down walls, rearranged shelves and opened up the space to make it airier. Carpenter likes shoppers to take their time and says the goal is to encourage people to stay as long as they want. "I say, come on over, bring your friends; we'll have tea and I'll bake some muffins. Do all your shopping. I'll wrap your gifts when you're here."
Muffins?
"We're tasting something every day," Carpenter says.
Being able to create that homelike environment, she adds, is why she loves her job. "Retail changes every single day, and you have an infinite ability to provide beautiful experiences," Carpenter says. "And at the end of the day, you get to connect with so many people. It's lovely."
The original print version of this article was headlined "Home for the Holidays"