PHOTOS: matthew thorsen
Bridget Huffman
Bridget Huffman picks up a small, gray sweatshirt hoodie and marvels at it. It looks like the kind of funky, rocker-style top that model Kate Moss might wear with a pair of skinny jeans. In fact, Little Citizen, Huffman's new children's clothing store in Burlington, carries skinny jeans, too. UK designer-denim line Hudson Jeans makes fledgling sizes.
"Look at this. This is amazing," Huffman says, holding up the gray shirt. "This is definitely apparel I want in my closet."
Little Citizen opened on November 8 in a 500-square-foot space on the top block of the Church Street Marketplace. The tiny footprint was the biggest commitment that Huffman, 28, wanted to make for her first business venture, though she already envisions an expansion.
Against the main wall of the store, racks hold boys' styles that a hip venue for grown men would carry: bomber jackets, structured flannel shirts, button-neck sweaters and T-shirts emblazoned with sports-team logos. The girls' side bursts with bright-pink puffy jackets; soft, long-sleeved tees; flouncy skirts and faux-leather leggings. Brands include Appaman, a New York label; Chaser, known for its women's knit shirts; Yosi Samra ballet flats; and that hoodie's designer, Lennon + Wolfe.
A wall for infants and toddlers includes gifts such as hooded towels, baby blankets, underwear sets and P.J. Salvage pajamas — one pair in leopard print. Little Citizen carries boys' clothing up to size 12 and girls' to 14, with a few items in 16.
Kids' clothes have gotten groovier. That's one reason Huffman saw this as an ideal time to launch Little Citizen.
"It's not just light blue for the boys and pink for the girls," the owner says. "It seemed like, all of a sudden, the kids' market was taking off."
When Huffman was working at the nearby women's apparel shop Sweet Lady Jane, she observed that Burlington's downtown had no independent store devoted to children's clothes. That addition seemed perfect for the Marketplace, but she had to wait for a much-coveted vacancy.
The northernmost block of the street hasn't had the best track record for retail success, she admits. But with the Gap's move from Burlington Town Center to the corner of Church and Pearl streets, and the arrival of workout-wear chains Athleta and lululemon athletica, she's confident Little Citizen has found the right spot.
With prices that range from $2 for a set of hair ties to $89 for a leather jacket, Huffman hopes to appeal to shoppers of all budgets. Twice she has ordered animal hats and mittens — striped zebra, whiskered mouse, sock monkey and others — for customers who snap them up.
Brigitte Helzer picked out a pair of raccoon mittens for her 18-month-old granddaughter last week, when she first stumbled on Little Citizen.
"I'm glad you're here," Helzer, who lives in Winooski, told Huffman. "It's hard to find cool kids' stuff."
Even among Church Street's higher-end boutiques, Little Citizen's prices — including the $65 tag on the gray hooded shirt — might strike some shoppers as steep. "Kids grow so quickly, so how much do you want to spend on this apparel?" Huffman acknowledges.
She has noticed that families with multiple children buy for the oldest, knowing they can pass an outfit down. She characterizes her selections as unique or specialty items: not everyday play clothes but enhancements to a child's closet.
And about the store's name? "As a citizen, you're a member of a nation, and that entitles you to rights and privileges," Huffman explains. "Your rights in here are style and quality," as well as access to the clothing concepts "that the bigger citizens have had for some time," she adds.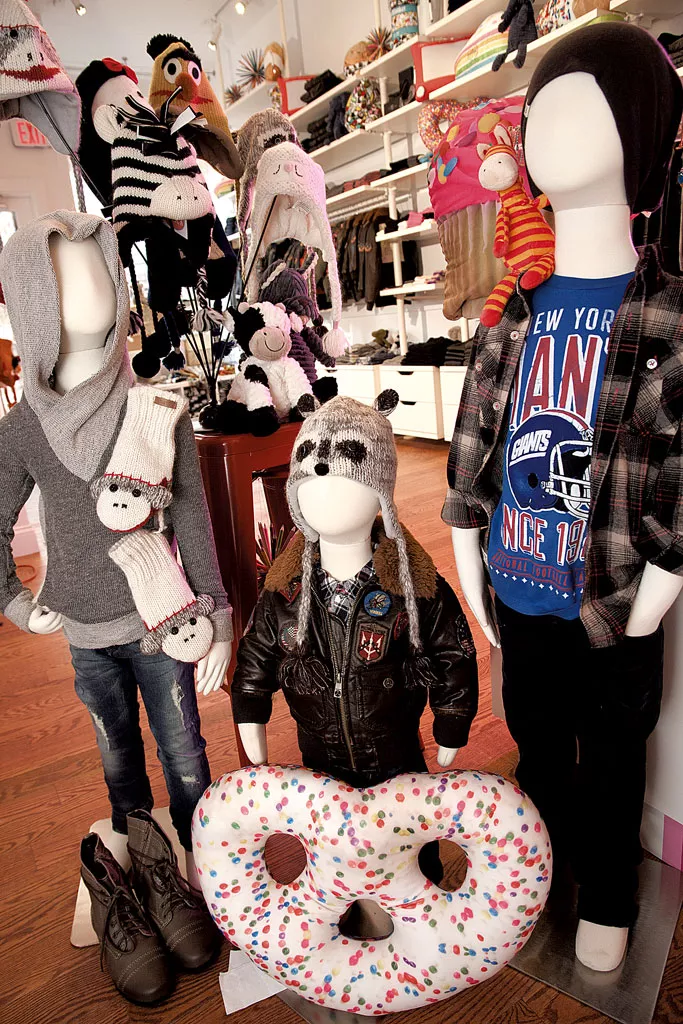 Civic connection and celebration of creativity are equally important to Huffman, who has a studio arts degree from the University of Colorado in Boulder. Little Citizen's décor includes a chalkboard, now covered with colorful scribbles, and moveable magnets on the front counter. Huffman has set up a display of yellow frames on a wall near the door, where she hopes to display schoolchildren's artwork and grant 1 percent of her sales to each school's arts program during its exhibition.
Huffman has no children herself, but after college she worked as a manager and buyer at Li'l Boogie's, a kids' clothing store in Aspen. That's where she learned to add such items as beanbag pillows — they resemble oversize cupcakes, ice cream cones and pretzels with colored sprinkles — to her mix at Little Citizen. At $25 each, they not only brighten her shelves but fly out of the store after catching the eyes of young customers.
Huffman moved to Burlington in the summer of 2013 with only warm-weather clothing. She intended to stay for just a few months, but the strong sense of community pulled her in.
"I've never seen such a support of small business like they [have] here," she says. "It sort of gave me the confidence to give this dream a try."